Aubergine Beef Kefta by The Giggling Gourmet
Ren was watching Jenny Morris Cooks Morocco and became inspired to try her recipe for aubergine beef kefta.
If you've never had kefta (or kofta) before, it's basically seasoned meat shaped into a meatball or cylinder. Popular in the Middle East but can be found from Greece to India, Morocco, and in Eastern European countries like Romania, beef and lamb are the most common choices of meat for keftas, though other ingredients may be used as well, like seafood, eggs, goat, and vegetables.
In this particular recipe, Jenny wrapped the beef keftas in eggplant before drenching them in a sweet date and tomato sauce, and serving it over a bed of couscous. Ren didn't have any dates, so she used figs instead, but she pretty much followed the rest of the recipe to a t.
Sweet, spicy, meaty, and earthy with light, fluffy balls of couscous to sop up the sauce, if you like meatballs and Moroccan flavors, then you're sure to enjoy these.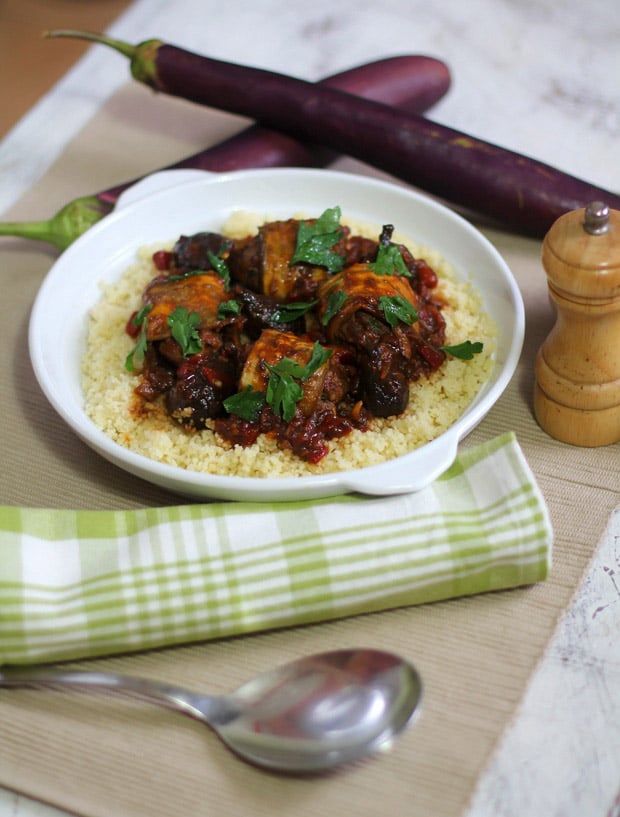 At first glance, I thought those sheets of eggplant were chunks of bone marrow, or slices of bacon.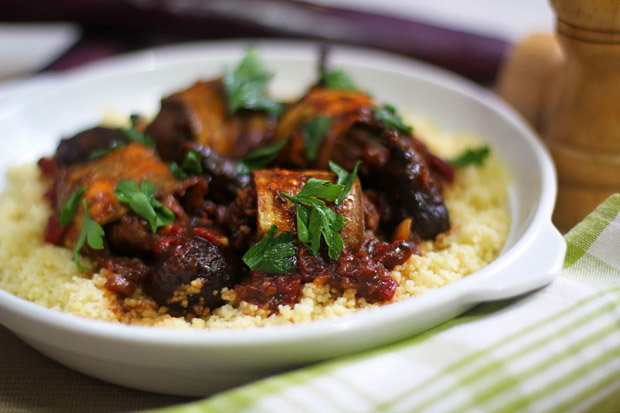 The sweetness and texture of the figs were wonderful with the spiciness from the chilis. I don't eat couscous very often, so I enjoyed their texture as well. Very fluffy, much lighter than rice.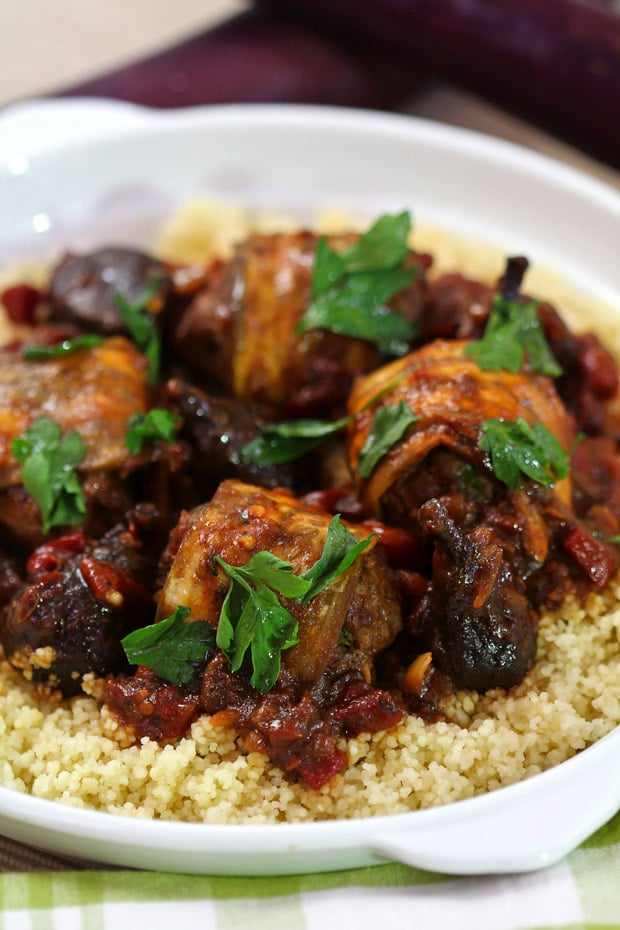 *Original recipe from foodnetwork.co.uk.
Ingredients
FOR BEEF KEFTA
600 g beef mince
2 garlic cloves, crushed
1 small onion, finely chopped
1 tsp paprika
1/4 tsp ground nutmeg
1/4 tsp freshly ground fennel seed
1 tsp ground cumin
1/2 tsp ground cinnamon
1/2 tsp chilli powder, or to taste
Salt & pepper, to taste
2 Tbsps coriander, freshly chopped
2 Tbsps fresh flat-leaf parsley, finely chopped
FOR SWEET FIG AND TOMATO SAUCE
10 ml olive oil
1 onion, chopped
4 garlic cloves, crushed
1 tin chopped tomatoes
1 tin whole peeled tomatoes
1 tsp cumin
1 tsp fennel
1 handful figs
Dried chilli to taste
Salt & pepper, to taste
4 long eggplants, thinly sliced
Olive oil
Directions
For beef keftas, mix all ingredients together and shape them into bullet shaped sausages. Heat little oil in non-stick pan, then brown sausages on all sides in pan, then allow to cool. NOTE: They will cook further in tomato sauce, so no need to fully cook them now.
For sauce, heat olive oil in wide saucepan and sauté onions until soft and fragrant. Add garlic and red pepper and stir for a few seconds. Add tinned tomatoes, spices, and figs, then allow to simmer gently.
Wrap a slice of eggplant around each beef kefta and place them in sauce. Allow to simmer for 15 minutes. Serve on a bed of couscous, scattered with extra chopped parsley.