Tandoori-Style Oven-Baked Chicken with Cucumber Raita
Ren's very young-looking, very hip aunt from California sent us a Tandoori meal kit from Gourmantra a few months ago. As advertised on the box, it was delicious and easy to make, but with Ren being Ren, she took it upon herself to go the extra mile and make her own Reneelicious version from scratch.
Although tandoori is considered a recipe, it technically refers to an Indian cooking method where marinated meat is cooked over a charcoal or wood fire burning within a cylindrical clay oven called a tandoor. Burning at very high temperatures (900° F) with the heat escaping through the top, this exposed the food to live-fire, radiant heat cooking, and hot-air convection cooking, as well as to smoking from the fat and food juices that would drip down onto the charcoal below.
Like most Filipinos, we don't have a tandoor at home, so Ren broiled the chicken instead to achieve that beautiful char characteristic of tandoori chicken. Crisp, charred, and juicy with a splash of brightness from the calamansi and freshness from the cool raita, the chicken was sensational, even better than what she had made with the Gourmantra box set.
If you like tandoori flavors but don't have a clay oven (or a cool aunt from California who sends you stuff), then this recipe is just right for you.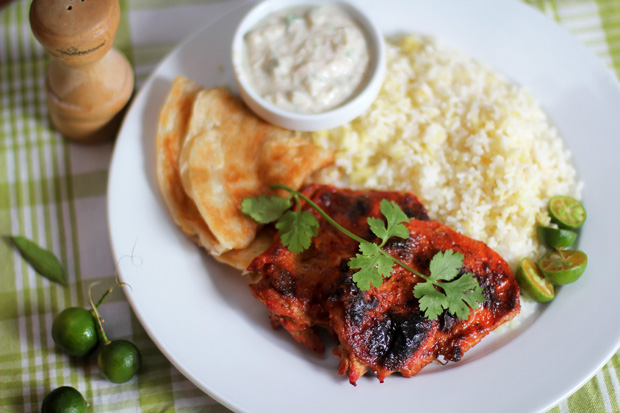 Charred Gutierrez. Check out the gorgeous char on that chicken. Though Ren didn't do it this time, you can dhungar smoke that chicken too to add another layer of flavor.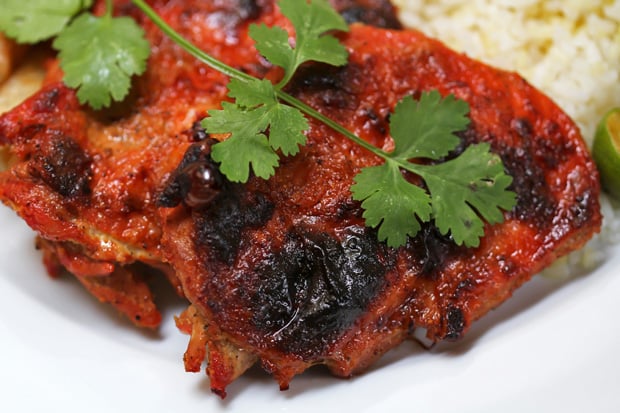 Ingredients
FOR CHICKEN
1 kilo chicken thigh fillets
3/4 cup plain yogurt
1 Tbsp fresh lemon or calamansi juice
3 garlic cloves
1 shallot
1 1/2 Tbsps garam masala
2 tsps cumin
1 tsp chili powder
FOR CUCUMBER RAITA
2 cups plain yogurt
1 garlic clove, grated
1 cucumber, peeled, deseeded and half grated, half finely diced
1 tsp cumin
Salt and freshly ground black pepper, to taste
Few sprigs of cilantro and/or mint leaves, chopped
Directions
Place chicken in ziplock bag. In food processor, process yogurt and rest of ingredients until smooth. Pour into bag with chicken, let excess air out, then seal. Massage chicken for few seconds before placing in refrigerator. Marinate at least overnight but not over 48 hrs. Allow to sit at room temperature half an hour prior to baking.
When ready to cook, preheat oven to 550° F or highest temperature possible. Line jelly roll pan with foil and place cookie/cooling rack on top. Remove chicken pieces from bag, reserving marinade. Shake off excess liquid and place on rack, skin side up, making sure you leave a small space between pieces. Bake for 25 mins, brushing once with reserved marinade after first 15 mins. Remove from oven and cover with foil. Allow to rest for 5-10 mins.
In bowl, combine all ingredients for cucumber raita and season to taste with salt and pepper.