Zucchini-Wrapped Fish with Puttanesca Sauce
Sometimes, inspiration comes when you least expect it.
Ren was all set to cook this Baked Fish Puttanesca with Zucchini Noodles for next day's dinner, when she saw our favorite Take Home Chef, Curtis Stone, make something similar on TV that evening. Using the same basic ingredients of white fish and zucchini, his method differed in that he wrapped the fish inside the zucchini before cooking, turning it into an edible veggie parcel. Intrigued by this technique but unwilling to discard the recipe she had already created in her mind, Ren wound up making both in one night.
Made with identical ingredients, both versions had similar flavors, with the most discernible difference being the zucchini. Unlike the zucchini in the above recipe that was shaved into thinner, more delicate strands, the slices of zucchini in this one were thicker and wider. They tasted pretty much the same, but texturally, they were very different, with the zucchini in this recipe being firmer, and with more bite.
Personally, I enjoyed both immensely. They were equally delicious and tasted every bit as inspired as they looked. Presentation-wise though, I think this wrapped version is the clear winner. Like something out of a Top Chef's kitchen, Ren really knocked it out of the park this time. 😯
Seriously, how many husbands get to walk down to the dinner table and find this waiting for them? I've said it before and I'll say it again, I am, without a doubt, the luckiest man in the world. ♥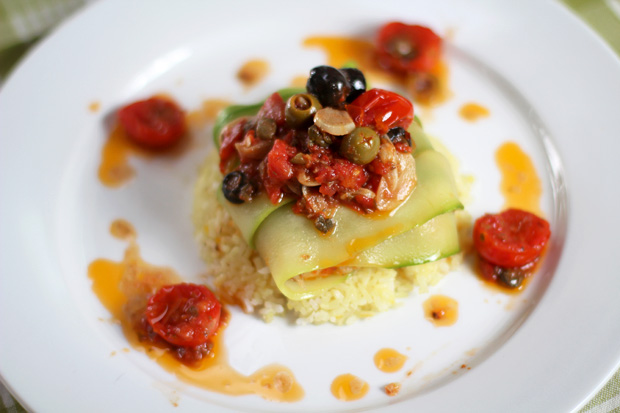 Succulent and flaky, the cream dory is nestled within those slivers of zucchini.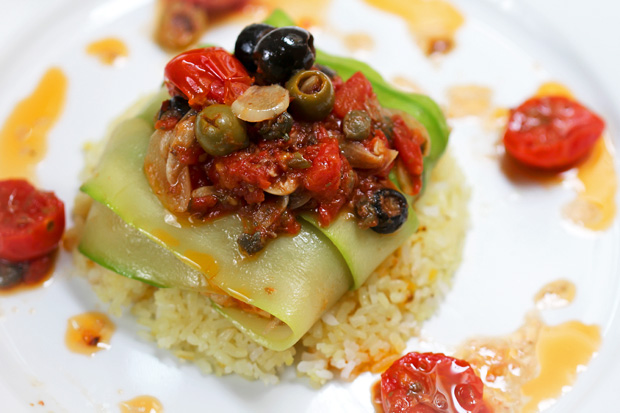 Ingredients
4 5-oz(160g) firm white fish fillets
2 cups puttanesca sauce (CLICK HERE for recipe)
3 zucchinis, peeled lengthwise using a mandolin or vegetable peeler
Salt and pepper, to taste
Extra-Virgin Olive Oil (EVOO)
Directions
Arrange around 4-5 slices of zucchini on work surface, side by side, overlapping each slice by half. Brush zucchini with oil, then lightly season with salt and pepper.
Pat dry fish, then sprinkle with salt and pepper and arrange crosswise. Wrap zucchini around fish, overlapping ends.
Put 1 tablespoon oil in 12-inch nonstick skillet and swirl to coat bottom. Arrange fish, seam sides down, in oil. Lightly brush tops of zucchini and fish with oil.
Cover skillet and cook fish over medium heat, without turning, until barely cooked through. This should take around 6-9 minutes, depending on thickness of fillets (fish will continue to cook from residual heat).
Transfer fish to plates and top each with half cup of puttanesca sauce.