Baked Fish Puttanesca with Zucchini Noodles
"Puttanesca doesn't always have to go over pasta."
That's exactly how Ren explained it after I became visibly confused by this dish's name. "Baked fish puttanesca with zucchini noodles". Baked fish puttanesca? Zucchini noodles? Huh? For someone who doesn't cook, who's used to having puttanesca strictly as a sauce over pasta made with flour and not veggies, it was all very confusing. Asking her to elaborate, she just shot me a coy smile and said: "You'll see." Damn, she does that teasing thing well.
Later that evening, I did see. And I understood.
I understood that puttanesca was first and foremost a "sauce", and sauces as we all know, don't always have to go over pasta. I understood that "zucchini noodles" in this sense weren't actually noodles, but a metaphor, a creative way of describing something meant to mimic another, like wine caviar or tofu steak. I understood that healthy dishes like this one, dishes that have helped me lose five pounds in less than a week, don't always have to be colorless and drab. In fact, they can be downright fucking delicious.
Most importantly however, I understood that food, much like my beautiful, creative wife over here, can often still surprise you. Suffice to say, losing five pounds after eating food like this was a shock to me. Thanks for helping me lose weight in the tastiest way possible sweetheart. I love you. ♥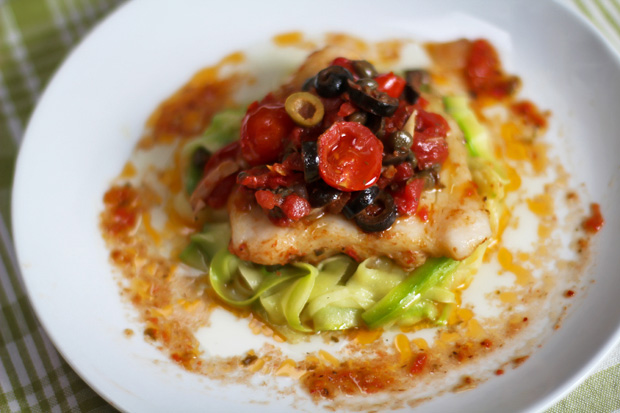 It's like Christmas came early this year. So so good.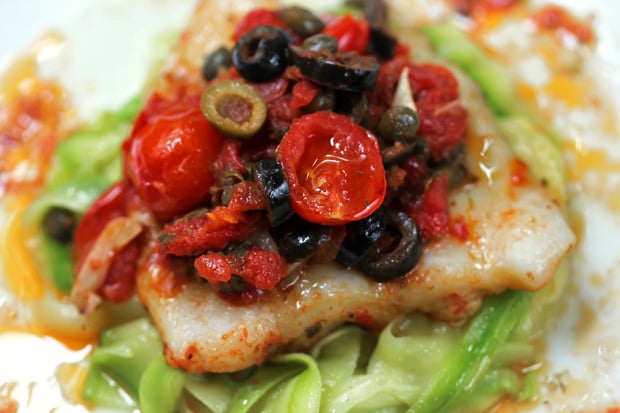 Ingredients
2 white fish fillets
2 cups puttanesca sauce (CLICK HERE for recipe)
1 large zucchini, peeled lengthwise using a peeler, preferably a julienne peeler
Salt and freshly ground black pepper to taste
Extra-Virgin Olive Oil (EVOO)
Directions
Preheat oven to 350° F.
Spray baking pan with cooking spray and add fish. Season fish with salt and pepper and bake for 10-12 minutes, or until fish is firm and cooked through and flakes easily with fork.
Place zucchini noodles in microwave-safe dish. Add one tablespoon of water and drizzle with EVOO. Season with salt and pepper and microwave for one minute or until cooked through.
Place baked fish on plate and top with puttanesca sauce. Serve with zucchini noodles.