Steamed Fish with Sauteed Spinach, Longganiza Bits, and Cherry Tomatoes over Saffron Pilaf
Make no mistake about it, food blogging may be a hobby, but it's a shitload of work.
In an ideal world, all that "hard work" would translate into dollars earned and calories burned, but it doesn't. Instead, the complete opposite is true. Sitting on your ass in front of a computer screen all day, working for hits not bits, you pat yourself on the back for "working so hard", when all you're really doing is getting fat digesting all that food you're trying desperately to write something interesting about.
*Sigh*
Because of my increased propensity to put on weight since keeping this blog, Ren's learned to ease up on the fat every few months, and put me on strict portion control. All baked and steamed, no fried. More fish, less pork. Forget family-style, bring on the plated food.
Hopping on the scale early this week and finding myself ten pounds overweight (again), I come down to the dinner table and find this beautiful plate of steamed cream dory with sauteed spinach just raring to slim me down. Delicious but still healthy, I've already lost five pounds in less than a week because of dishes like this one.
Often done without any monetary compensation, blogging may be hard work, but it undoubtedly has its rewards.
Light, clean, and flaky, cream dory is one of my favorite types of fish. It went beautifully with the saltiness of the longganisa, the freshness of the spinach, and the sweet acidity of the balsamic vinegar and cherry tomatoes.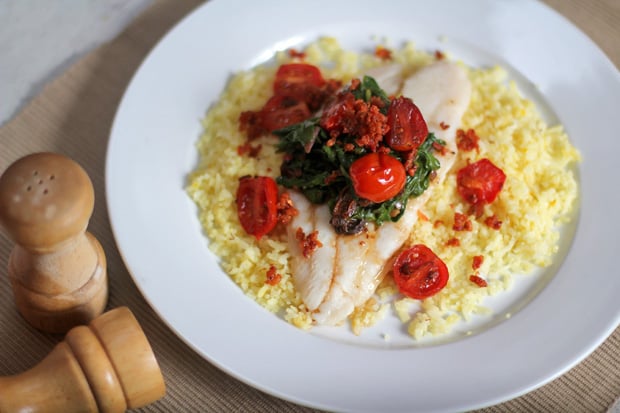 Ingredients
FOR FISH
2 white fish fillets
Fish sauce, to taste
Calamansi/lemon juice
Extra Virgin Olive Oil (EVOO)
FOR SPINACH
Large bunch spinach, stems removed, rinsed and drained
2 Tbsps EVOO
2 cloves garlic, crushed
1 red onion, finely chopped
2 large pcs longganiza (preferably garlic), casing removed
5 cherry tomatoes, halved
2 Tbsps balsamic vinegar
1 tsp sugar, or to taste
Fish sauce, to taste
Freshly ground black pepper
FOR PILAF
1 cup uncooked long-grain rice
2 cups good quality chicken stock, preferably homemade
1/2 tsp saffron
1 tsp kosher salt
2 Tbsps EVOO
Directions
Season fish to taste with fish sauce, lemon or calamansi juice, and a little EVOO. Allow to marinate for at least half an hour.
Heat two separate saucepans for pilaf. In one saucepan, add in chicken stock, saffron, and salt. while waiting for it to come to a boil, pour EVOO in second saucepan. Add rice to it and stir, until rice is fully coated with oil and stock has come to a boil.
Carefully pour boiling stock into pan with rice, then cover and lower heat. Allow to simmer for 25 mins or until stock is fully absorbed. Turn off heat and allow to sit, covered, for another 5 mins. Remove from stove, uncover, and fluff with fork.
Cook fish in steamer for 8 mins or until done, and fish flakes easily with fork. (Alternatively, you can microwave fish using microwaveable steamer, but cooking times may vary.)
Heat oil in large skillet over medium-high heat. Add in longganiza and crumble using spoon, then stir-fry until browned and crisp. Remove with slotted spoon and transfer to paper-towel lined plate.
In same pan, add in garlic and onion and saute until fragrant and softened. Add in spinach and saute until almost wilted. Stir in tomatoes, balsamic vinegar, and sugar. Season with fish sauce and freshly ground black pepper, then remove from heat. Serve on top of steamed fish and saffron pilaf.
JB is one half of Will Fly for Food and its chief itinerary maker.  He's the one to blame for all the crappy photos and verbal diarrhea on this blog.  Don't listen to him.
Latest posts by JB Macatulad (see all)