Japanese-Style Salad with Roasted Sesame Dressing
Every couple of months or so, I go on my Cartimar Mission to buy food and supplies for my pets. An alley away from all the pet stalls, close to the food court, is a short row of grocery stores selling Japanese-only food products. There they carry everything from Japanese Kewpie mayonnaise, togarashi, nori, frozen uni, etc, for less than what you would pay at the supermarket, and in larger quantities too.
On my last trip, I came back with a bottle of Kewpie roasted sesame dressing for just PHP 450, which according to a friend, is significantly less than what she pays at Rustan's. Ren and I both love the stuff, and despite what I bought being a large one liter bottle, it was gone in just a couple of weeks.
I was getting ready to go back for more, when Ren told me that I didn't have to. Confident that she could replicate its taste, she said that she'd be adding her own Reneelicious twist to make it even better. An afternoon of experimentation and a couple of taste tests later, here's her recipe for Japanese-style salad, with her very own roasted sesame dressing.
Mission accomplished. 😉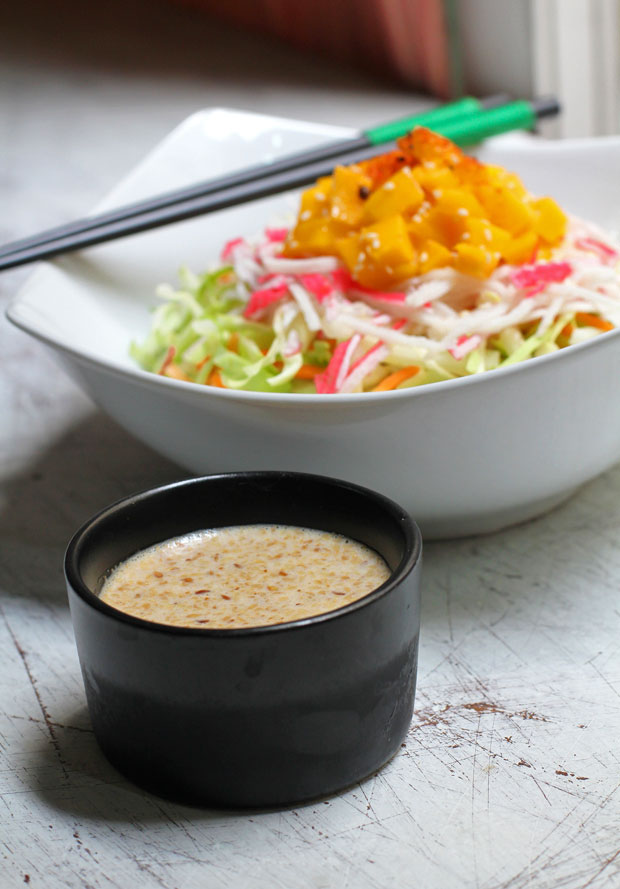 A dash of togarash makes it yummy in a flash.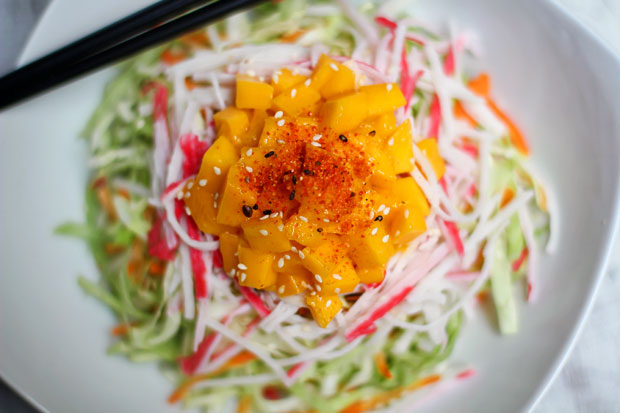 Roasted, nutty, with heightened acidity, she really did surpass that Kewpie.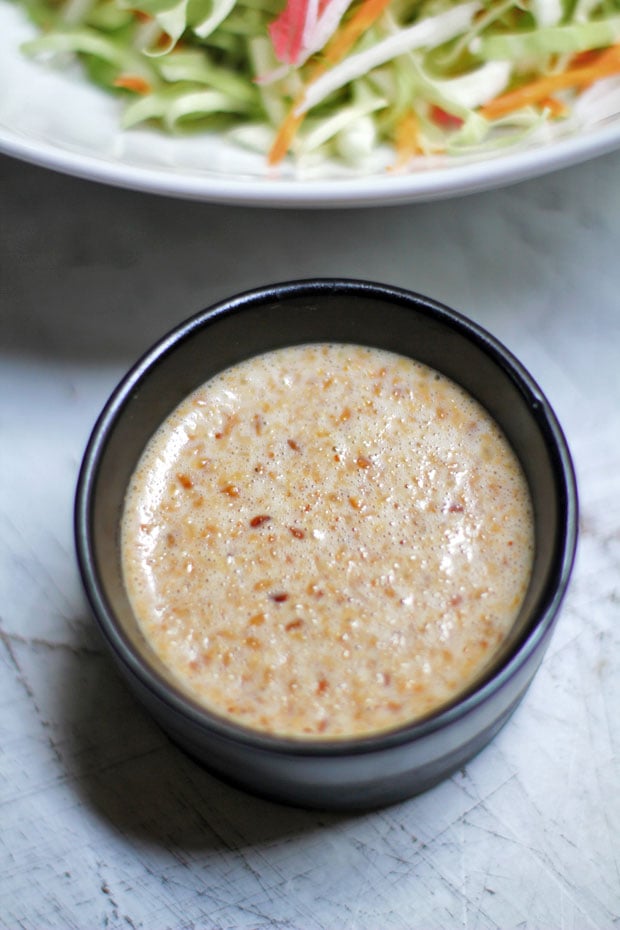 Ingredients
FOR SALAD
Shredded cabbage
Julienned carrots
Julienned cucumber
Shredded kani
Diced mango
Dash of togarashi
FOR ROASTED SESAME DRESSING (Makes 3 cups)
3/4 cup sesame seeds (roasted until golden brown in sautee pan, with 2 tsps reserved for stirring into sauce at end)
1 cup of japanese mayonnaise
1/3 cup rice vinegar
1/4 cup mirin
1/3 cup soy sauce
1/4 cup sugar
1/4 cup water
1 Tbsp fish sauce
2 tsps sesame oil
Directions
Blend all ingredients in blender until smooth.
Stir in remaining toasted sesame seeds.
Store in glass jar in refrigerator.