Living in the Philippines for the past twelve years, I haven't been too enamored with our local empanadas. With the notable exception of the Vigan variety, I find many others to be dry, relatively bland, with a crust that's strangely sweet, at least for me. Without much experience eating empanadas outside of the Philippines, I assumed all of them to be like that.
So when Ren told me that she'd be making empanadas from scratch for the first time, I was curious, but I wasn't exactly jumping out of my chair. At least of course, until I tried one. Calling me down from work yesterday to take pictures, my eyes nearly popped out of my head when Ren shoved that first piece in my mouth. Holy Jesus, these things were good. So good in fact, that I wound up spoiling my dinner with two, right there on the spot! Needless to say, my view on empanadas had just been completely turned on its head.
A recipe for Latin American beef empanadas courtesy of allrecipes.com and Reneelicious, if this doesn't make you a fan of empanadas, then nothing will.
The empanada in two stages of the process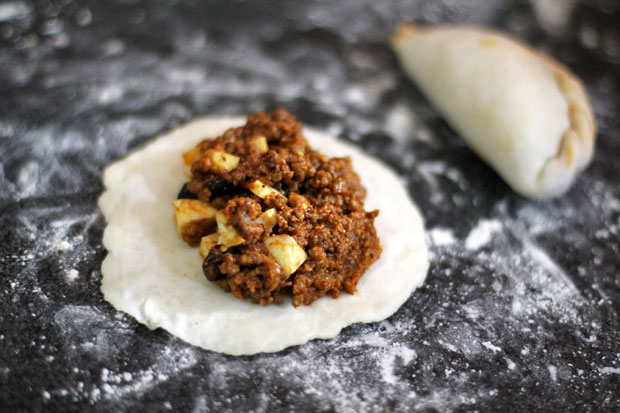 Fresh from the fryer, golden and still glistening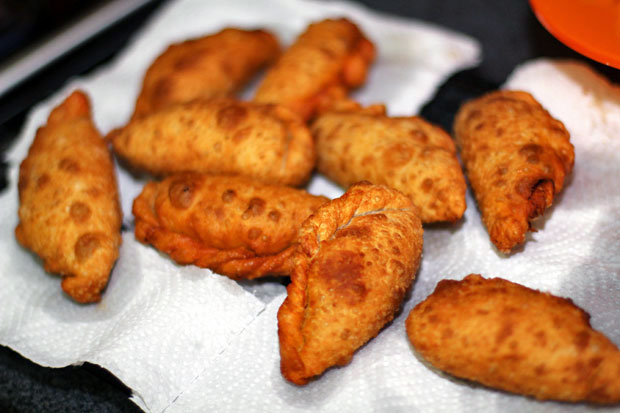 Gorgeous bubbly crust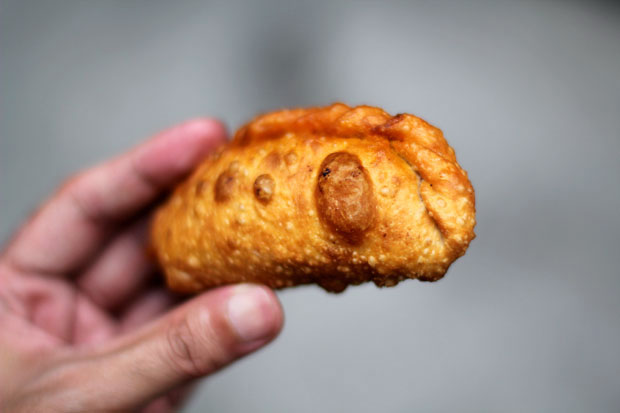 Seriously, how fucking good does that look? Crisp, flaky, chewy, moist, meaty, with a generous punch of cumin and pimenton and just the right amount of sweetness from raisins, this empanada is to die for.
Pictures like this make me so happy I invested in my 100mm f/2.8 macro lens. It was absolutely worth every centavo.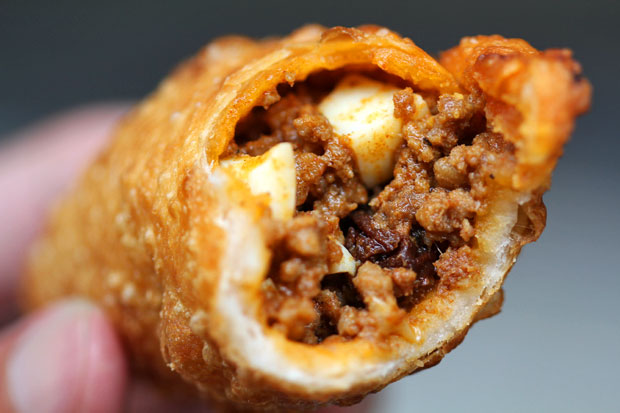 *Original recipe from allrecipes.com.
Ingredients
4 1/2 cups all-purpose flour
1 1/2 tsps salt
1/2 cup shortening
1 1/4 cups water, or as needed
2 Tbsps olive oil
1 small onion, chopped
3 cloves garlic, minced
1 1/2 pounds ground beef
1 pinch salt
2 Tbsps pimenton
1 Tbsp cumin
1/2 tsp ground black pepper
1/2 cup raisins
1 Tbsp white vinegar
2 hard-boiled eggs, peeled and chopped
1 quart oil for frying, or as needed
Directions
In medium bowl, stir flour and salt together. Cut in shortening using pastry blender, or pinch into small pieces using your fingers until mixture resembles coarse crumbs. Use fork to stir in water a few tablespoons at a time, until mixture resembles a ball. Pat into a ball, then flatten slightly. Wrap in plastic wrap and refrigerate for one hour.
Heat oil in large skillet over medium heat. Add onion and cook until tender. Crumble in beef, then season with salt, paprika, cumin, and black pepper. Cook, while stirring frequently, until beef is browned. Drain excess grease, and stir in raisins and vinegar. Refrigerate until chilled, then stir in hard-boiled eggs.
Form dough into 2-inch balls. On floured surface, roll each ball out into thin circle. Spoon some meat mixture onto center, then fold into half-moon shapes. Seal edges by pressing with your fingers.
Heat oil in deep-fryer to 365° F. Place one or two pies into fryer at a time. Cook for around 5 minutes, turning once to brown on both sides. Drain on paper towels, then serve hot.