Oaxacan Chicken Mole with Red Rice
I hate to disappoint you, but if you clicked into this post looking for a Oaxacan mole recipe, then I'm afraid you won't find one. Frozen then handcarried all the way from California, the mole Ren used for this dish was made by a Mexican friend of her brother. Deeply flavored but extremely laborious to prepare, I don't blame Ren at all for not wanting to make it from scratch.
If you've never heard of mole, it refers to any number of sauces traditionally used in Mexican cuisine. Popular throughout Mexico with many regional varieties, the best known moles come from Puebla and Oaxaca. While Poblano moles are made with an average of 20 ingredients, Oaxacan moles can have over 30, with each ingredient toasted then hand-ground into a fine powder. If you think that toasting and hand-grinding 2 ingredients (rice and peanuts) to make kare-kare (Filipino oxtail stew with peanut sauce) is laborious, imagine doing that for 30!
Without question, mole is considered one of the most representative dishes of Mexico. The consumption of mole is so strongly associated with festivals, that to say ir a un mole ("to go to a mole") means "to go to a wedding". Because mole is so boldly flavored, it's sometimes considered an acquired taste by many, spawning another saying – en su mero mole – which loosely translates to "one's cup of tea". Talk about being ingrained in the culture!
With so much Mexican pride invested in this dish, I can't help but reflect back on our own Filipino adobo. Though nowhere near as complex as mole, we Filipinos are staunchly proud of our adobo, frequently using it as a symbol for national pride. Case in point, every Filipino household makes its own version of adobo, with recipes often being passed from generation to generation. Like mole, they may differ in their ingredients, but one thing always remains constant – every household's adobo is the best. I imagine mole to be the same.
In honor of national pride, here's a classic recipe for Mexican red rice, a terrific accompaniment to any version of mole.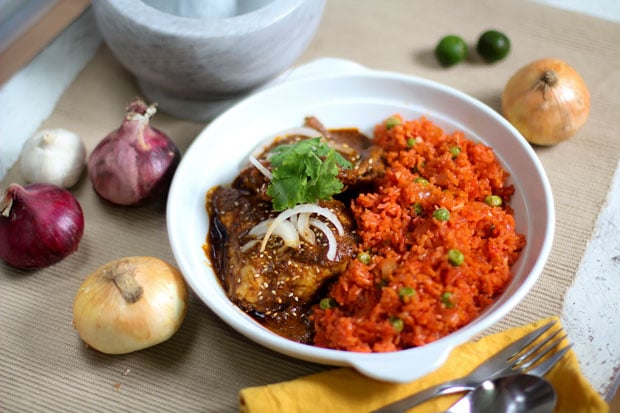 Bold and deeply nuanced in flavor, I could eat this all day. Absolutely delicious.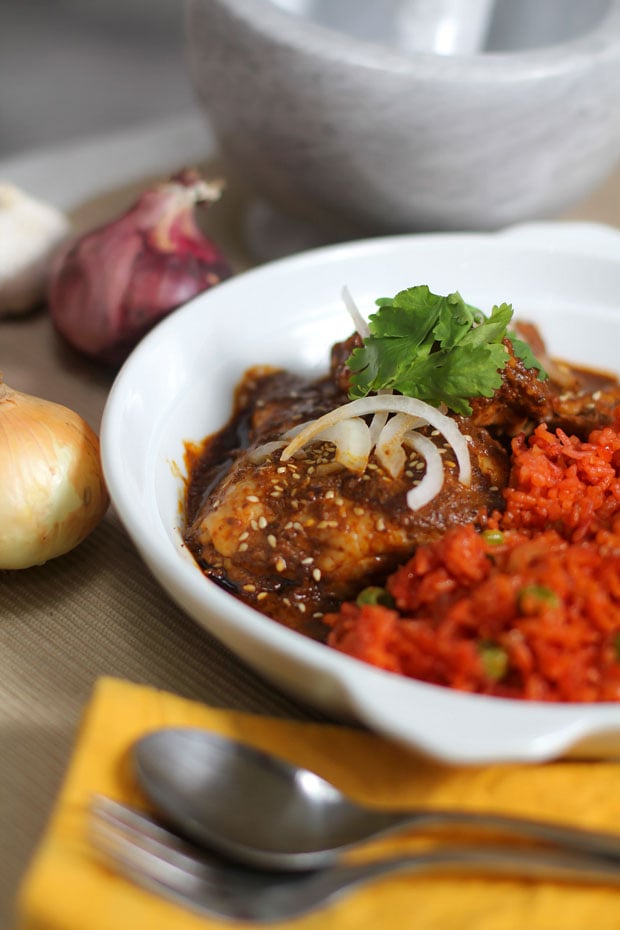 A closer at this complex phenomenon called Mexican mole.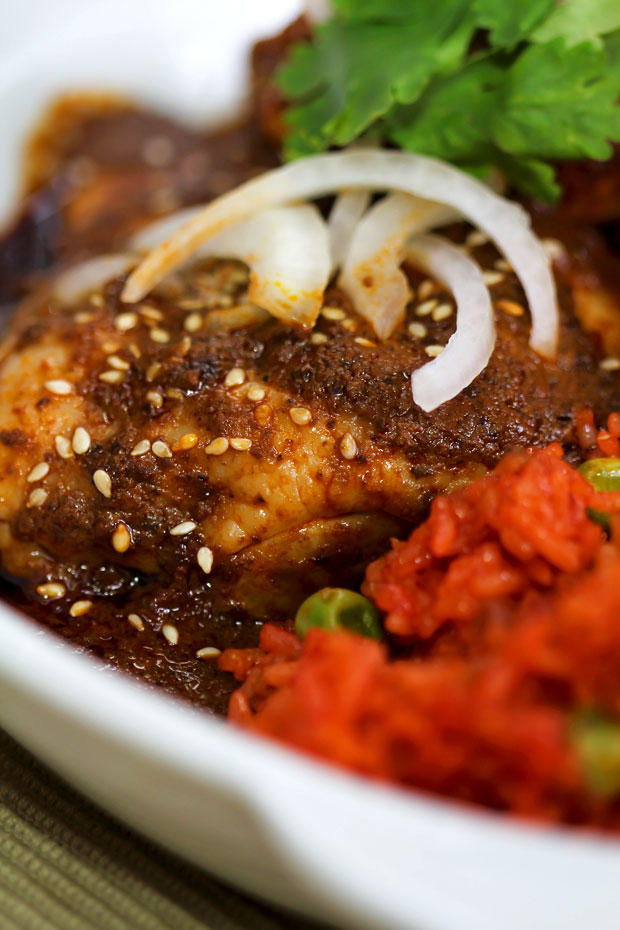 Ingredients
2 Tbsps vegetable oil
1 cup uncooked white rice
3 garlic cloves, minced
1 white onion, diced
3 tomatoes, deseeded and diced
1 cup tomato sauce
1 cup chicken broth
1 tsp kosher salt
1 tsp chili powder
1 cup frozen green peas
Directions
Heat oil in medium saucepan. Add rice and stir over medium-high heat until rice is opaque.
Add garlic and onion, then sauté until softened. Add in chopped tomatoes and stir for a few seconds.
Pour in tomato sauce, chicken broth, chili powder, and salt. Turn heat to low then cover.
Simmer for 20 mins. Add in frozen peas, but do not stir. Cover and cook for additional 5 mins. Turn off heat and allow to sit, covered, for 5 mins. Fluff with fork, then serve.