Eggs Benedict with Blender Hollandaise Sauce
In art school, we were made to take this foundations course called Color and Design. One of the things we had to do, which I hated, was to matte every finished piece with illustration board. You had to neatly cut the center out of the board to create a frame with a beveled inner edge.
Every female student in the class would always produce the most pristine-looking boards. They were clean, crisp, and perfectly straight every time. The guys in comparison, came out with crap. Our matte boards would always be crooked, jagged, dented, even ripped, and it all boiled down to one thing.
Patience.
Unlike us brutish men who clumsily tried to get it done in one swipe, the women took their time. With a light hand and a freshly sharpened blade, they would gently run the knife down the ruler's edge as many times as it took to make a clean cut. Slow and deliberate, patience was paramount to producing good results.
As Ren tells me, the same applies to making Hollandaise sauce.
Though I've never made it myself, it apparently requires the same basic virtues as matte board cutting. Without patience and finesse, the sauce will break, an all too common occurrence that deters many people from even trying it. Luckily for me, and every other heavy-handed oaf out there, this foolproof blender Hollandaise recipe, courtesy of simplyrecipes.com and Reneelicious, makes the perfect cut every time. 😉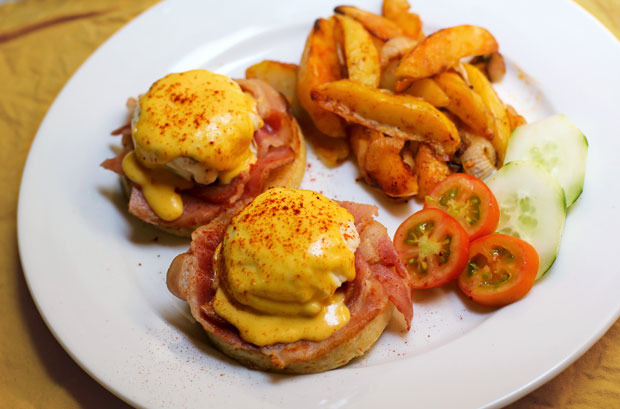 I LOVE eggs benedict, but even I know that at my age, two eggs in one sitting is too much, especially if you've been enjoying them everyday like I have for the past week. To wean myself off, I started eating them with chopsticks instead of a fork and knife. Kidding. 😆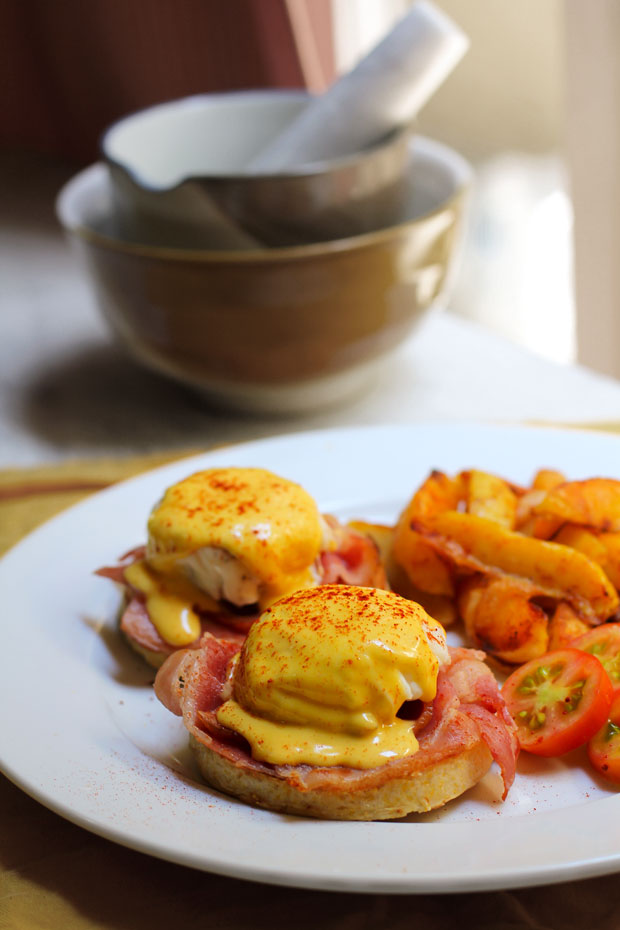 *Original recipe from simplyrecipes.com.
Ingredients
8 pcs of bacon, or 4 pieces of Canadian bacon
4 eggs
2 tsps white or rice vinegar
2 English muffins
Butter
Dash of paprika (optional)
2 Tbsps chopped parsley or chives, for garnish (optional)
FOR BLENDER HOLLANDAISE
10 Tbsps unsalted butter
3 egg yolks
1 Tbsp lemon juice
1/2 tsp salt
Dash of cayenne or tabasco
Directions
Slowly fry bacon on skillet over medium-low heat.
While bacon is frying, bring large saucepan two-thirds filled with water to a boil, then add vinegar. Bring water to a boil again, then lower heat to a bare simmer.
To make blender hollandaise, melt 10 Tbsps unsalted butter. Put 3 egg yolks, 1 Tbsp lemon juice, and 1/2 tsp salt in a blender, then blend on medium to medium-high speed for 20-30 seconds, until eggs lighten in color. Turn blender down to lowest setting and slowly dribble in hot melted butter while continuing to blend. Add more salt and/or lemon juice to taste. Transfer to warm container for pouring.
Poach eggs. Crack eggs one at a time into small bowl before slipping into barely simmering water. Once it begins to solidify, slip in another egg until you have all four cooking. Turn off heat, cover pan, and allow to sit for 4 minutes. (Remember which egg went in first as you'll want to take them out in order.) When it's time to remove eggs, gently lift each out with slotted spoon. NOTE: Cooking times vary between eggs, depending on size of pan, amount of water, number of eggs, and desired runniness, so you may have to experiment a little to get the eggs just the way you like them.
While eggs are poaching, toast English muffins. (Be sure to remove eggs after 4 minutes or desired cooking time).
To assemble, butter one side of English muffin. Top with 2 slices bacon or 1 slice Canadian bacon. Put poached egg on top of bacon, then pour over with hollandaise. Sprinkle with parsley, chives, or paprika if using, then serve.