Fusilli with Cilantro-Calamansi Pesto
You know what I can't stand seeing? Food fights.
I hate them. It bothers me every time I see one in a movie or television show. They're pointless and messy, not to mention incredibly wasteful. It's discomforting to see all this good food being thrown around while the participants laugh hysterically, like it's supposed to be fun. Well, for most of the world, it isn't, and I think it sends the wrong message. Raised to to be thankful for every morsel on her plate, Ren's with me on this one.
She and I love watching cooking competition shows like Top Chef and Master Chef, but we find it equally bothersome whenever a contestant's less than stellar dish is labeled as garbage, then thrown into the trash. It's painful to watch, knowing that that plate of "garbage" could have quelled someone's hunger, even for just a night. I understand that many top chefs view food as nothing more than materials to create art, but at the end of the day, culinary art or not, it's still food.
Garbage. Seriously? Apart from being wasteful, many Americans can often be insensitive and disrespectful as well.
With containers full of mushrooms, feta, bacon, pesto, and caramelized onions left over from pizza night, Ren did the very un-wasteful thing in recycling said ingredients to whip up this delicious bowl of fusilli with cilantro-calamansi pesto. Not only was it the responsible thing to do, it was resourceful and creative too, using what she had instead of buying something new.
Tasteful, not wasteful. That's my Ren. ♥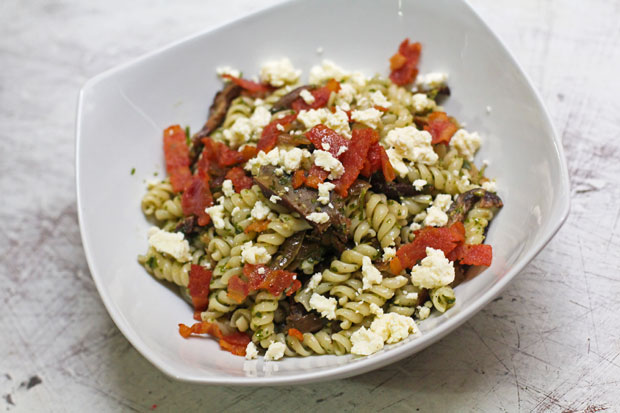 Sharp, bright, earthy, salty, nutty, and spongy, this is a tasty but relatively easy dish to make, even for someone as inept in the kitchen as me. 😉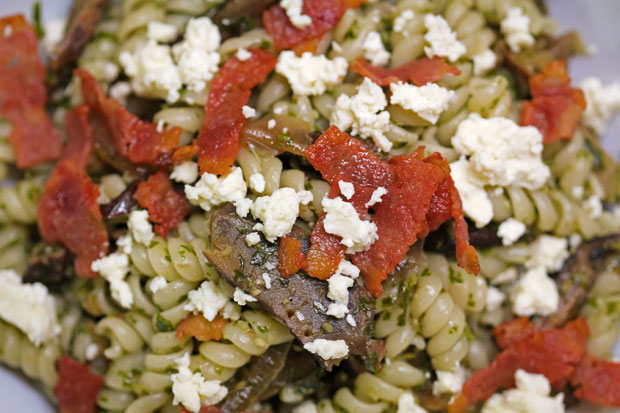 Ingredients
1 cup cilantro-calamansi pesto
125g bacon, diced
1 large white onion, sliced and caramelized
1 cup dried shiitake mushrooms, rehydrated and sliced
1/2 cup reduced fat feta cheese
250g or 1/2 lb fusilli (corkscrew pasta)
FOR PESTO (process the following)
Large bunch of cilantro, about 2-3 cups
3 garlic cloves, peeled
1/4 cup pine nuts, toasted
2 1/2 Tbsps fresh calamansi juice and extra, to serve
1/4 cup parmesan cheese, grated
3/4 cup extra-virgin olive oil (EVOO)
Directions
Cook diced bacon in large skillet over medium-high heat until crisp. Remove bacon with slotted spoon and transfer to paper towel-lined plate.
Add mushrooms and cook until caramelized. Season with salt and pepper. Add caramelized onions, stir, then turn off heat.
Meanwhile, cook pasta in large pot of boiling salted water until al dente. Drain, reserving about 1/3 cup of pasta water.
Pour cilantro-calamansi pesto and some reserved pasta water into skillet with mushroom-onion mixture. Add in pasta, rest of pasta water, and bacon, then toss until sauce clings to pasta. Gently stir in crumbled feta cheese. Serve with calamansi halves.