Reneelicious No-Knead Pizza
Ren stands 5′ 4″ and weighs all off 104 lbs soaking wet. She loves baking bread, but her slight frame makes the task of kneading dough very difficult. It requires muscle and prolonged pressure, similar to giving a deep tissue massage. On top of that, you need to form a "relationship" with your dough, sensing when it's becoming a little too dry, leathery, or loose, and knowing how to fix it. Uninclined to give massages nor pep talks to food, she became ecstatic (and relieved) when she came across Jim Lahey's revolutionary recipe for no-knead pizza in an issue of Bon Appetit magazine.
Asking her what the difference was, she said that no-knead recipes require the un-kneaded dough to sit and be allowed to rise for an average of 18 hours. This prolonged rising time relaxes the dough and allows gluten to develop, giving the bread texture and preventing it from collapsing during the baking process. This formation of gluten is also the primary goal of kneading.
Though the objective might be the same, it's important to note that the results between methods aren't identical. Allowing dough to rise for a prolonged period apparently gives it a depth of flavor superior to kneaded dough, the added rising time allowing for full exploitation of the enzymes' ability to fraction starches and produce sugars. Most no-knead breads are also made with wetter dough, which fosters activity at the gluten's bond sites, resulting in a more open crumb and a different crust than what you'd get with a firmer, kneaded dough.
Reading about all this was fascinating, and it's given me an appreciation for the art of bread making. Before today, I had no idea just how much went into it. I learned, for example, that the unique flavor of San Francisco sourdough, which I love, is credited in part to microorganisms found in the fog! How cool is that? As a reader of this blog and pizza enthusiast so eloquently puts it, "Bread is a mystical, complex thing, which can seem very simple and very complex at the same time." Having learned what I did today, I would have to agree. Ren's been wanting to take an artisan bread making class for some time now, and when she does, I may just join her.
Finding this no-knead method to be just right for her, Ren used her pizza stone to make us these four amazing little no-knead pizzas for dinner. Kneadless to say, I was a very happy man. 😉
Arugula pesto, mushrooms, mozzarella. Don't you just love the irregular shape of these homemade pizzas?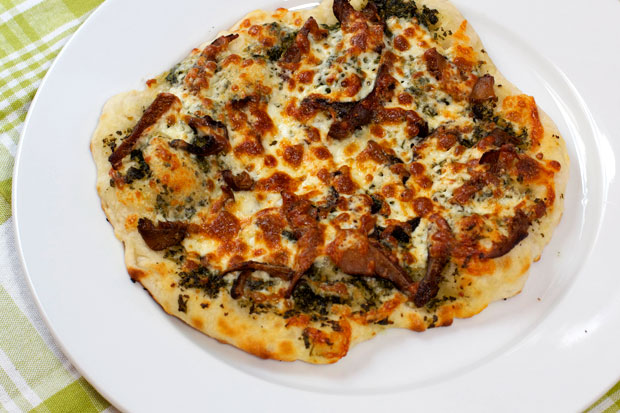 Tomato, basil, kesong puti. A simple man with simpler tastes, this one was my favorite.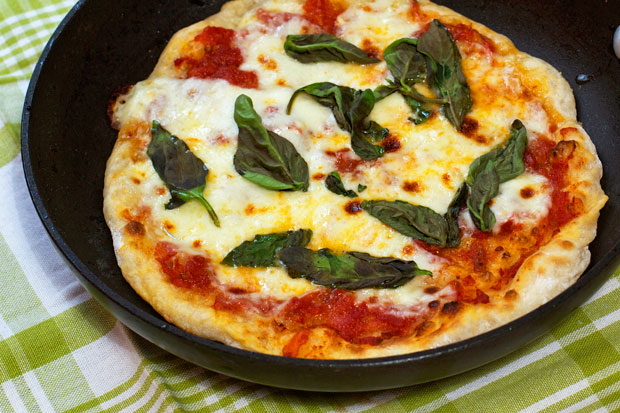 Cilantro-calamansi pesto, caramelized onions, bacon, feta cheese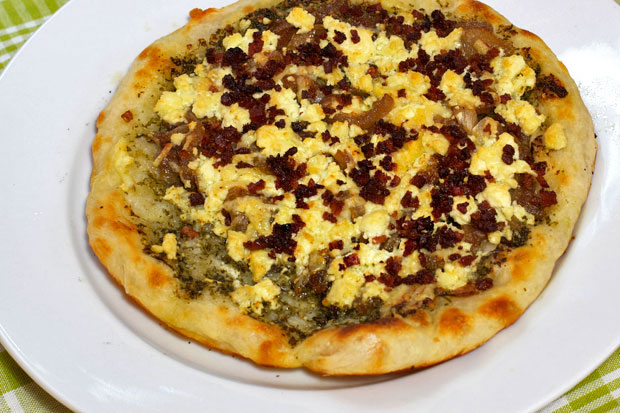 Tomato, feta, mozzarella, bacon, basil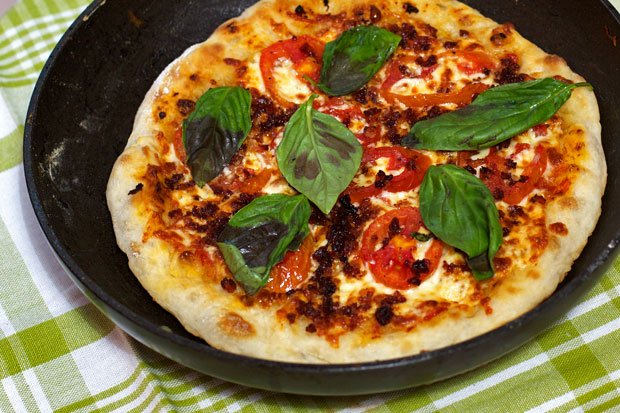 Ingredients
FOR NO KNEAD PIZZA DOUGH
3 3/4 cups all-purpose flour, unsifted
1 1/2 cups water
2 tsp kosher salt
1/4 tsp active dry yeast
Directions
TO MAKE DOUGH
In medium bowl, blend flour, yeast, and salt thoroughly. Add water, then mix well with wooden spoon or your hands.
Cover bowl with plastic wrap or kitchen towel, then allow to rise at room temperature for 18 hours or until dough has more than doubled in size. NOTE: It will take longer in a chilly environment, and less time in a warmer one.
Dust flour onto work surface then scrape out dough. Divide and shape into 4 equal parts. For each portion, start with right side of dough and pull toward center, then do same with left, then top, then bottom. NOTE: The order doesn't really matter. What you want is four folds.
With your hands, round each portion and turn seam side down. Mold dough into neat circular mounds. The mounds should not be sticky. If they are, then dust with more flour.
If you don't intend to use dough immediately, wrap balls individually in plastic and refrigerate for a maximum of 3 days. Return to room temperature by leaving them out, covered in damp cloth, for 2-3 hours before use.
TO MAKE PIZZAS
During last hour of dough's resting, prepare oven.
If using pizza stone, arrange rack in upper third of oven and place stone on rack. Preheat oven to its hottest setting, 500°F-550°F, for 1 hour.
If using baking sheet, arrange rack in middle of oven and preheat to its hottest setting, 500°F-550°F. NOTE: You do not need to preheat baking sheet.
Working with one ball at a time, dust dough generously with flour then place on floured work surface. Gently shape dough into 10″-12″ disk.
IF USING PIZZA STONE
When ready to bake, increase oven heat to broil.
Sprinkle pizza peel or rimless (or inverted rimmed) baking sheet lightly with flour. Place dough disk on prepared peel and top with desired toppings.
Using small, quick back-and-forth movements, slide pizza from peel onto hot pizza stone. Broil pizza, rotating halfway, until bottom of crust is crisp and top is blistered (5-7 minutes).
Using peel, transfer onto work surface to slice. Repeat, allowing pizza stone to reheat under broiler for 5 minutes between pizzas.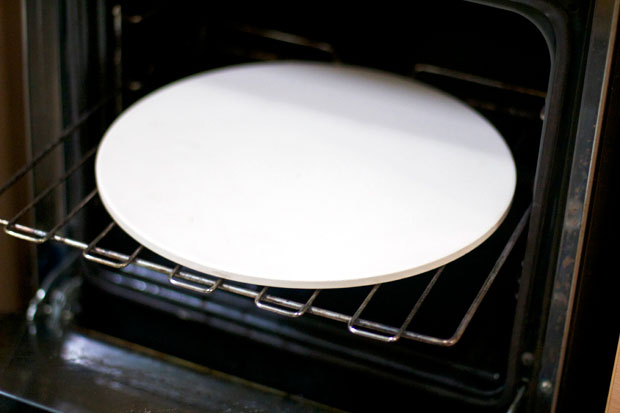 IF USING BAKING SHEET
Arrange dough disk on baking sheet and top with desired toppings.
Bake pizza until bottom of crust is crisp and top is blistered (around 10 minutes). Transfer onto work surface to slice. Repeat with remaining pizzas.
Suggested Toppings
ARUGULA PESTO
Arugula pesto (recipe follows)
Dried mushroom (rehyrdrated, sliced, and sauteed in butter and seasoned with salt and pepper)
Mozzarella, grated
MARGHERITA
Crushed tomatoes mixed with a little olive oil, grated garlic and salt
Local white cheese (kesong puti)
Basil
CILANTRO-CALAMANSI PESTO
Cilantro-calamansi pesto (recipe follows)
Caramelized onions
Bacon, diced
Feta cheese, crumbled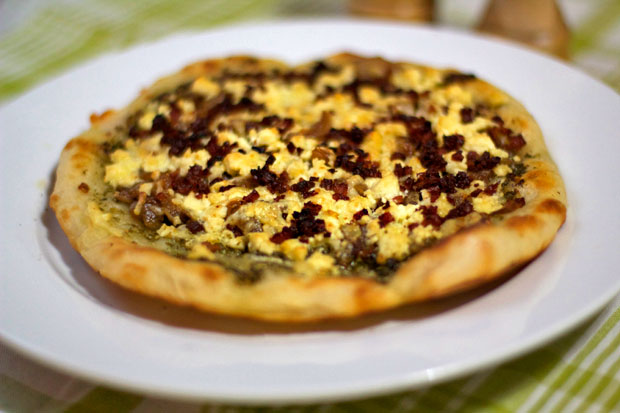 TOMATO-BACON-BASIL
Crushed tomatoes
Feta cheese/mozzarella
Bacon
Basil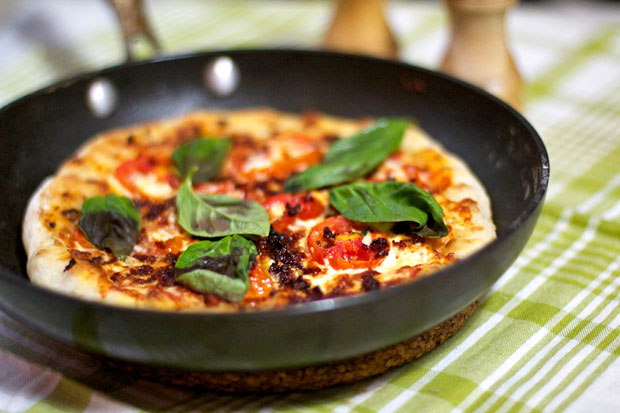 DIRECTIONS FOR ARUGULA PESTO
PROCESS THE FOLLOWING:
Large bunch of arugula, about 2-3 cups
3 garlic cloves, peeled
1/4 cup pine nuts, toasted
1/4 cup parmesan cheese, grated
1/4 cup extra-virgin olive oil (EVOO)
DIRECTIONS FOR CILANTRO-CALAMANSI PESTO
PROCESS THE FOLLOWING:
Large bunch of cilantro, about 2-3 cups
3 garlic cloves, peeled
1/4 cup pine nuts, toasted
2 1/2 Tbsps fresh calamansi juice
1/4 cup parmesan cheese, grated
1/4 cup extra-virgin olive oil (EVOO)