On the Strangeness of Shepherd's Pie
It's all relative.
I took a creative writing class in college, and for one assignment, we were tasked to write an essay about strange food. For inspiration, the professor took the entire class out for lunch at a dimsum restaurant in Chinatown, where he proceeded to order less "American" dishes like snails, chicken feet, and steamed whole fish. With the majority of the class being Caucasian American, the food drew much aversion, a lot of it left untouched. To my surprise, they were even grossed out by the steamed fish, simply because it was served whole with the head and tail still intact! I couldn't believe it.
In spite of the nauseated looks all around, I gleefully gorged on my share, completely oblivious to the fact that this was supposed to be "strange" food.
Having grown up in the Philippines, I'm used to eating things like chicken intestines, pig's blood, and duck embryos, not once giving any thought to their "strangeness." Brought up differently from my American classmates, I understood for the first time that two people can be looking at the exact same thing, but see something completely different. That was eye-opening for me. Though the assignment may have been about creative writing, it taught me much more than that. It taught me about perspective, and the importance of keeping an open mind. The intolerance from my stringent upbringing slowly being eroded by this liberal system, I started to learn that "strangeness", much like perception, truth, and most everything else in this world, is relative.
As for my essay? I titled it "Strange Turkey: A Filipino's First Taste of Thanksgiving". I got an A. 😉
Though I was born and raised in the Philippines, I went to boarding school in Rhode Island, and I will never forget the first time that I saw Shepherd's Pie. At the time, it was the strangest fucking thing I had ever heard of in my life.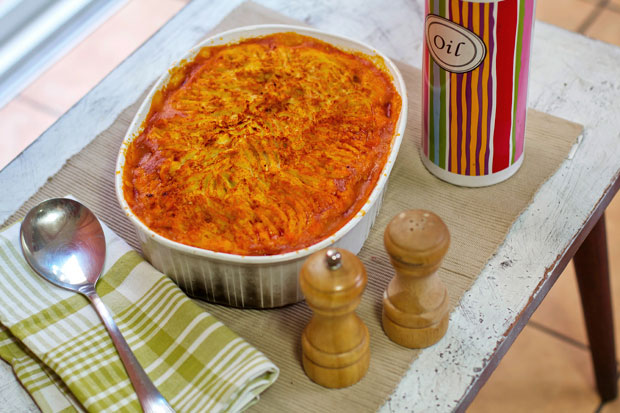 Unfamiliar perhaps, but incredibly delicious nonetheless.



Regardless of where you're from, if you enjoy the texture of minced meat and mashed potatoes like I do, then you're sure to love this.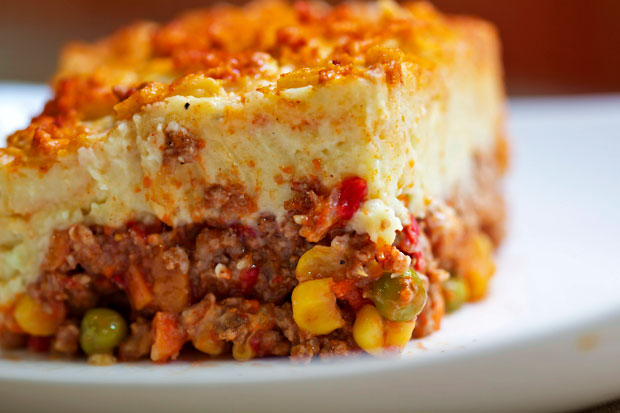 Ingredients
3/4 kilo or 1 1/2 lbs ground round beef or lamb
2 Tbsps Extra Virgin Olive Oil (EVOO)
3 garlic cloves, minced
1 onion, chopped
1-2 cups vegetables – chopped carrots, corn, peas
2 Tbsps worcestershire sauce
1 bay leaf
1/2 cup beef broth
1/3 cup tomato paste
1/2 cup tomato sauce
1/2 cup canned red pepper/pimientos, diced
Salt and freshly ground black pepper, to taste
3/4 kilo or 1-1/2 lbs potatoes, peeled and quartered
1 cup all-purpose cream
4 Tbsps butter, melted
1 garlic clove, minced
2 tsps kosher salt
1/2 tsp white pepper
Smoked paprika/pimenton, for sprinkling
Directions
Boil potatoes in salted water until tender (about 20 minutes).
While potatoes are cooking, saute onions in large skillet over medium heat until tender. Add garlic and bay leaf, then saute for another minute. Add carrots and cook for around 5 minutes. (Add corn, peas, and pimientos either at end of cooking of onions, or after meat has initially cooked.)
Add ground beef/lamb and sauté until no longer pink. Season with salt and pepper. Add worcestershire sauce. Add beef broth and cook, uncovered, until liquid evaporates. Add tomato paste and sauce and simmer for 10 minutes.
Meanwhile, mash potatoes in bowl and pour in cream, melted butter, garlic, 2 tsps kosher salt, and 1/2 tsp white pepper. Mix well.
Transfer meat mixture into baking dish. Distribute mashed potatoes on top. Use fork to create designs in potatoes. Sprinkle smoked paprika on top.
Cook in 400 degree F / 200 degree C oven until bubbling and brown (about 30 minutes). Broil for last few minutes if necessary to brown.