Khao Kluk Kapi (Thai Fried Rice with Shrimp Paste)
Ren really outdid herself this time.
Though I knew ahead of time that she was making bagoong fried rice for dinner, I wasn't at all prepared for this. I mean, just look at that thing. An explosion of color, texture, and flavor, it's like Chinese New Year on a plate. Absolutely stunning.
In honor of Ren's beautiful (and painstaking) handiwork, I'm going to shut my fat hole for once, and let the pictures do all the talking…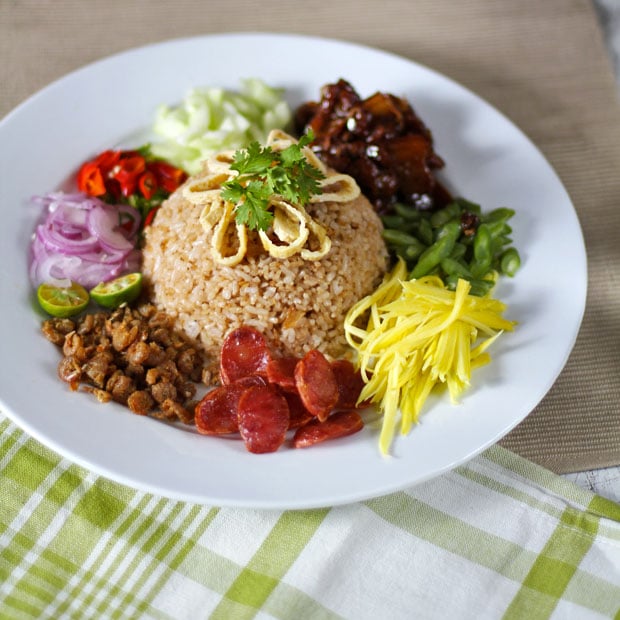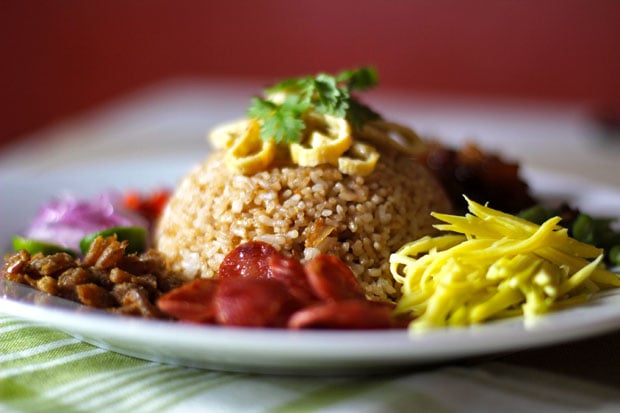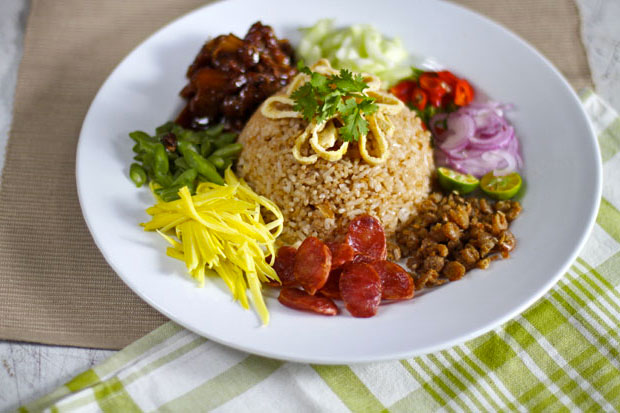 Ok, enough with the silence. As good as I could make this plate of food look with my subpar photography skills, it tasted even better. With a head-spinning number of permutations to play around with, I felt like an alchemist as I mixed and matched the different components in search of the perfect bite. Seriously fucking delicious man.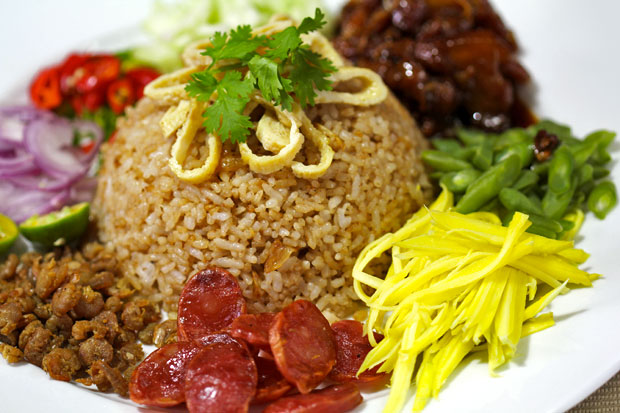 We had it again the following night, and this time, with a touch of photographic drama.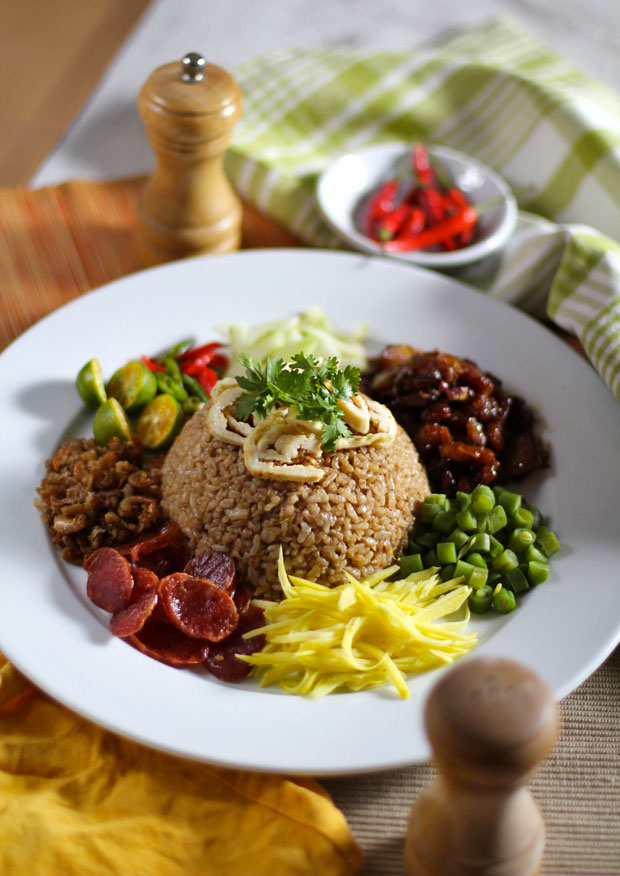 Original recipe from awesomethaifood.com.
Ingredients
FOR FRIED RICE
2 1/2 cups cooked rice
1 Tbsp good shrimp paste
2 Tbsps vegetable oil
1 1/2 tsp water
3 cloves garlic, peeled and chopped
FOR SIDE DISHES
2 eggs
1/2 tsp soy sauce
1-2 pieces Thai sausage (I used Chinese sausage)
1/4 cup small dried shrimp (wash and dried)
Vegetable oil (to fry shrimp and sausage)
2 shallots
10 Thai fresh chilis (I used siling labuyo)
1/2 lime (I used calamansi)
3 string beans (I used Baguio beans)
2 Tbsps chopped green mango
1 cucumber (optional)
FOR SWEET PORK
140 g pork belly
3 Tbsps palm sugar
3 Tbsps water
1 1/2 Tbsps soy sauce
2 tsps dark soy sauce
1 tsp liquid seasoning (I used Maggi)
3 shallots, peeled and thinly sliced
1 Tbsp vegetable oil
Directions
FOR FRIED RICE
Melt shrimp paste with water.
Heat oil in pan over medium high heat, then add chopped garlic. Fry until golden brown and fragrant.
Add melted shrimp paste to fried garlic. Add rice, mix well, then set aside.
FOR SIDE DISHES
EGGS
Break eggs and beat well. Add soy sauce, then beat well together.
Add 1/2 Tbsp oil to pan over high heat and roll around to coat well. When pan is hot, pour eggs into pan and quickly tilt around until egg coats entire surface of pan. Cook until edges of egg start to peel off easily. Roll egg out of pan, and cut into shreds (julienne style). Set aside.
FRIED SHRIMP
Heat 1 Tbsp of oil in pan over medium-high heat. When hot, fry dried shrimp until brown. Remove shrimp from pan and put on paper towel to absorb excess oil. Set aside.
VEGETABLES
Peel shallots, take stems off chilis, then wash them thoroughly with water.
Slice shallots thinly and chop chilis into small pieces.
Wash green mango and beans well. Peel off the green mango skin and slice thinly.
Wash, peel, and cut cucumber into diagonal pieces. Wash and cut edges off green beans, then chop into small pieces. Set aside vegetables.
FRIED SAUSAGE
Cut sausage diagonally into inch-long pieces. Over medium heat, heat 2 Tbsps oil in pan. When hot, fry sausages until just starting to turn dark brown, then put on paper towel to absorb excess oil.
FOR SWEET PORK
Wash pork belly thoroughly. Cut into small, thin pieces.
Heat oil in pan over medium heat. Fry shallots until golden brown and remove from pan.
In same oil, add pork. Cook pork for a few minutes, then add water and wait until it boils. When water starts to boil, season with dark soy sauce, soy sauce, and liquid seasoning.
When pork starts to become soft and liquid is reduced by half, add palm sugar. Mix and stir until palm sugar dissolves and becomes dry, brown, and sticky, then allow to cook for another 10 minutes. Add fried shallots, stir, and set aside.
Carefully arrange all components on a large plate, similar to Ren's arrangement above, then serve.