Tod Mun Pla Krai (Thai Fish Cakes) with Cucumber Dipping Sauce
Thai street food is the best. I'm not entirely sure why, but it's one of the few street foods that I have absolutely no qualms about eating, no matter where it's being served. Call me a traitor, but I wouldn't come within ten feet of any street food stall here in my native Philippines. The prospect of biting into a fish ball then having to spit out toenail clippings just freaks me out.
In Thailand however, I have none of those reservations. When I'm in Bangkok, I have no desire whatsoever to dine at fancy restaurants, preferring instead to feast on street food every chance I get. Something about the place (and culture) just screams food adventure. In fact, the plates of Hoy Tod (mussel pancake) and Goong Ten (dancing shrimp) that Ren and I enjoyed many moons ago, whilst sitting on Monoblock stools along busy Sukhumvit Road in Bangkok, ranks as one of my all-time, most memorable dining experiences. The noise, the exciting dishes, the elephant that lumbered by, they all added up to make a delicious but inexpensive meal, truly unforgettable.
Though I've never had these by the roadside, Tod Mun Pla Krai, or Thai fish cakes, are apparently a common street food in Thailand. Reminiscent of crab cakes, they taste of the ocean without being fishy, and are fantastic when paired with this crunchy, very refreshing side of cucumber relish. Planning a food-centric trip to Thailand towards the end of the year, I'll be sure to keep an eye out for these scrumptious beauties, because as delicious as they are anywhere, they become an experience when enjoyed amidst the urban, unfamiliar, often unexpected ambiance of Bangkok.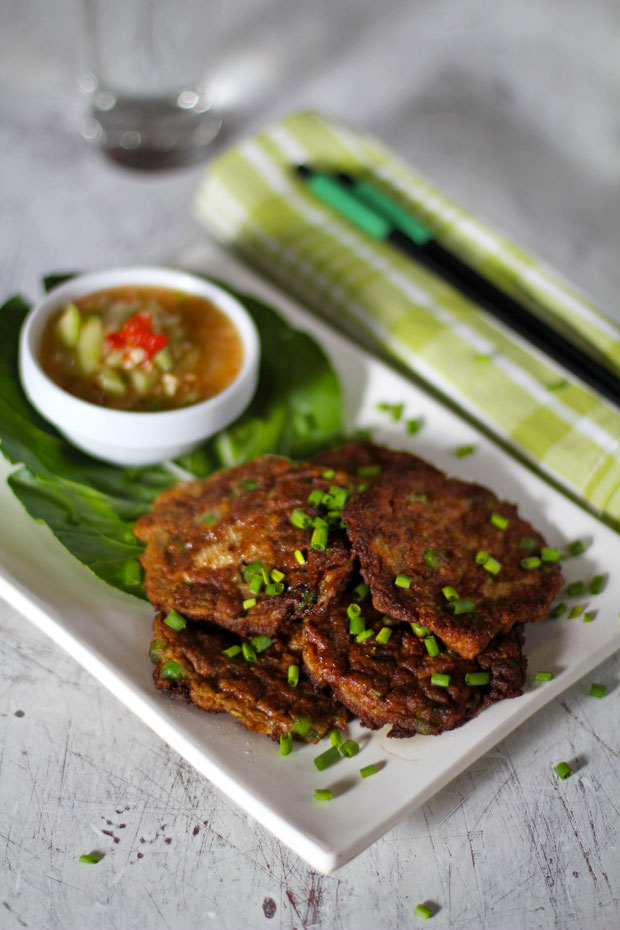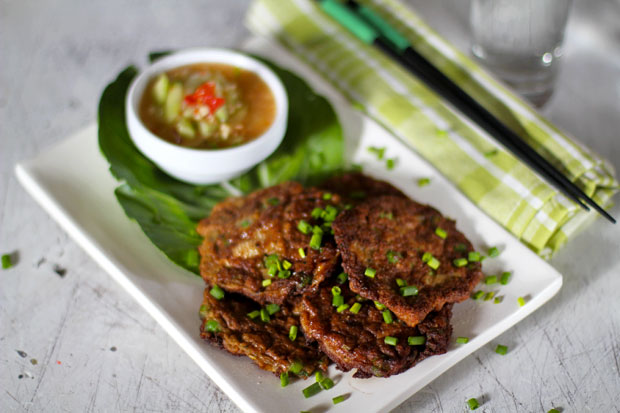 Ingredients
FOR FISH CAKES
500 g white fish meat, minced or chopped
1 egg
1/2 cup string beans, sliced thinly (I used sweet peas)
3 Tbsps fresh kaffir lime leaves, chopped
1 tsp palm sugar
1 Tbsp fish sauce
2 Tbsps red curry paste
1/4 cup coriander leaves
Cooking oil (for frying)
FOR CUCUMBER RELISH
1 cup cucumber, diced
1/4 cup ground roasted peanuts
1/4 cup sugar
1/4 cup white vinegar or rice wine vinegar
1/4 cup water
1 small shallot, finely diced
1 garlic clove, grated
Coriander leaves (for garnish)
Directions
FOR FISH CAKES
Put all ingredients in large bowl. Mix well, then knead until sticky. Alternately, you can put all ingredients in food processor, and process until mixture comes together.
Spoon 2 Tbsps worth of mixture and shape into small patties around 3″ in diameter. Deep fry in vegetable oil until golden brown.
Serve with cucumber relish. (recipe below)
FOR CUCUMBER RELISH
Mix all ingredients, except cucumber and peanuts, in pot. Bring to a boil, then remove from heat and allow to cool.
Spoon into a cup, add diced cucumber, and top with ground peanuts and coriander.
JB is one half of Will Fly for Food and its chief itinerary maker.  He's the one to blame for all the crappy photos and verbal diarrhea on this blog.  Don't listen to him.
Latest posts by JB Macatulad (see all)