It's funny, I had just finalized the logo for a soon-to-open restaurant serving sandwiches very similar to this one, when I come down to the dinner table and find this little square of sunshine staring right at me.
Call me "The Mentalist." 😆
Midway through this scrumptious, highly addictive French sandwich that was so lovingly prepared by my wife Renee, I started to wonder how it got its name, which in English translates to "Mister Crunchy." Though I couldn't find an explanation for its rather odd moniker, I learned that the very first Croque Monsieur was allegedly created by accident, when French workers left their lunch boxes containing cheese sandwiches on hot radiators while they worked. By the time they came to eat them, the heat of the radiators had melted the cheese, thus giving birth to the first Croque Monsieur.
Finding it utterly ridiculous to credit a radiator for creating this crisp, buttery, golden brown parcel of pure awesomeness, I ravenously bit into my sandwich and thought:
"What a croque."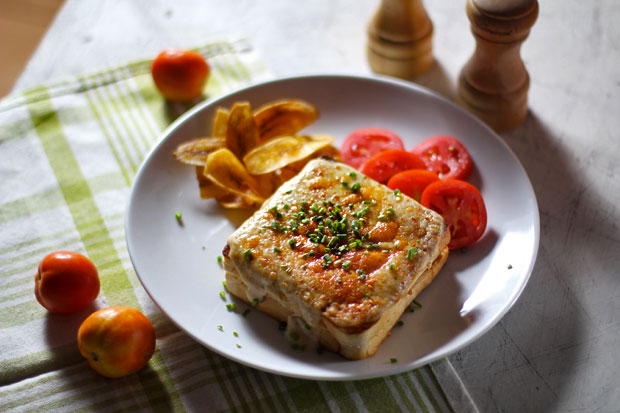 Closer…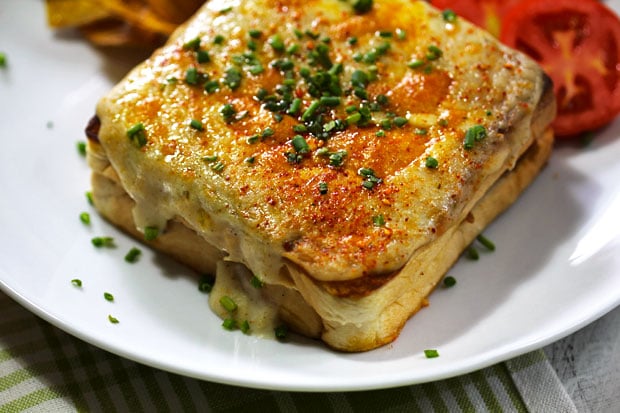 …closer please. While you're busy eating your heart out looking at this picture, I'm busy eating one right now. 😈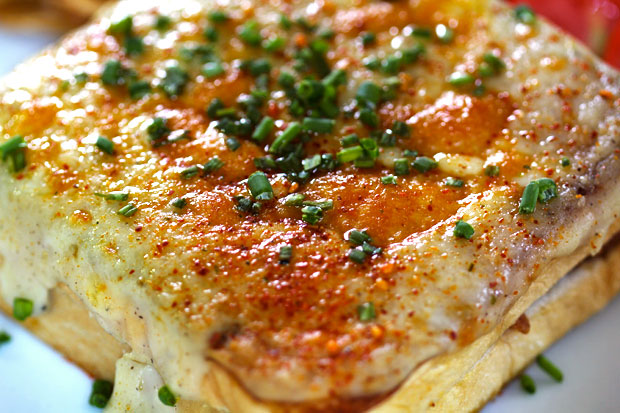 Recipe adapted from Bon Appetit
Ingredients
FOR BECHAMEL SAUCE
2 Tbsps butter
2 Tbsps all purpose flour
1 cup skim milk
Pinch of ground nutmeg
1 bay leaf
1 garlic clove, grated (optional)
FOR SANDWICH
4 slices firm white sandwich bread
100 g thinly sliced ham of your choice
100 g sliced Gruyère cheese
1 Tbsp melted butter
1/4 cup grated Gruyère cheese
2 tsps chopped fresh chives
Dash of shichimi togarashi (optional)
Directions
In small saucepan, melt 2 Tbsps butter over medium heat. Add garlic, then stir. Add flour, then stir for 1 minute. Gradually whisk in milk. Add bay leaf and nutmeg.
Increase heat to medium-high, then boil until sauce thickens, whisking constantly for about 2 minutes. Season with salt and pepper.
Preheat broiler. Place 2 bread slices on counter. Top each with half of ham and sliced Gruyère. Top with remaining bread.
Heat heavy, large skillet over low heat. Brush sandwiches with 1 Tbsp melted butter. Place on skillet and cook until deep golden brown (around 2 minutes per side).
Transfer to small baking sheet. Spoon sauce, then grated cheese over sandwiches. Broil until cheese begins to brown (around 2 minutes). Garnish with chopped chives and sprinkling of togarashi.