"You've never had Cinnabons before???!!!!!!"
Revealing to Ren that I had never in my life eaten a Cinnabon was like telling her that Matt Bomer was gay. Blasphemous, impossible, but true. 😆
As hard as it was for her to believe, I have never, ever, in my life, eaten a cinnamon roll from Cinnabon. With a preference for savory over sweet, I would always choose McDonald's over Krispy Kreme, Burger King over Dairy Queen, which probably explains why I was never compelled to try it. Plus, I have this quirky aversion to sticky food. I don't like touching it, I don't take pleasure in eating it, and I especially don't enjoy getting it stuck all over my teeth (hence my disdain for Snickers candy bars). As a result, Cinnabon Rolls, drenched and dripping in that thick, gooey, insanely sticky-looking goo, never seemed all that enticing to me. So when Ren first told me that she'd be making these Cinnabon roll clones courtesy of allrecipes.com, I wasn't exactly jumping out of my chair.
Until of course, I tried one. 😈
Sinfully sweet, cinnamon-y, slightly tangy, and not so sticky, I felt like John Travolta upon first hearing that Matt Bomer was gay. I became absolutely beside myself with joy.
Enjoying these for three consecutive mornings, I'm almost in my 40s but only now discovering just how devastatingly delicious these cinnamon rolls are, especially when paired with a hot cup of black coffee. Like salmon and cream cheese, figs and feta, Rachael Ray and laryngitis, it's a match made in culinary heaven. With no prior experience with the original, I can't tell you how similar these clones are to the real thing, but Ren says that they're pretty darn close.
Hmmmm, with homemade cinnamon rolls this good, it looks like I'll never get to try Cinnabons after all. 😆

Before the oven…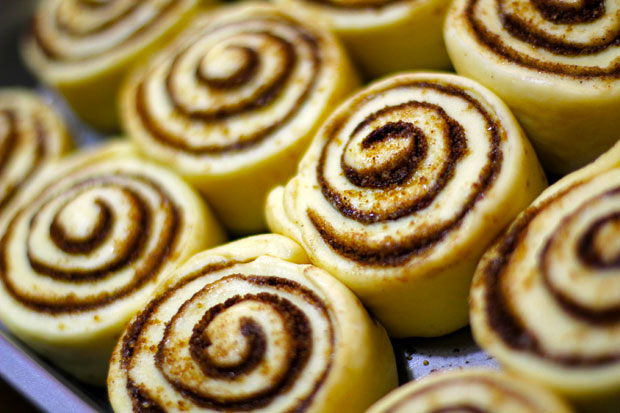 …after the oven. ♥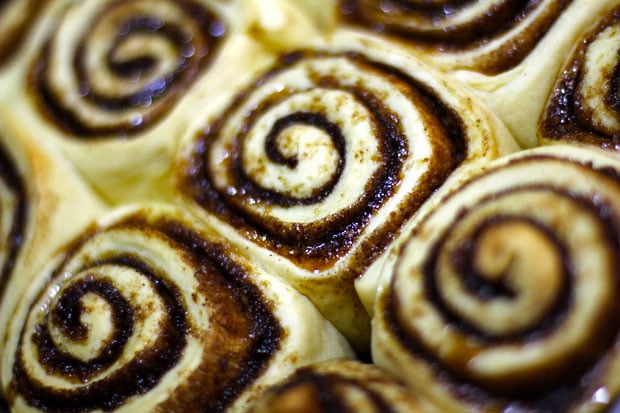 With some cream cheese frosting and coffee. ♥♥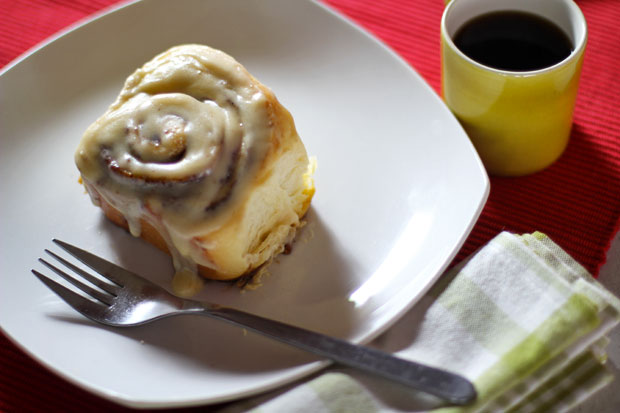 Midlife discoveries like this one prove that life does indeed begin at 40.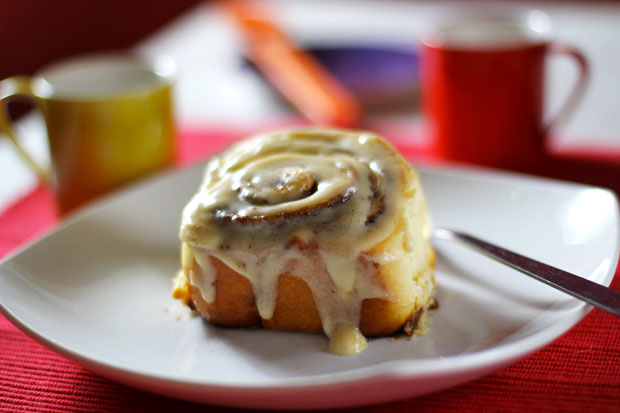 Recipe from allrecipes.com
Ingredients (makes 12 rolls)
FOR DOUGH
1 cup warm milk (110 degrees F)
2 eggs, room temperature
1/3 cup margarine, melted
4 1/2 cups bread flour
1 tsp salt
1/2 cup white sugar
2 1/2 tsps bread machine yeast
FOR FILLING
1 cup brown sugar, packed
2 1/2 Tbsps ground cinnamon
1/3 cup butter, softened
FOR FROSTING
1 (3 ounce) package cream cheese, softened
1/4 cup butter, softened
1 1/2 cups confectioners' sugar
1/2 tsp vanilla extract
1/8 tsp salt
Directions
Place ingredients in pan of bread machine in order recommended by manufacturer. Select dough cycle, then press start.
After dough has doubled in size, turn it out onto a lightly floured surface, then cover and allow to rest for 10 minutes. In small bowl, combine brown sugar and cinnamon.
Roll dough into 16″ x 21″ rectangle. Spread dough with 1/3 cup butter and sprinkle evenly with sugar/cinnamon mixture. Roll up dough and cut into 12 rolls. Place rolls in lightly greased 9″ x 13″ baking pan. Cover and allow to rise until nearly doubled (around 30 minutes). Meanwhile, preheat oven to 400 degrees F.
Bake rolls in preheated oven until golden brown (around 15 minutes). While rolls are baking, beat together cream cheese, 1/4 cup butter, confectioners' sugar, vanilla extract, and salt. Spread frosting on warm rolls before serving.
JB is one half of Will Fly for Food and its chief itinerary maker.  He's the one to blame for all the crappy photos and verbal diarrhea on this blog.  Don't listen to him.
Latest posts by JB Macatulad (see all)