Kheema: Indian Ground Beef with Peas
What do tacos, burgers, sloppy joes, samosas, spaghetti bolognese, arroz a la cubana, and tortang giniling (Filipino ground meat omelette) have in common? They're among my favorite foods in the world and they're all made with ground meat, much like this kheema dish here.
Also spelled keema or qeema, it's a traditional South Asian dish that derives its name from the ancient Turkish word for minced meat. Though almost any kind of ground meat can be used, it's typically made by mixing minced mutton meat with peas, potatoes, and garam masala, a delicious, Indian spice mixture that blends a variety of spices like cumin, coriander, cinnamon, bay leaf, pepper, clove, cardamom, and ginger. Cooked by stewing or frying, kheema can be spread over naan bread, it can be formed into kababs, or used as a stuffing for samosas.
A simple dish that's effusive with flavor and texture, if you enjoy ground meat dishes like I do, then you're sure to love this one.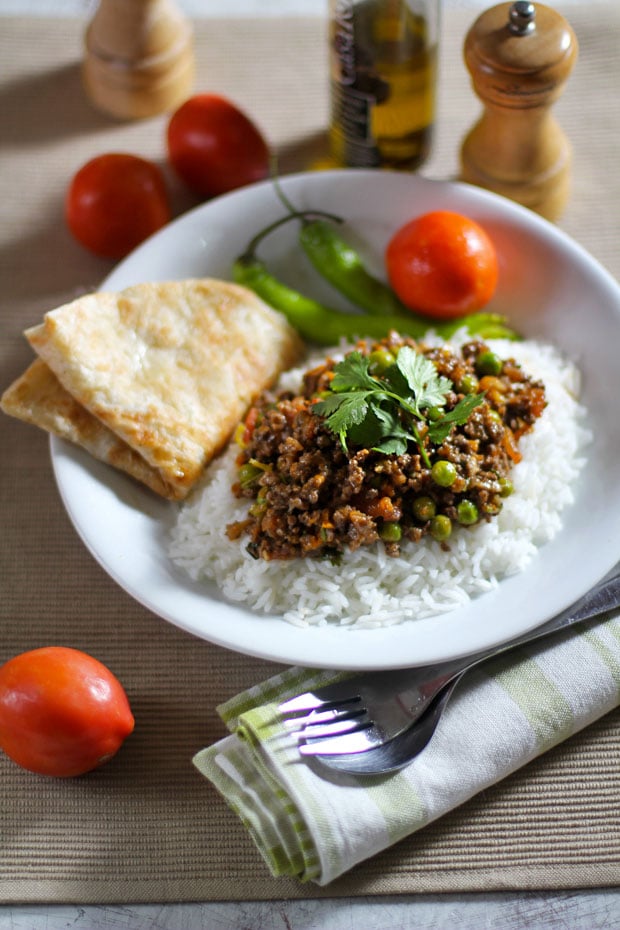 Bread or rice? Obviously, I couldn't decide. 😆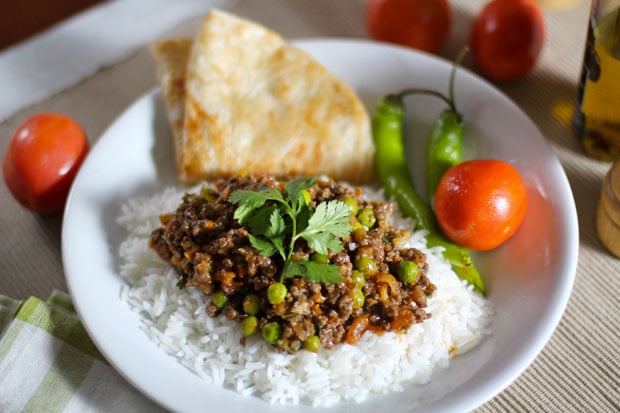 If you'd like to pair it with rice, then I suggest trying it with a fluffy rice, the recipe for which you can find HERE.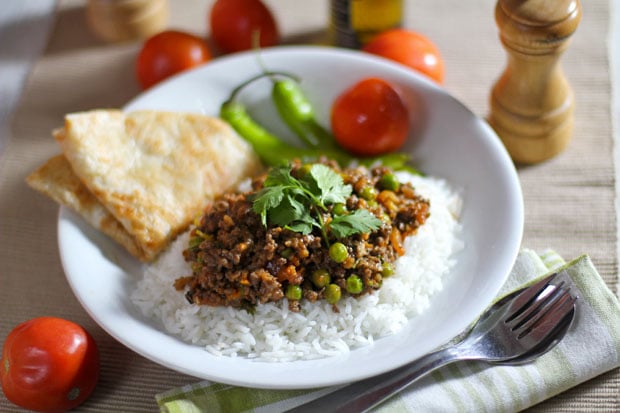 Ingredients
3 Tbsps vegetable oil
1 medium onion, finely diced
4 cloves garlic, minced
1 (1-inch thumb) fresh ginger, peeled and minced
2 tsps ground coriander
1 tsp paprika
1 tsp garam masala
1 tsp ground cumin
1/2 teaspoon cayenne pepper
1 pound (500 grams) ground beef
2 medium tomatoes, chopped
1 Tbsp tomato paste, optional
2 green chilies, deseeded, finely diced
Kosher salt and freshly ground black pepper
1/2 cup frozen green peas, thawed
2 tsps apple cider vinegar
1/4 cup chopped fresh cilantro, plus a few extra leaves for garnish
Directions
In large skillet, heat oil over medium-high heat. Add onions and cook until browned. Add garlic and ginger, then saute for another minute. Stir in coriander, paprika, garam masala, cumin, and cayenne, then cook for another minute.
Add beef, break it up with spoon, and saute until meat is no longer pink. Add tomatoes, tomato paste, and 1 cup of water. Season with salt and pepper. Stir well and simmer, partially covered, for about 10 minutes. Add in peas and chilies and cook for another 5 minutes while partially covered.
Stir in vinegar and chopped cilantro. Garnish with torn cilantro leaves and serve with warm chapatis or steamed fluffy white rice.