The first (and only) time I tried this dish was at Nav – Modern Thai Cuisine in Kapitolyo, Pasig. It's a simple dish made by deep-frying hard-boiled eggs so they develop a chewy, delicately leathery skin. They're then drenched in a tangy-sweet tamarind sauce before being topped with fried shallots, scallions, and cilantro. I enjoy eggs in all forms, so this was love at first bite for me. Eggy, sweet, syrupy, spicy, sour, crisp, and chewy, they're absolutely delicious.
As you've probably already noticed, as good as these eggs were, what was most interesting about them wasn't the taste nor the texture, but the name. Oddly dubbed "Son-in-Law Eggs", I hopped online and found this colorful, very amusing, though slightly chilling description from the Astray Recipes website:
"This dish is traditionally made from quail's eggs, and the name is literalistic euphemism. The story goes that if a young man is being less than kind to his wife, then his mother-in-law will give him a salutary reminder that his behavior has been noted by serving this dish. The message is plain. Straighten up and fly right, or your wedding tackle will take the place of the similarly sized eggs in this dish."
Brought to me by Reneelicious and Rasa Malaysia, this dish is a sumptuous but sobering reminder to ALWAYS be kind to my wife. 😆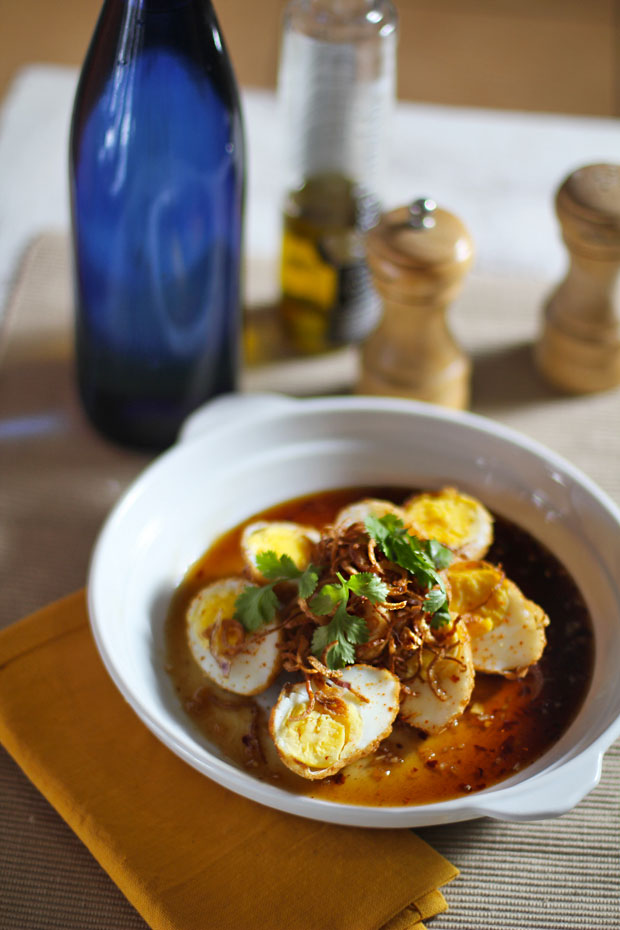 In hindsight, I probably should have taken a picture from eye level as well, to better showcase the eggs' leathery skin, which you can kind of see here. Soooo good.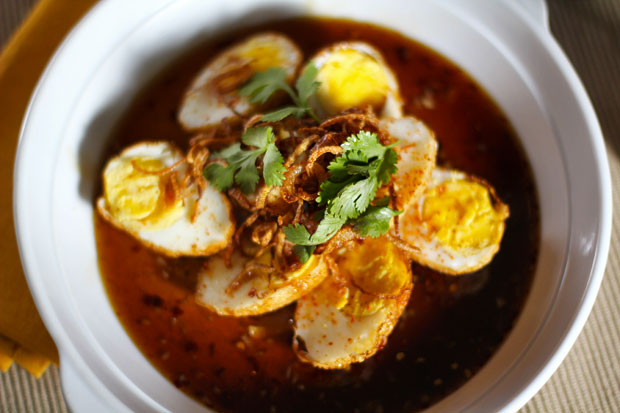 Recipe from rasamalaysia.com
Ingredients
FOR EGGS
4 hard-boiled eggs (shelled)
2 big shallots (finely shredded)
Oil for deep frying
Scallion or cilantro for garnishing
FOR TAMARIND SAUCE
1/2 Tbsp fish sauce (or to taste)
2 Tbsps palm sugar (or to taste)
4 Tbsps tamarind juice (use about a small ping pong ball size of tamarind pulp and mix with water to extract the juice)
1 clove garlic (minced)
1 tsp dried chili flakes
1 Tbsp ground peanut
1 Tbsp oil
Directions
Deep-fry eggs until skin turns brown, then remove and slice into halves. Arrange them on plate. Deep fry shredded shallots until golden brown, then remove and drain on paper towel.
Heat oil in small saucepan and saute minced garlic until light brown. Add dried chili flakes and ground peanut, do a quick stir, then pour in tamarind juice, palm sugar, and fish sauce. Bring to a boil and allow to thicken or until sauce coats back of spoon.
Pour sauce on top of eggs and top with fried shallots and scallion/cilantro. Serve hot with steamed white rice.