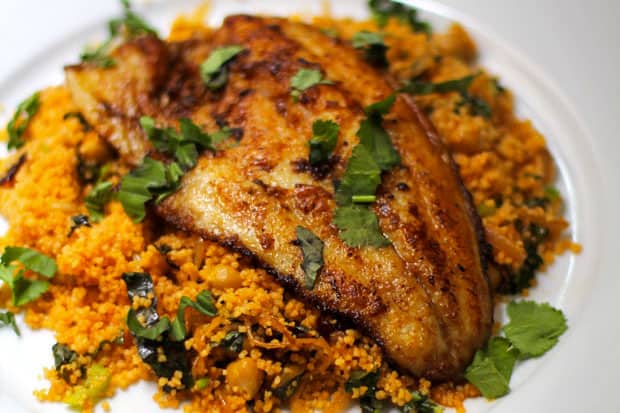 Spicy Fish with Caramelized Onion Couscous
NOTICE: Some of our articles contain affiliate links. The ones that do will have a disclosure statement at the bottom. You can refer to our privacy policy and terms of use for more information.
This delicious, delicate, spicy cream dory with caramelized onion couscous is roughly 744 calories. That amounts to 46.8% of my allowed daily caloric intake, a limit I need to observe if I want to accomplish my goal of losing nine pounds in as many weeks.
How do I know? My new best buddy told me.
Meet My Fitness Pal, a free, fast, and easy to use calorie counter for your desktop computer, laptop, or mobile device. Only two days in, and I'm already addicted to this thing.
After trying the 7-day GM Diet but losing a disappointing 1.8 pounds, I decided to give this calorie counter a go. Highly recommended to us by Ren's doctor brother, what it does is set a ceiling of calories that includes a breakdown on the number of carbs, fat, and protein that you're allowed to consume daily in order to meet your weight loss goal. I indicated at the start of the program that I wanted to shed a total of nine pounds in nine weeks with zero exercise, giving me the magic number of 1,590 maximum calories that I'm allowed to have everyday.
Throughout the day, you input into the counter everything that you eat and drink. With each entry, it tells you precisely how many calories each item is worth before promptly subtracting that number from your allowed daily intake. For example, I had one piece of toast, one longganisa sausage link, and one cup of unsweetened, black instant coffee for breakfast this morning, the combined caloric value of which added up to 195, leaving me with 1,395 calories for the rest of the day. Pretty cool eh?
But wait, it gets better.
By the end of the day, I finished well under my allowed intake, consuming a total of just 1,153 calories. Advising me that I'd weigh a svelte 154.7 lbs in 5 weeks if I kept that up, it followed up this gentle pat on the back with a cautionary footnote:
"*Based on your total calories consumed for today, you are eating too few calories. Not only is it difficult to receive adequate nutrition at these calorie levels, but you could also be putting your body into starvation mode. Starvation mode lowers your metabolism and makes weight loss more difficult. We suggest increasing your calorie consumption to 1,200 calories per day minimum."
Concerned about my health as well as my weight loss goals, this app is a true pal indeed. 😉
Try it yourself for free at www.myfitnesspal.com.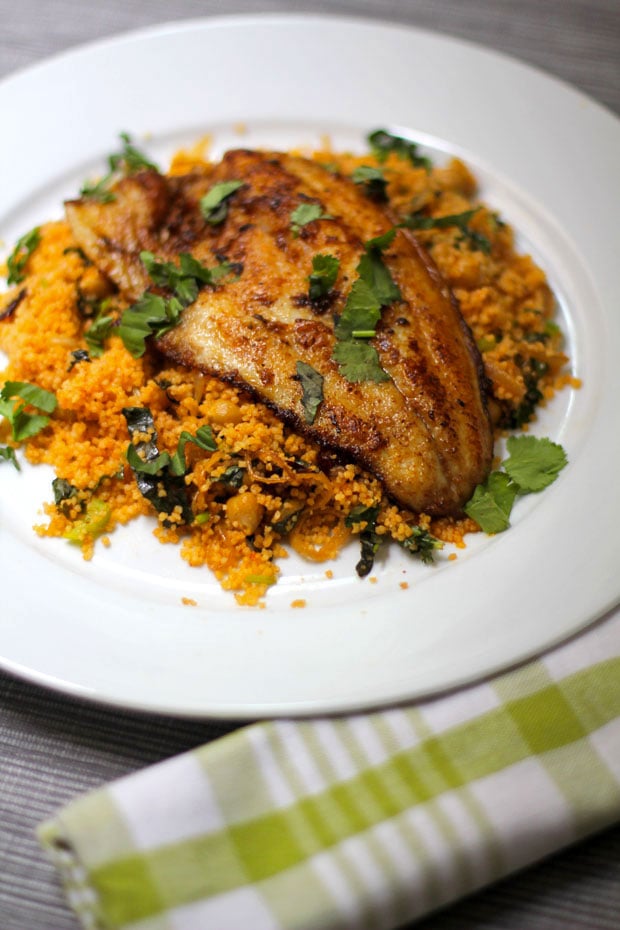 Light, delicate, and flaky, I adore cream dory, especially when it's pan-seared like this. Those crisp, caramelized edges are so good!
What I love about this calorie counter is that it doesn't deprive you of anything. Weight loss is achieved through portion control, which I'm confident I can do. More on this in the following weeks.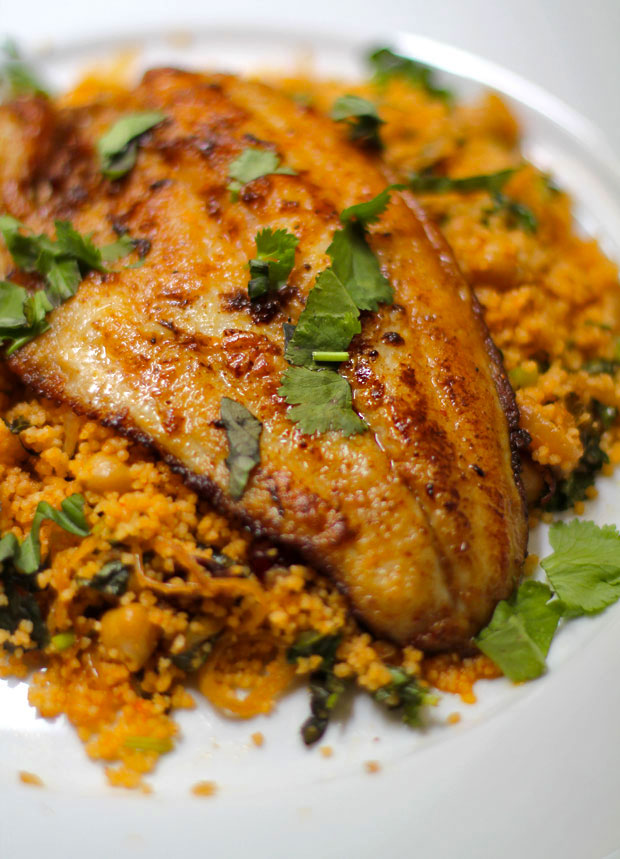 Ingredients
5 Tbsps extra virgin olive oil
1 Tbsp harissa, plus extra to serve
2 x 180g white fish fillets
2 white onions, thinly sliced
1/4 cup white wine vinegar
1 cup chicken stock
1 cup couscous
3/4 cup basil leaves
1/4 cup dried cranberries or raisins
200g canned chickpeas, rinsed, drained
Juice of 5 pcs calamansi, plus extra pcs to serve
1 long red or green chilli, seeds removed, finely chopped
3/4 cup cilantro/coriander/wansoy, finely chopped
Sea salt and white pepper, to taste
Directions
Combine 1 1/2 Tbsps oil and 2 tsps harissa in bowl. Season with some sea salt and white pepper, then add fish and coat in marinade. Cover and refrigerate for 1 hour.
Meanwhile, heat 1 Tbsp of oil in pan over medium-low heat. Cook onion, stirring occasionally, for 10-15 mins until lightly caramelized. Add vinegar and cook, stirring, for 2-3 mins until evaporated. Season and set aside to cool.
Heat stock in small saucepan over medium-high heat with remaining 2 tsps harissa, whisking to combine, until coming to a boil. Pour in couscous, add 1 tsp sea salt, then turn off heat and cover. Allow to stand for 15 mins.
Finely chop basil leaves. Fluff couscous with fork, then stir through onion, dried cranberries/raisins, chickpeas, calamansi juice, chilli, cilantro, and 1 Tbsp oil. Set aside mixture.
Heat remaining 1 Tbsp oil in large non-stick frying pan over medium-high heat. Cook fish for 2-3 mins on each side until just cooked through. Serve with couscous, calamansi, and extra harissa.
JB and Renée are the Traveleaters behind Will Fly for Food, a travel blog for the gastronomically inclined.  They enjoy experiencing food from different cultures so they've made it their mission to try every country's national dish.  Read more about them and their National Dish Quest here.