I love it when Ren busts out her lab apron.
On the heels of a transcendent lamb bolognese dish that we recently enjoyed at LuLu, Ren whipped up this beautiful and cheery lemony pork ragu, which was inspired by the preserved lemons used in that LuLu lamb bolognese.
With true preserved lemons taking weeks, even months to prepare, Ren wanted to see if she could come up with a quicker way to replicate that full-bodied, lemony flavor. She experimented by sprinkling lemon strips with sugar and salt, then sauteeing them in olive oil until soft, before infusing them into this dish. The end result was a deliciously bright, lemony flavor that may not have been quite as bold as true preserved lemons, but was significantly less tart than pure lemon zest.
Encouraged but still unsatisfied, Ren acknowledged that nothing short of the real thing will do, so has decided to invest the time in making not just true preserved lemons, but preserved calamansi (calamondin), and preserved limes as well. Wicked!
With the first batch still months away from being ready, I asked that she make enough not just for her own experiments, but for mine as well. In the name of chemistry, I remembered that there's a fresh, unopened bottle of Absolut original in the cabinet just aching to be tinkered with.
Can you say "preserved lemon and calamansi shooters"? 😈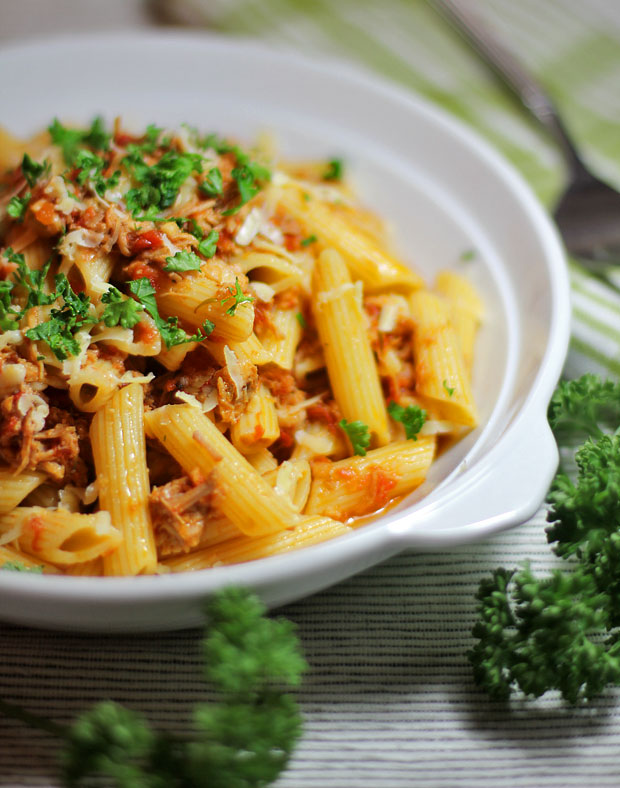 Lemony but less tart, this delicious, uplifting pork ragu will surely brighten up your day. 😀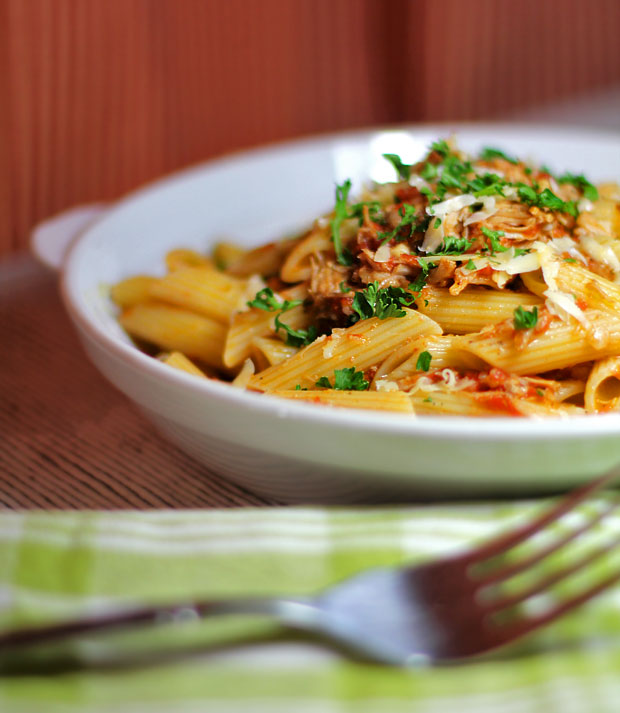 Ingredients
3/4 pound or 340 g boneless pork shoulder
1/4 cup extra-virgin olive oil
1 medium white onion, diced
3 garlic cloves, minced
1/2 tsp crushed red pepper
1/2 cup white wine
2 (400 g) cans whole peeled tomatoes, crushed by hand
1 tsp dried thyme
2 Tbsps preserved lemons, chopped and rinsed, or zest of 1 lemon
Directions
Trim fat from exterior of pork, then cut into bite-sized pieces, around 3/4-inch cubes. Continue to trim fat and cartilage as you divide meat. Pat-dry pieces of pork with paper towels.
Over medium heat, pour olive oil into large pan, then toss in pork. Spread pieces evenly in pan, and season with salt. Cook pork slowly for around 15 minutes, turning and pushing pieces around occasionally while juices are released and cooked away.
When pan is dry and pork begins to sizzle, clear space at middle and drop in chopped onion, garlic, and crushed red pepper. Stir fry for a minute or so, until onion is translucent and garlic is fragrant and sizzling, then stir and toss with pork cubes.
Raise heat slightly and pour in white wine, stir, then bring to a boil. Let wine bubble until nearly evaporated and pork is again sizzling. Pour in crushed tomatoes and a cup of water that's been used to rinse out tomato can. Sprinkle thyme, then stir.
Cover pan, and bring tomatoes to a boil, then adjust heat to maintain a steady, gentle simmer. Cook for about 1 1/2 hours, until pork is tender and falls apart easily, and sauce has thickened to desired consistency.
Stir in preserved lemons or lemon zest and remove from heat. Serve with your choice of pasta or grains.
DID YOU KNOW?
That there is in fact a difference between a shooter and a shot? Shooters are made with spirits and liqueurs along with a non-alcoholic mixer, like Red Bull or orange juice. Shots, on the other hand, do not include non-alcoholic mixers, just alcoholic ingredients. Shots can be any alcoholic spirit consumed on its own, like a shot of vodka, or they can be two or more spirits mixed together.