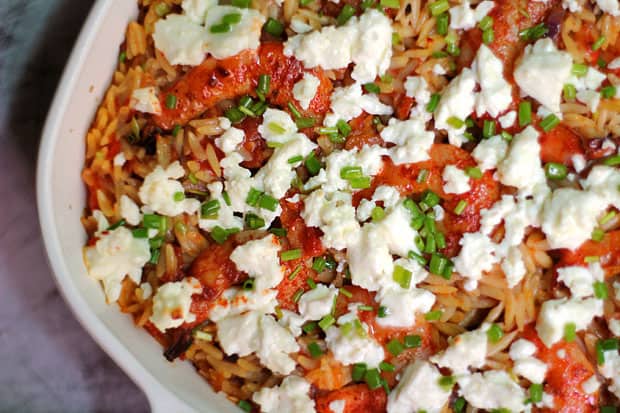 I like rice, Ren favors pasta. So what do you do when faced with such a conundrum? You make pasta that looks like rice.
Coming down to the dinner table, I discovered this gorgeous spread of shrimp and feta cheese resting atop a bed of fluffy, long-grained rice. Light and chewy, I remember thinking that this was bar none, the best rice that I have ever eaten.
Orzo I thought.
Turns out those beautiful long grains weren't rice after all, but orzo, a form of short-cut macaroni shaped like large grains of rice. Happy as I was with these delicious albeit beguiling grains of pasta, I couldn't help but feel a little duped, betrayed even. Reminded of those bitingly funny ecards on Pinterest about raisins masquerading as chocolate chips, I realized that pasta made to look like rice is but one of many reasons why I have trust issues. 😐

My apologies for the bluish tint on these images. I moved my setup next to the glass sliding door in our dining area to get better light, and was disappointed to find a heavy blue cast to all the photos after opening them in Photoshop. The glass must be lightly tinted, so I'll be sure to slide open the door on future shots to get unfiltered natural sunlight.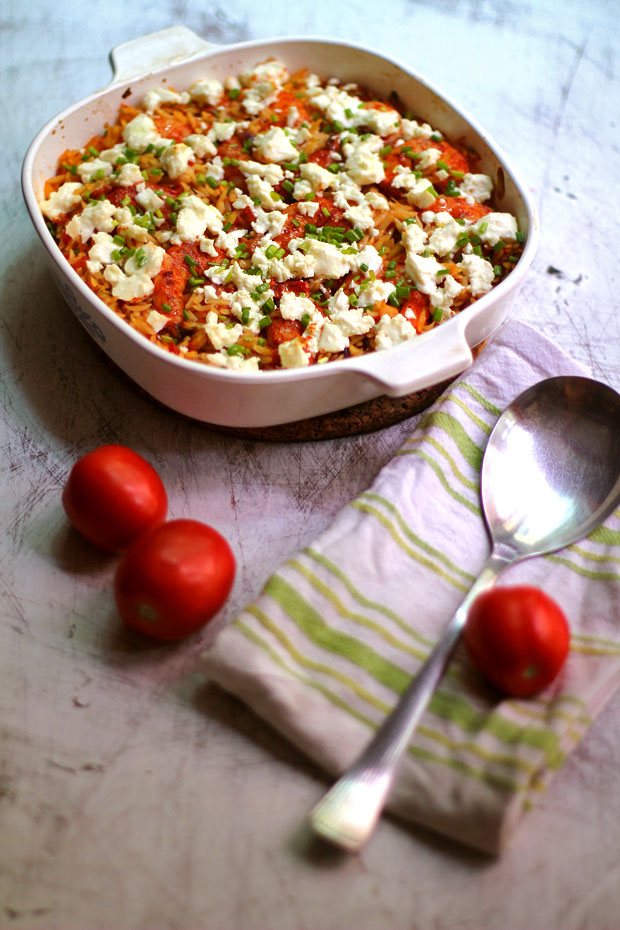 Check out them beautiful shreems…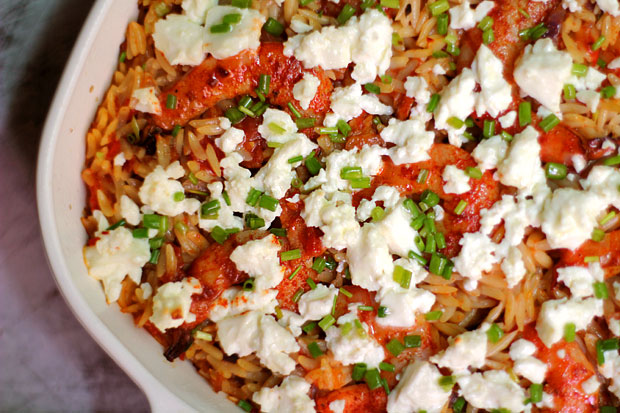 Ingredients
1 1/2 cups orzo
4 slices bacon, chopped
1 large onion, chopped
4 cloves garlic, thinly sliced
1 small bunch green onions, chopped
1 tsp red pepper flakes
1/2 cup white wine
2 cups tomatoes, chopped (i used 1 cup fresh and 1 cup canned whole tomatoes)
1 tsp oregano
1/2 kilo medium-sized shrimp, peeled and deveined
Sea salt and white pepper, to taste
Smoked paprika/pimenton, to taste
200 g feta cheese
2 Tbsps fresh calamansi juice
Extra virgin olive oil
Directions
Cook orzo according to package directions, then drain.
Drizzle some extra virgin olive oil over shrimp and season with sea salt, white pepper, and paprika, then set aside.
Render bacon in large, dry pan and remove once it starts to brown, leaving about 2 Tbsps bacon fat in pan.
Add in onions and sauté for about 5 minutes. Add in garlic and red pepper flakes and cook until fragrant.
Pour in wine, tomatoes, cooked bacon, and oregano. Bring to a boil, then reduce heat to a simmer and cook for 5-10 minutes or until tomatoes have broken down. Season with sea salt and pepper. Remove from heat and allow to cool slightly.
Combine shrimp, green onions (reserve some for garnish), cooked orzo, and tomato mixture in large bowl and pour into baking dish. Crumble feta cheese over mixture and drizzle over with calamansi juice.
Bake at 425 F for 15-20 minutes or until shrimp is thoroughly cooked. Remove from oven and garnish with chopped green onions.
DID YOU KNOW?
That the word orzo is Italian for "barley?" Also referred to as risoni, kritharaki, manestra, rosa marina, reiskornpasta, or pasta gallo pion, orzo is especially popular in Greece, and is commonly used in other Mediterranean and Middle Eastern nations, as well as in some parts of Germany.
JB and Renée are the Traveleaters behind Will Fly for Food, a travel blog for the gastronomically inclined.  They enjoy experiencing food from different cultures so they've made it their mission to try every country's national dish.  Read more about them and their National Dish Quest here.