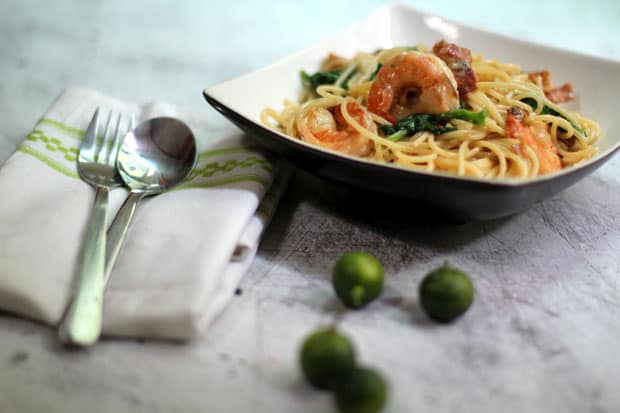 Pasta with Shrimp, Bacon and Spinach in a Gorgonzola Cream Sauce
What do you do when life gives you stinky cheese? You make stinky cheese cream sauce.
Gifted by her cousin with a generous hunk of Gorgonzola in the wake of last week's deluge, Ren used it to uplift our spirits with this rich, delicious Gorgonzola cream pasta dish. Her always perfectly cooked, sweet and succulent shrimp buoyed by the smokiness of the bacon, the exquisite pungency of the Gorgonzola, and the brightness of the calamansi, this dish felt like a beam of life-giving sunshine after a week of torrential rain. With plates of food like this to look forward to each week, it's no wonder I manage to stay so optimistic. 😉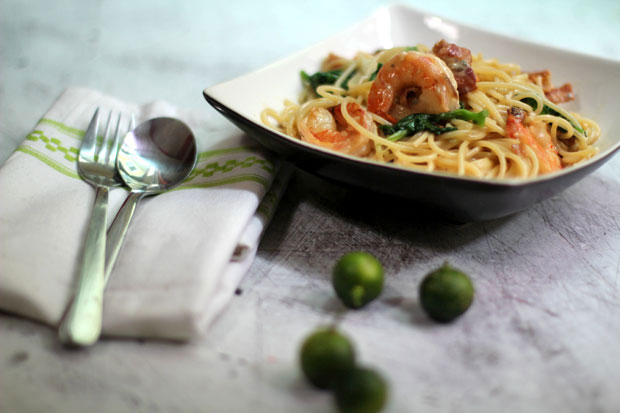 Cream sauces can be a little heavy for some, but add a sprinkling of calamansi and you're in heaven baby. Not only does it cut the richness, but it tastes amazing with the Gorgonzola as well.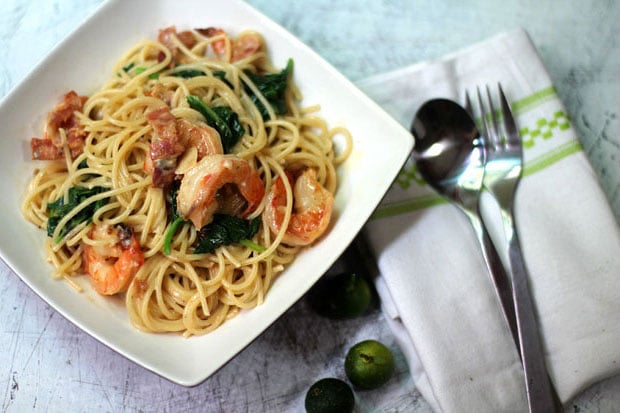 Ingredients
12 medium-sized shrimp, peeled and deveined
100 grams bacon, chopped
1 bunch spinach, washed and drained
1 Tbsp extra-virgin olive oil
2 large garlic cloves, thinly sliced
1 onion, finely diced
1/2 cup white wine
2 Tbsps fresh calamansi juice or lemon juice
400 ml all-purpose cream
3/4 – 1 cup gorgonzola, crumbled
250 grams pasta of choice
Calamansi, to serve
Sea salt and white pepper, to taste
Directions
Prepare and cook pasta according to packet directions.
Season shrimp with sea salt and white pepper and set aside.
Heat large skillet over medium high heat and fry chopped bacon until edges begin to brown and crisp. Transfer bacon to paper towel-lined plate.
In same pan, add spinach and quickly stir-fry until wilted. Transfer to plate and set aside.
Add olive oil to pan if necessary. When hot, sear shrimp on both sides until pink, then transfer to plate with spinach. Do not overcook!
In same pan, add in garlic and onions and cook until fragrant and onion becomes translucent. Add in cooked bacon.
Deglaze pan with white wine and cook until reduced by half. Pour in cream and calamansi juice and simmer for a few minutes before adding gorgonzola. Once gorgonzola has melted and fully incorporated into sauce, turn off heat and add shrimp and spinach back in.
Adjust seasoning to taste with sea salt and white pepper. Add pasta to pan and gently toss until sauce clings to pasta. Transfer to serving bowl or individual plates and drizzle over with some calamansi juice. Serve with extra calamansi halves.
DID YOU KNOW?
That Gorgonzola is typically aged for three to four months? The length of the aging process determines the consistency of the cheese, which gets firmer as it ripens. There are two varieties of Gorgonzola, which differ mainly in their age – Gorgonzola Dolce and Gorgonzola Piccante.
JB and Renée are the Traveleaters behind Will Fly for Food, a travel blog for the gastronomically inclined.  They enjoy experiencing food from different cultures so they've made it their mission to try every country's national dish.  Read more about them and their National Dish Quest here.