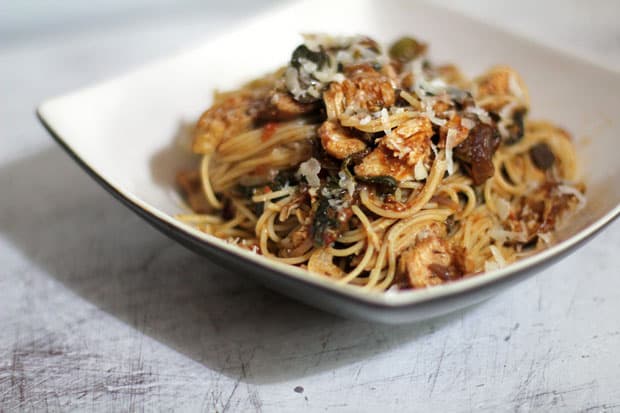 It's been raining for nearly four straight days. There's no wind, no typhoon. Just heavy, near-steady rainfall. Whoever thought that in the wake of Ondoy, a not so distant three years ago, we'd see a deluge like that again so soon?
Taking advantage of a brief respite in the weather yesterday to take Mona to the vet, we drove home to find an unexpected row of military vehicles parked just outside our village along E. Rod. Avenue. It was surreal, like a scene from War of the Worlds. Sent by the Red Cross, there were trucks, boats, even a massive amphibious vehicle decked out in army camo. With the rains still not showing any signs of letting up, each of those vehicles was on emergency standby as flood levels continued to rise despite some areas already being inundated with ceiling-high waters. Absolute insanity.
It's Thursday today, and though still relatively dark outside, the rains appear to have abated overnight. At least that's what it feels like right now. Let's hope that the worst is finally over so things can start returning to normal.
For anyone interested in making a small donation to the victims of this massive flooding, you may do so through Groupon. All donations made via that link will go directly to the Philippine Red Cross.
Stay safe and dry everyone.
To help uplift your dampened spirits, here's a simple but comforting pasta dish that Ren whipped up at the height of the deluge. It made us feel better, we hope it does the same for you.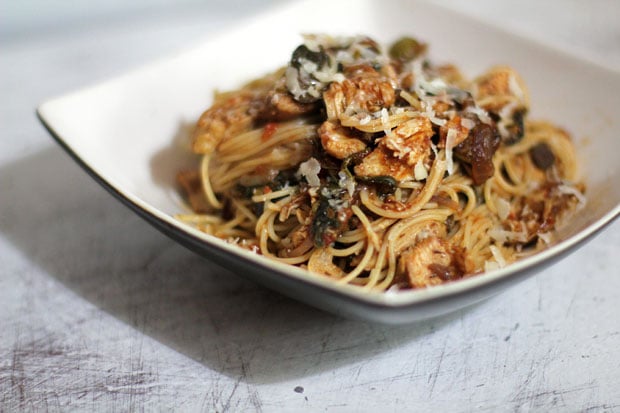 Ingredients
250 grams pasta of choice (I used angel hair pasta)
1 Tbsp extra virgin olive oil
3 boneless, skinless chicken breasts, cubed
100 grams bacon, chopped
2 cloves garlic, thinly sliced
1 large onion, thinly sliced
1 can diced tomatoes (14 oz/400g)
1/3 cup balsamic vinegar
1/4 chicken stock
2 tsps brown sugar
1 bunch spinach, cleaned and dried
1/3 cup green and/or black olives, sliced (optional)
2 tsps dried italian seasoning or combination of dried oregano, thyme, rosemary, basil
Sea salt and freshly ground black pepper, to taste
Directions
Prepare and cook pasta according to package directions. Season chicken fillets with sea salt and black pepper then set aside.
In large skillet, fry bacon until edges start to crisp and brown. Remove and set aside.
In same pan with reserved bacon fat, brown chicken breasts on both sides then transfer to plate when almost cooked.
Add in spinach, season with salt and pepper and stir fry until wilted. Remove and transfer to plate with chicken.
Add in olive oil and sauté garlic and onion until fragrant and translucent.
Pour in diced tomatoes, balsamic vinegar, and chicken stock. Add in brown sugar, spices, and olives (if using), then cook until slightly reduced (about 10 minutes).
Around 5 minutes before pasta is ready, put back chicken and spinach in sauce and allow to simmer until pasta is cooked. Adjust seasoning to taste with salt and pepper. When cooked, add pasta to sauce (with a little reserved pasta water) and gently toss until sauce clings to pasta.
DID YOU KNOW?
That traditional balsamic vinegar is aged in wooden casks for a minimum of 12 years? During that time, a portion of the vinegar evaporates. This evaporated portion is referred to as the "angels' share", a term also used in the production of scotch whisky, wine, and other alcoholic beverages.
JB and Renée are the Traveleaters behind Will Fly for Food, a travel blog for the gastronomically inclined.  They enjoy experiencing food from different cultures so they've made it their mission to try every country's national dish.  Read more about them and their National Dish Quest here.