Don't you just love the unexpected?
Take this Hainanese fish rice for example. Ren and I have enjoyed many a Hainanese chicken in our day, but we had never even heard of Hainanese fish until we got to try it for the first time at Hai Chix & Steaks just last week.
Seeing as how we were there to try their vaunted steak, we weren't expecting much from the Hainanese fish, approaching it as nothing more than a curious novelty at first. But as is usually the case when you go in without expectation, you come out pleasantly surprised, shocked even. Such was the scenario that we found ourselves in that day, oohing and aahing over this entirely new, but altogether familiar and comforting dish.
Thinking that I wouldn't have the good fortune of seeing it again anytime soon, you can imagine my surprise when, after a mere four days following that first nibble, I come down to lunch to find this waiting for me.
Hainanese Fish Rice. Reneelicious-styles.
😯
And people still actually wonder why I blog about my amazing wife's recipes? Seriously?! 😆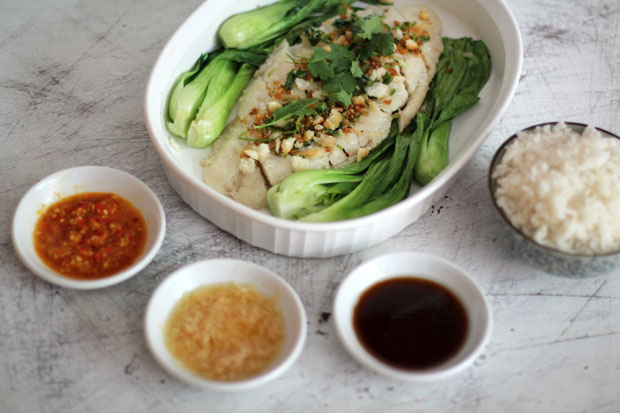 Hainanese fish, like Hainanese chicken, is a saucy dish. As much as Ren enjoyed the Hainanese fish at Hai Chix & Steaks, she didn't care too much for their sweetened, thickened soy dipping sauce, so she opted instead for the same trio of sauces that she makes for her Hainanese chicken.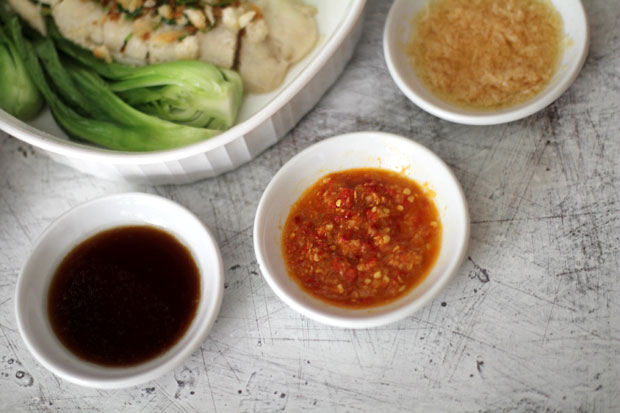 Sitting on a bed of crisp, fresh bok choy and topped with a crunchy mixture of toasted garlic bits and panko bread crumbs. Dee-licious!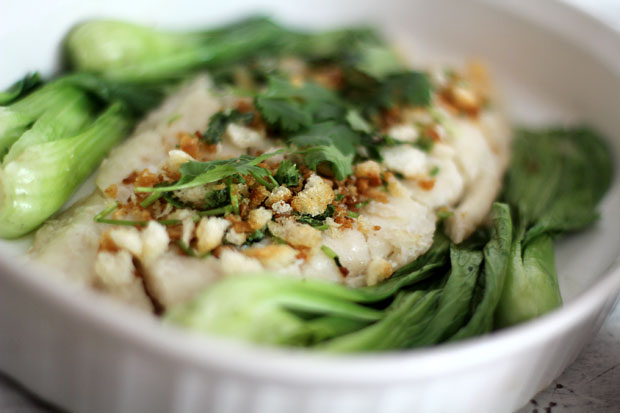 The trio of sauces, from near to far: Chili-Garlic, Ginger-Garlic, and Sweet-Soy. Being a paramour of hot food, I liked the chili-garlic the best. 😈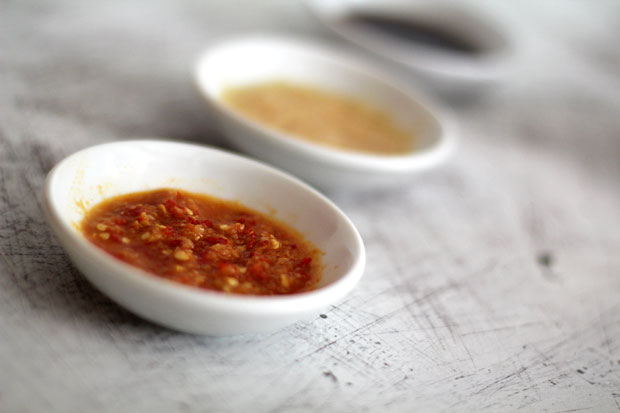 Ingredients
1 large white fish fillet
FOR FISH MARINADE
Light soy sauce
Sesame oil
2 garlic cloves
FOR POACHING FISH
1/2 cup chicken stock
1 pc thumb-sized ginger, smashed
FOR RICE
1 1/2 cups long-grain rice
1 Tbsp chicken fat, with skin
1 Tbsp water
1 pc thumb-sized ginger, grated
2 garlic cloves, grated
1 tsp sea salt
3 cups (or amount required in rice package directions) home-made or good quality chicken stock
1 bunch screwpine/pandan leaves, tied into bundle using one of the leaves (optional)
SUGGESTED SAUCES/DIPS (all to taste)
Chili-Garlic: Process some fresh red chilies, garlic cloves, Sriracha, calamansi juice, and sea salt.
Ginger-Garlic: Mix some grated ginger, garlic, peanut oil, sesame oil, calamansi juice, and sea salt.
Sweet-Soy: Combine some garlic oil, sesame oil, light soy sauce, sugar, and chicken broth.
FOR GARNISH
Bundle of bok choy
Mixture of browned garlic bits and panko bread crumbs with coriander leaves, to taste
Directions
Place fish in shallow plate with sprinkling of light soy sauce and sesame oil. Grate over with garlic clove and allow to sit in refrigerator for at least a couple of hours before poaching.
Place rice in colander and wash under running cold water until water runs clear. Set aside to dry. Prepare sauces and garnishes.
Prepare rice. Heat pan then add in chicken fat and water. Bring to a low simmering boil until oil is released from fat. Add in grated ginger and garlic and sauté until fragrant, being careful not to burn garlic. Remove and discard chicken fat and add in rice and sea salt. Fry quickly for a couple of minutes or until rice is fully coated with oil and transfer into rice cooker. Add in chicken stock and screwpine leaves (if using). Turn on rice cooker.
To poach fish, place chicken stock and ginger in shallow poaching pan and cover with tight lid. Cook over medium heat and allow to come to a rolling boil. Reduce heat to lowest setting, slide fish gently into pan together with bok choy, and cover. Cook for about 8-10 minutes, (depending on size of fish) or until cooked through. When done, transfer fish and bokchoy to plate and top with garlic/bread crumbs/cilantro mixture.
Serve with rice and dips on side.
DID YOU KNOW?
That the island of Hainan, China, for which this dish was named, was once a place of exile for criminals and disgraced officials?