Reneelicious Porks and Beans with Crushed Calamansi-Garlic Roasted New Potatoes‏
"Ang daming beans…pero ang pork, iisa?"
Remember that old commercial? I always found it amusing as a kid because in my experience, it was true.
The funny thing is that I didn't even like pork and beans growing up. I fancied pork, but beans not so much. That commercial piqued my curiosity to such a degree that I forced myself to eat beans just to see if I could find that mythical two-pork can. And true enough, every single can that I opened really did contain just one lousy, subjugated piece of pork. Given top billing like Lewis, Proctor, and Harley, shouldn't the pork have assumed a more leading role?!
Though I found this disparity confusing and unjust back then, I realize in hindsight that the manufacturers never intended to give you more than one anyway. We naturally expected a more even distribution between pork and bean, but the truth was always printed, clear as day, right there on the label: "Pork and beanS". One pork, many beanS, and that's exactly what you got every time.
This inequality deemed constitutional by the misleading nature of irregular plurals, Ren realized that there was little she could do but create her own generous, Reneelicious version. Hearty and overflowing with three kinds of pork – chorizo, pork belly, and bacon – she named it "PorkS and Beans" as a fuck you to grammatical ambiguity and all the lonesome, pathetic, one-pork cans that were created as a result.
"Ang daming beans…pero ang pork, MAS MADAMI PA!!"
Like an animal crazed by years of deprivation and torment, I couldn't wait to attack this bowl with my spoon and porks and show those uppity legumes who's boss. 😈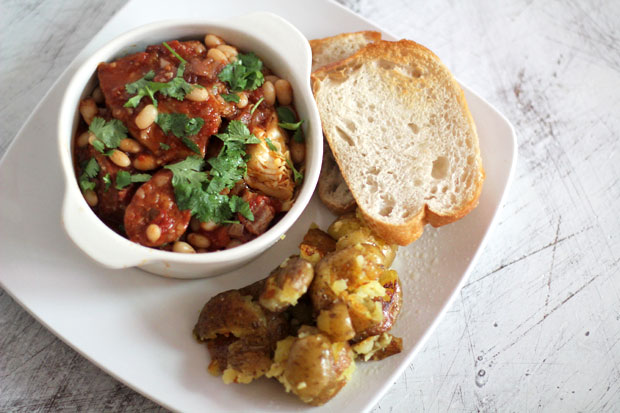 Be sure to use good crusty bread to dip into the delicious broth. Those garlic-calamansi crushed potatoes were amazing as well, adding acidity and brightness to the dish.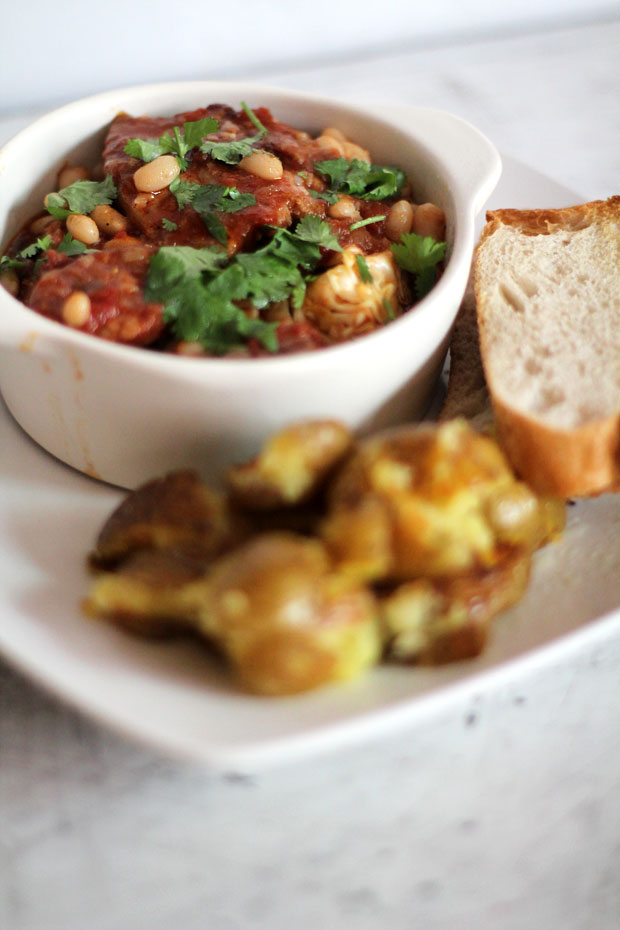 A veritable revolution of pork, this ain't no canned pork and beans sonny. 😉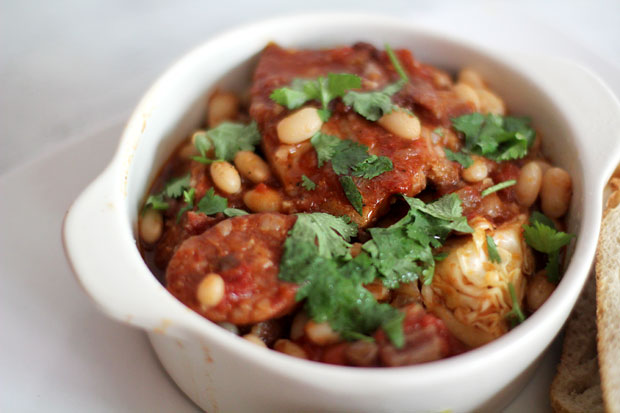 Ingredients
FOR PORKS & BEANS
750 g or 3/4 kilo boneless pork belly, cut into large chunks
Olive oil
150 g diced pancetta or bacon
1 large onion, chopped
4 garlic cloves, minced
1/2 Tbsp smoked paprika or pimenton
200 g chorizo, roughly chopped
400 g canned chopped tomatoes
150 ml or 1/2 cup red wine
250 g dried white or cannellini beans (soaked overnight in cold water, drained and cooked until tender), or 400 grams canned cannellini beans, drained and rinsed
Small cabbage, cored and quartered
Bunch coriander/cilantro/wansoy
Crusty bread, to serve
FOR POTATOES
450 g new potatoes, cleaned
Olive oil
2-3 garlic cloves
6 pieces calamansi (calamondin)
Sea salt and freshly cracked black pepper, to taste
Directions
FOR PORKS & BEANS
Heat oven to 300 degrees F. Heat 1 Tbsp oil in large, ovenproof casserole and fry pork in batches over high heat until browned all over. Remove with slotted spoon.
Add pancetta or bacon and cook for 2-3 minutes until golden, then slightly reduce heat and add onion and garlic. Cook for 2-3 minutes until softened.
Stir in paprika and chorizo and cook for about another minute. Return pork to pan and tip in tomatoes. Pour in wine and enough water just to cover (about 350 ml). Season, cover, and cook in oven for 2 hours or until pork is tender.
Stir in cooked or canned beans and cabbage and return to oven, without lid, for 20-30 minutes. Stir in cilantro/coriander and serve with crusty bread and crushed calamansi-garlic roasted new potatoes (recipe below).
FOR POTATOES
Cook potatoes in boiling water for about 15 mins until tender.
Heat oven to 400 degrees F. When potatoes are done, drain and transfer to oven-proof skillet. Crush lightly with fork. Pour generous amount of olive oil and season with sea salt and freshly cracked black pepper.
Grate garlic cloves over potatoes. Roast in oven for about 15-20 minutes or until golden brown and lightly crisped.
Remove from oven and squeeze calamansi over potatoes. Toss lightly with large spoon, being careful not to mash them.
DID YOU KNOW?
That according to the 1975 Better Homes and Garden Heritage Cookbook, canned pork and beans was the very first convenience food? Like candy, sports drinks, and packaged nuts, convenience food is any commercially prepared food designed for ease of consumption.