Spicy Baby Shrimp and Garlic Longganiza with Saffron Couscous
"Dazzle me."
That's what I usually tell Ren whenever she asks me what I want for dinner. 😆
If I'm not telling her to dazzle me, I'm suggesting outrageous things like Truffle Sous Vide Duck Crisps or Pinot Noir Fettuccine with Kiwi Bolognese. It can elicit either a chuckle or a chucked piece of pan de sal at my head, depending on the time of the month. 😆
Today, I said something less absurd but presumably just as out of reach, Surf and Turf. Thinking that there would absolutely be no way in hell that she'd go out and buy a porterhouse, let alone a lobster, I ignored her pleas to stop kidding around and walked away not expecting much, but hoping for the impossible.
Coming down for dinner later that day, I found this festive but unforeseen shrimp, longganiza, and saffron couscous wrap waiting for me at the table. Puzzled by this welcome but unexpected Mexican/Mediterranean/Filipino mash-up, I asked Ren what it was, to which she replied:
"Surf and Turf. Just like you asked."
Dazzled enough yet? 😉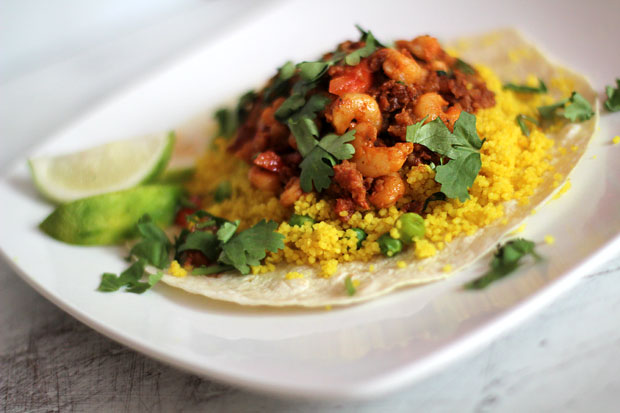 Even just looking at this sprightly dish makes me want to sing Bamboleo by the Gypsy Kings. "Bambolehiyooooooooooo…bambolehiya. Porque me diga jo la frente vivir asi…" Or something like that. 😆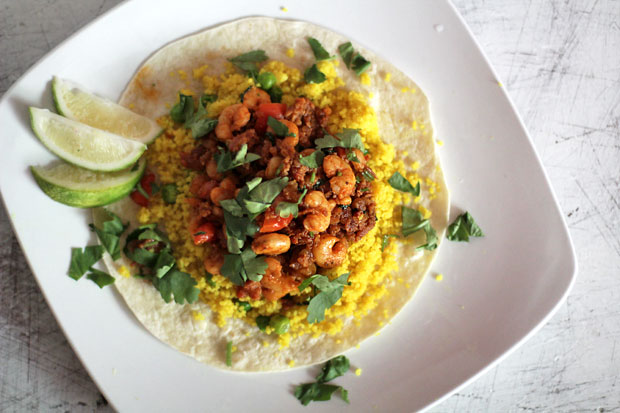 Ingredients
2 tsps smoked paprika
2 cloves garlic, grated
3 tsps Sriracha or any hot sauce
Large bunch of cilantro/coriander/wansoy, chopped
Zest and juice of 1 lime plus extra, to serve
1 Tbsp olive oil
Salt and freshly ground black pepper
250 grams baby shrimp, peeled and deveined
Pinch of saffron
1/2 tsp turmeric
1 Tbsp butter
1 1/2 cups chicken stock
1 cup frozen peas
1 cup couscous
5-6 medium-sized garlic longganiza, casing removed
Flour tortillas, warmed, to serve (optional)
Directions
In shallow bowl, combine smoked paprika, garlic, hot sauce, some cilantro, lime juice, olive oil, salt, and freshly ground black pepper. Add shrimp, then toss to coat and allow to marinate.
While shrimp is marinating, combine saffron, turmeric, lime zest, butter, and chicken stock in medium saucepan. Cover and place over high heat to bring to a boil. Once boiling, add peas, let it come back to a boil, then add couscous. Give a quick stir, cover pot, then remove from heat and let sit for 15 minutes.
Place skillet over medium-high heat. Add longganiza in dry pan and cook for a few minutes until slightly browned and crisp. Add shrimp and mix well and cook until cooked through. Remove from heat and stir in rest of cilantro.
To serve, place warm tortilla (if using) on plate. Place some couscous and top with shrimp and longganiza mixture. Serve with cilantro and lime wedges.
DID YOU KNOW?
That there are many different varieties of saffron, each with its own unique tradename? Varieties from Spain, like "Spanish Superior" and "Creme", are generally mellower in colour, flavour, and aroma. Italian varieties are slightly more potent than Spanish, with the most intense varieties usually coming from Iran.
Consumers also regard certain varieties as "premium" quality, like the "Aquila", which is grown exclusively on eight hectares in Italy's Navelli Valley. Another is the "Mongra" or "Lacha" saffron of Kashmir, which is among the world's most difficult to obtain. Recognizable by its dark maroon-purple hue, it's one of the darkest saffrons, hinting at strong flavour, aroma, and coloring effect.