Without getting into any details, I was nearly banished to the doghouse again early this week. We were supposed to have this Mexican feast for lunch on Tuesday, but of course, being the dumbass that I am, I opened my big mouth again at the most inopportune time, so none of this delicious, gelatinous oxtail went in as scheduled. 😆
Luckily however, daddy's got magic hands and a syrupy tongue (or so I'd like to think :lol:), and was able to smooth out the situation and salvage these oxtail tacos for dinner later that day. Wonderfully gelatinous with a fiesta of flavors and textures characteristic of Mexican cuisine, it was like I died and went to Reneelicious, reconciliatory heaven.
Speaking of reconciliations, with these oxtail tacos unexpectedly turning into a terrific kiss-and-makeup dish, shouldn't they be called OXOX-tail tacos instead? 😉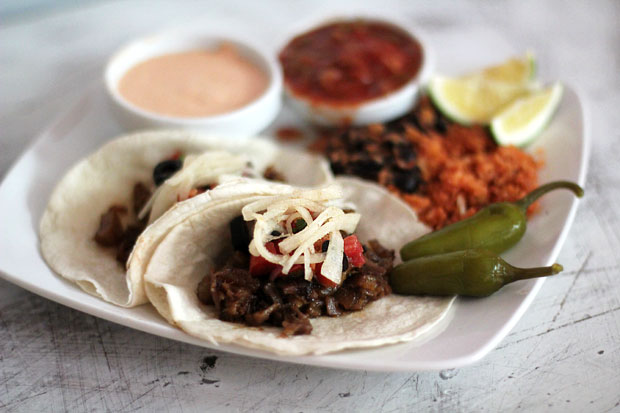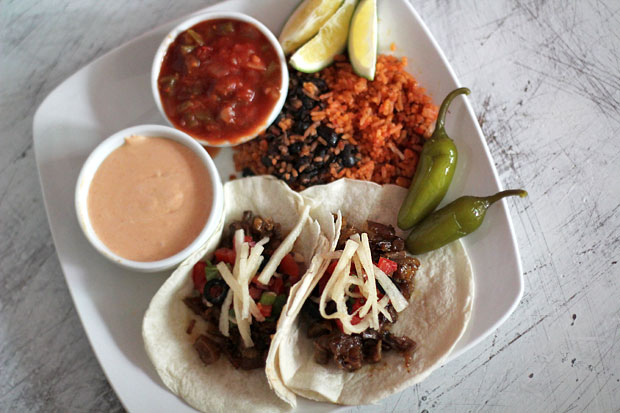 In a word, wow. Just wow. If you're a fan of that geltainous, tendonous texture, then you'll love these. They're offally good. 😉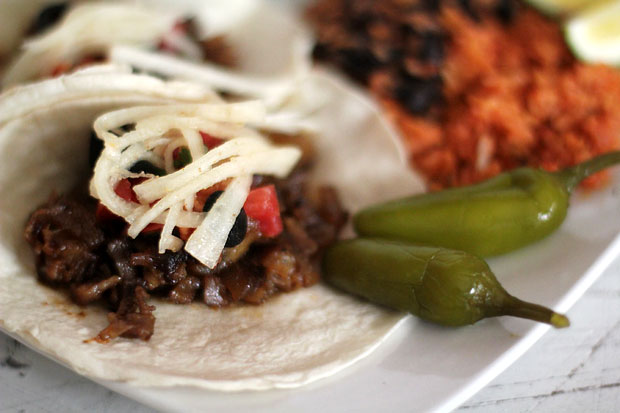 Ingredients
1 tsp chili powder
1 tsp sea salt
1 tsp dried oregano
1 tsp dried thyme
1 tsp ground cumin
1/2 tsp smoked paprika/pimenton
2 1/2 lbs oxtails
1 Tbsp olive oil
1 cup of your favorite bottled salsa (i used Pace Picante Sauce – medium)
3 cups chicken broth
Suggested Fixings
Warm tortilla
Pickled radish
Pico de gallo
Black olives
Salsa
Sour cream mixed with Sriracha hot sauce
Lime wedges
Cilantro/coriander
Mexican red rice
Black beans
Jalapeños
Directions
Combine all spices in small bowl. Rub oxtails with spice mixture, then allow to marinate for at least six hours (preferably overnight).
In large heavy pan, heat olive oil and brown oxtails well on all sides. When browned, remove oxtails from pan. Add salsa of choice and chicken broth, scraping bottom of pan to get all caramelized bits off bottom.
Return oxtails to pan, bring liquid to a boil, then cover and reduce to a simmer. Cook until oxtails are fork tender (about 3-4 hours).
Remove from pan when done and allow to cool. Once cooled, pull meat from bones and shred.
Serve with suggested fixings.
DID YOU KNOW?
That oxtail soup is a popular variety of Heinz soups in the UK? Duran Duran, David Beckham, and canned ready-to-eat oxtail soup. Lucky Brits. 👿
JB is one half of Will Fly for Food and its chief itinerary maker.  He's the one to blame for all the crappy photos and verbal diarrhea on this blog.  Don't listen to him.
Latest posts by JB Macatulad (see all)