Boxers or briefs? Obama or Romney? Team Edward or Team Jacob? These are but a few of life's conundrums that force us to make difficult decisions every day.
When shopping for ingredients for this capellini dish, Ren was faced with a similar dilemma, shrimp or scallops? Both are tasty, easy and quick to make, and go great with angel hair pasta. Nutritionally, it makes the choice even harder as they're actually quite comparable, though with just one notable exception:
| | | |
| --- | --- | --- |
| Serving Size: 6 ounces | Scallop | Shrimp |
| | | |
| Calories | 150 | 180 |
| Protein (g) | 28.5 | 34.6 |
| Total Fat (g) | 1.3 | 2.9 |
| Sodium (mg) | 274 | 252 |
| Omega 3s (g) | .52 | .58 |
| Iron (mg) | .5 | 4.1 |
As befuddling a choice as this was, Ren ultimately decided to go with the shrimp. Why? Because of its glaring edge in iron content of course. That, along with the fact that the supermarket was out of scallops, really clinched it for her. 😆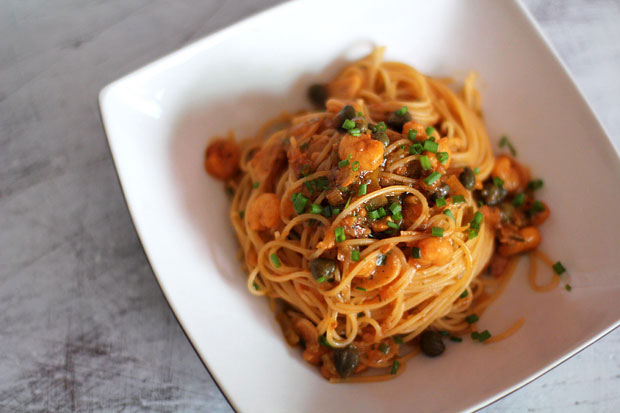 Isn't that just gorgeous? It's like the Mediterranean sunset, but in a bowl.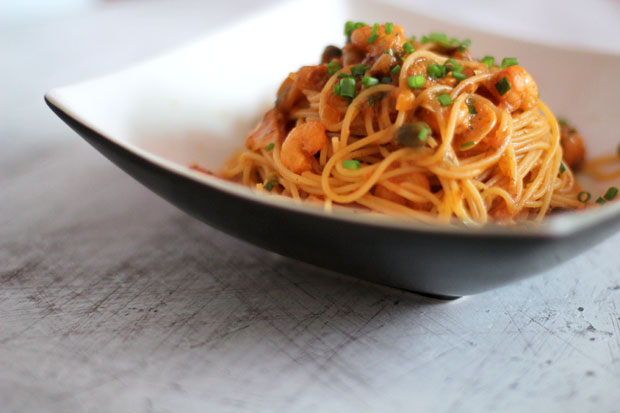 Small but succulent, the soft and subtly sweet shrimp imparted an oceanic freshness to the dish. Scallops would have done the same.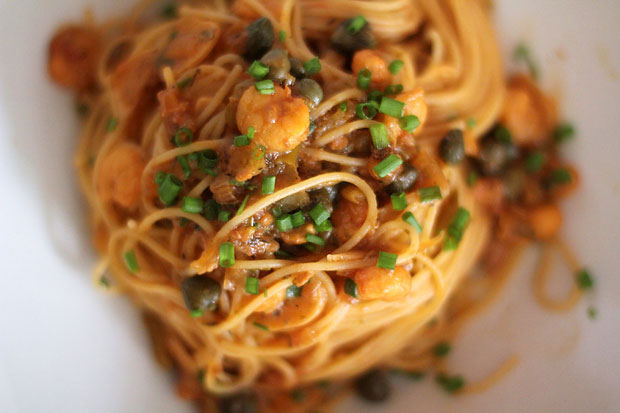 Ingredients
250 grams capellini
200 grams shrimp, peeled and deveined
2 Tbsps butter
1 Tbsp olive oil
2 garlic cloves, sliced thinly
1 shallot, minced
2 green chilies, deseeded and chopped
4 medium tomatoes, grated, skin discarded
2 Tbsps crab paste
1 Tbsp fresh thyme or 1 teaspoon dried thyme
1/2 cup shrimp stock or clam juice
2 tsps fresh lemon or calamansi juice
2 Tbsps capers
1/4 cup chopped chives and/or basil, for garnish
Sea salt and freshly ground black pepper, to taste
Directions
In large pot of boiling salted water, cook capellini according to packet directions. Rinse and place in large bowl. Toss capellini with little olive oil to keep from sticking together. Set aside.
In large skillet, heat olive oil and 1 Tbsp butter over medium heat. Add garlic, shallots, and green chilies, then saute until soft. Pour in wine and reduce by half. Add in tomtatoes and crab paste, herbs and stock. Cook, stirring occasionally until sauce has reduced and thickened. Adjust seasoning to taste with sea salt and freshly ground black pepper.
Add in shrimp and simmer until shrimp has turned pink. Stir in capers, lemon or calamansi juice, and remaining butter. Remove from heat and add in chopped chives and/or basil.
Pour shrimp mixture over capellini and toss gently until capellini is lightly coated. Serve with a smile. 😀
DID YOU KNOW?
That both shrimp and scallops have relatively low amounts of unsaturated fat? This means that both are an acceptable choice for people restricted to a low-cholesterol diet.