Thinking that Ropa Vieja, which means "old clothes" in Spanish, was an unfortunate name for a dish, I went online to see what other oddly-named foods I could find. Without having to dig too deep, I realized that Ropa Vieja was actually pretty fortunate in comparison. 😆
Here are some of the unluckier food names that I found. Some of these had us rolling.
Reneelicious Ropa Vieja Cubana, a dish that's as oddly named as it is delicious. Ren made me burritos for lunch the following day using the leftover shredded brisket. Awesomeness!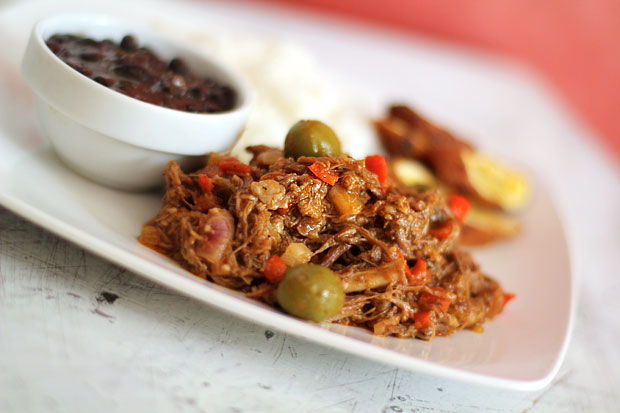 With her myriad of spices seasoning the fat-laden brisket, Ren came up with an amazingly flavorful ropa vieja. The black beans were terrific as well, with the fried plantains adding welcome sweetness to the dish.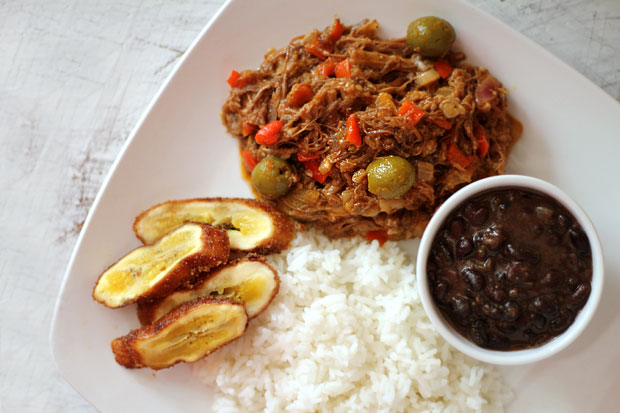 L: Ren forgot to buy plantains so she sliced up some cooked banana cue from Walter Mart. With its crunchy, crumbly skin of caramelized sugar, it turned out to be even better than regular fried plantains. Pretty resourceful eh? R: Delicious, very flavorful black beans.



Like that famous scene from Ghost, I was startled to hear the Righteous Brothers start crooning in the background soon as I helped Ren shred the brisket.
"Ooooooooooooooohhhh…myyyyyyyy looooooooooveeeee…my da-ha-lingggg…i huuuuuuuunggg-ger fooooor yo-hor touch….."
Surprised, I looked up and realized that it was just from the way Ren was looking at me. 😉 😆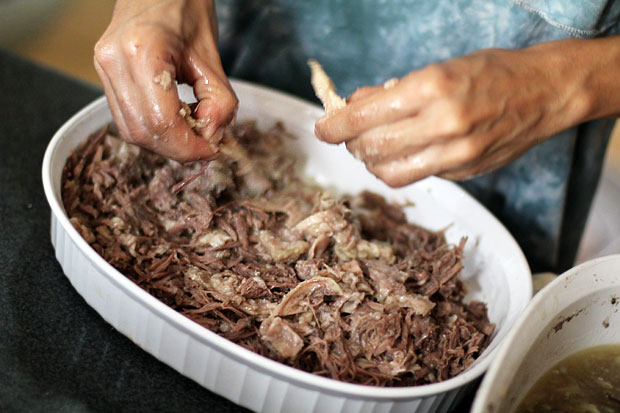 Ingredients
1 kilo beef brisket
1 1/2 large onion, diced into small pieces
1 1/2 large red and green bell pepper, diced
1 small can pimientos, diced
20 pitted pimento stuffed green olives, drained of brine
8 cloves fresh garlic, smashed or put through garlic press
1/4 cup red wine
1/4 cup fresh parsley, chopped
2 large bay leaves
1 tsp dried oregano
1 tsp ground cumin
2 Tbsps white vinegar
1/2 cup tomato sauce
1/4 cup coriander/cilantro, diced
1/4 cup olive oil
1 large lime juiced
1/4 cup tomato ketchup
1 tsp Worcestershire sauce
1 tsp garlic powder
2 tsps sea salt
1/2 tsp freshly cracked black pepper
1/2 cup reserved beef brisket broth
Sriracha, to taste
1/4 tsp cayanne pepper (optional)
Directions
Put brisket in large pot of cold water. Add half onion, half green pepper, 1 bay leaf, 3 cloves smashed or crushed gralic, and 1 tsp sea salt. Cover and cook for about 3-4 hours over medium flame, or until brisket is fork tender and falling apart. When finished cooking, remove meat and allow to cool. Shred meat while listening to Unchained Melody, then set aside.
In large deep skillet or saute pan, heat olive oil over medium heat, then add rest of diced onion, green and red bell pepper, and remaining garlic. Saute until onion is translucent.
Add parsley, cilantro, and pimiento then continue to sauté for a couple more minutes.
Add olives and wine, then reduce by half.
Add tomato sauce, ketchup, Worcestershire sauce, vinegar, lime juice, bay leaf, oregano, cumin powder, garlic powder, remaining salt, and black pepper, then stir very well.
Keep cooking for about 2 more minutes until all seasonings are mixed well into sauce. Pour in beef broth. Adjust seasoning to taste.
Add meat to sauce and cook, stirring well for about 3 more minutes. Cover with tight lid and lower flame to very low, leaving like this for another three minutes.
Serve with fluffy white rice, black beans, and fried sweet plantains.
DID YOU KNOW?
That there are many myths as to how this dish was named? One of the more popular ones involves a pauper too poor to provide a full meal for visiting relatives. To remedy his situation, he went to his closet, gathered some old clothes ("ropa vieja") and imbued them with his love. When he cooked the clothes, his love for his family turned them into a wonderful beef stew. 😐
JB is one half of Will Fly for Food and its chief itinerary maker.  He's the one to blame for all the crappy photos and verbal diarrhea on this blog.  Don't listen to him.
Latest posts by JB Macatulad (see all)