Pollo Asado al Ajillo con Frijoles Negros y Platanos Maduros
Did you know that Ren frequently visited Versailles for a taste of Cuba?
No, obviously not that Versailles. I'm talking about the Versailles in La Cienega, West Los Angeles. The Versailles Cuban restaurant famous for its garlic chicken. So famous in fact that the dish is listed on their menu as Famoso Pollo Versailles, or "Versailles Famous Garlic Chicken."
Since opening in 1981, the Versailles restaurant has exploded in popularity, expanding to four branches in as many cities in Southern California. Locals can't seem to get enough of their Versailles Mojo. Made from a unique blend of spices, this marinade sauce is what gives their Famoso Pollo Versailles, among other dishes, its distinct flavor.
Of the myriad occasions Ren's dined at Versailles, not once did she even look at the menu. She knew what she wanted each and every time, and that's exactly what she ordered without fail, their famous garlic chicken.
Having now enjoyed it myself thanks to her own ridiculously Reneelicious version, I can't say I blame her. 😉

Don't forget to squeeze some lime or lemon onto your chicken. The flavor combination is unreal.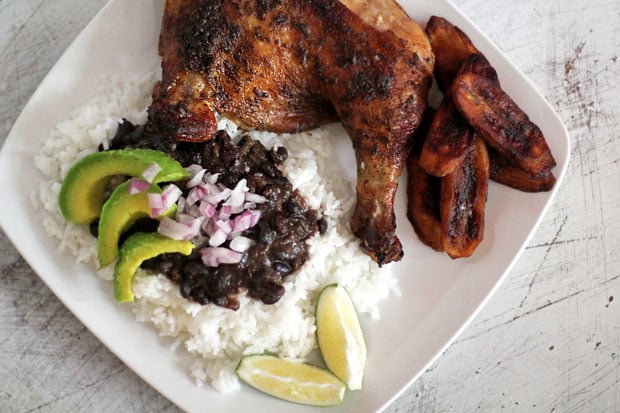 That snake-looking thing peeking out from behind the mound of rice is Ren's favorite part, the ass. I guess that's why she married me. 😆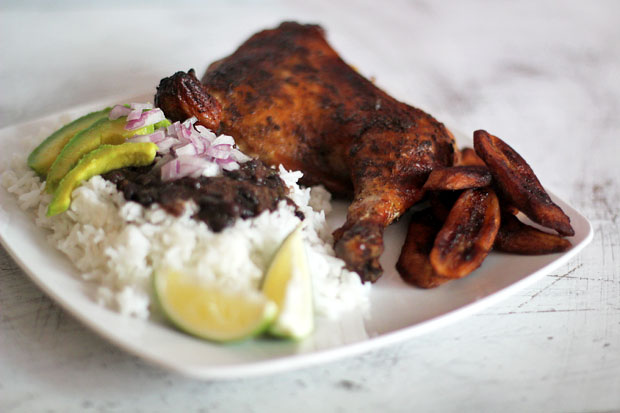 Ingredients
1 kilo or about 2 medium leg quarters
4 Tbsps lime juice
1 tsp ground cumin
1 tsp adobo seasoning (I used Mama Sita's adobo seasoning)
1/2 tsp freshly ground black pepper
Vegetable or olive oil, for frying
FOR MARINADE:
2 medium onions (peeled, quartered)
1 head garlic or 12 garlic cloves (peeled, made into a paste with 1 tsp salt)
1/4 cup white wine
2 Tbsps olive oil
2 1/2 tsps white vinegar
Directions
Blend together onion, half of garlic paste, wine, olive oil, and vinegar in food processor. Pour marinade over chicken and refrigerate overnight, or for 48 hours for best results. After marinating, drain marinade off chicken and pat dry with paper towels.
Preheat oven to 375 degrees F.
Rub chicken legs on both sides (including underneath skin) with rest of garlic paste. Sprinkle evenly with lime juice, adobo seasoning, ground cumin, and pepper.
Heat large skillet with vegetable oil and quickly brown chicken on both sides.
Place chicken in roasting pan with skin side up. Roast for 40 minutes to one hour, or until juices run clear.
Serve with black beans and sweet fried plantains.
DID YOU KNOW?
That the traditional Cuban meal isn't served in courses? All food items are served at the same time, with the typical meal possibly consisting of plantains, black beans and rice, ropa vieja (shredded beef), Cuban bread, pork with onions, and tropical fruits.