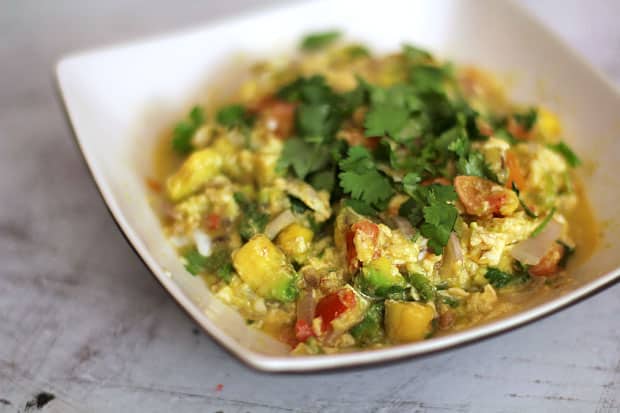 I like the avocado. Cool and fresh like the state of Colorado, it's a comically-shaped fruit that reminds me of my male bravado. With avocado season in full swing at my in-laws' garden, I had to carry them home like a masculado, because I didn't have a Chevy Silverado nor an Oldsmobile Toronado. At the end of the day, I was muy cansado.
In honor of this bountiful harvest, Ren, the avocado afficionado, whipped up this deliciously rich and creamy spicy avocado scramble with a side of tostado. Listening to Quando, Quando, Quando by Michael Buble and Nelly Furtado, I ravenously tore into my breakfast like a desperado, momentarily becoming incommunicado, until Ren reminded me to slow down lest I start looking less like Lani Mercado and more like Max Alvarado.
So without much further ado, may I present to you this Reneelicious Recipe for scrambled eggs, featuring none other than the delightful avocado.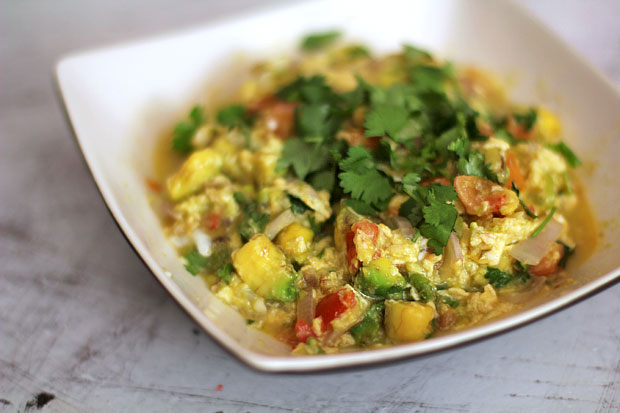 Ingredients
1 Tbsp butter
1 Tbsp olive oil
2 garlic cloves, minced
1 red onion, diced
2 tomatoes, diced
1-2 green chilies, or to taste, chopped
1 avocado, diced
3 eggs
1 tsp dijon mustard
1 tsp Sriracha, or to taste
2 Tbsps milk
Sea salt, to taste
Bunch of coriander/wansoy/cilantro, chopped
Directions
In small bowl, whisk eggs, dijon mustard, Sriracha and milk.
Heat butter and olive oil over medium high heat in large non-stick skillet. Add in onions and garlic, sauté for a few minutes until onions become transparent. Add in chilies, tomatoes and avocado and sauté for a few seconds. Add in egg mixture, cook and stir until set. Remove from heat and stir in coriander. Transfer to serving plate.
DID YOU KNOW?
That the name avocado comes from the Spanish aguacate, which in turn comes from the Nahuatl word ahuácatl, which means "testicle"? The fruit was so named in reference to its bulbous, testicular shape. 😆
JB and Renée are the Traveleaters behind Will Fly for Food, a travel blog for the gastronomically inclined.  They enjoy experiencing food from different cultures so they've made it their mission to try every country's national dish.  Read more about them and their National Dish Quest here.