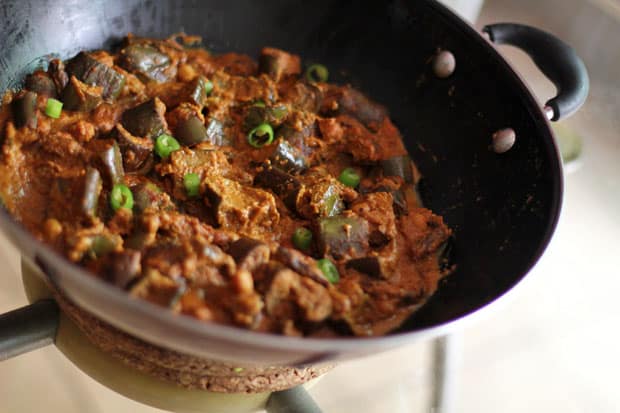 Smoked Eggplant, Mushroom and Chickpea Curry with Fluffy Rice‏
Dhungar Diaries, Entry No. 4
Like Indian restaurants that serve fluffy basmati rice to go with heavier curries, Ren wanted a similarly light rice to go with this terrific eggplant, mushroom and chickpea curry. With basmati considerably more expensive than our usual jasmine or Japanese rice however, she wondered if you could achieve the same fluffiness without having to use this prized Indian long grain.
This prompted a Google search for "how to cook basmati rice", which in turn led to the eye-opening discovery that this fluffiness with separate grains wasn't a trait unique to basmati per se, but a characteristic that can in fact be attained, with any grain, through the proper cooking methods.
Faux charcoal-grilled food, faux basmati rice. What a fauxbulous week it's been indeed. Now if only she can come up with faux gras… 😉
Dhungar Diary Archives
Entry No. 1: Aristocrat-Inspired Baked (and Smoked!) Chicken with Java Rice and Java Sauce
Entry No. 2: Japanese Braised (and Smoked!) Pork Belly (Buta No Kakuni)
Entry No. 3: Dhungar Stovetop Smoking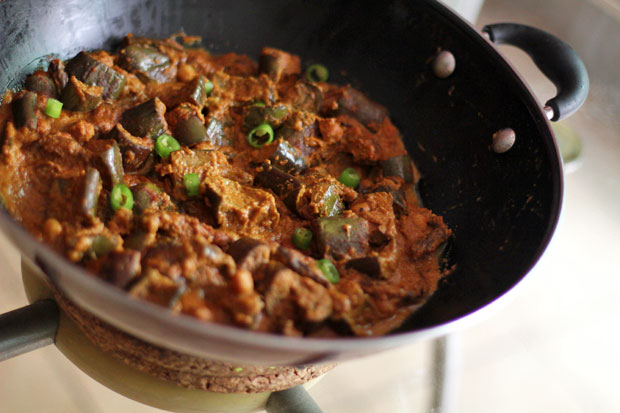 With large, spongy chunks of shiitake mushroom, who needs meat?!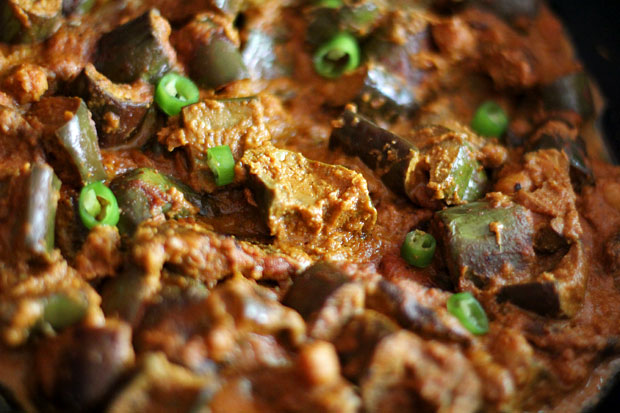 Perfectly fluffy rice sans basmati. There was a noticeable difference even when scooping the rice out of the bowl. It was much lighter and not nearly as sticky, somewhere between Japanese and minute rice. Loved it.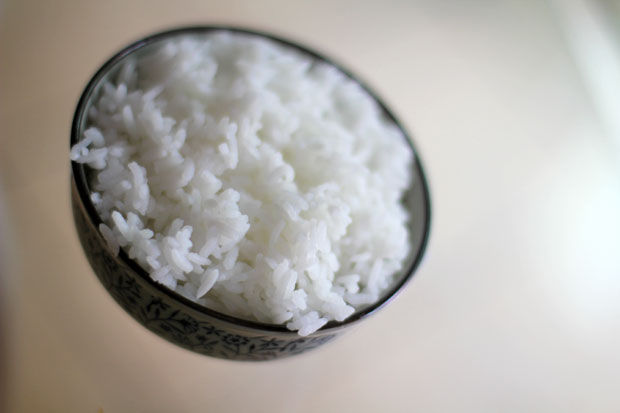 Ingredients
5 medium-size eggplants, sliced into chunks
About 100 grams of mushrooms (I used around 10 reconstituted shiitake, sliced into roughly same size as eggplant)
1 small can chickpea/garbanzo beans
1 tsp coriander
1 tsp cumin
1 tsp turmeric
1 tsp curry powder or garam masala
1/2 tsp cayenne pepper, or to taste
1/2 tsp chili powder, or to taste
1 onion
4 cloves garlic
1 ginger, thumb-sized
1 400g can whole tomatoes
1/4 cup cashew nuts (I used pine nuts)
4 Tbsps or more, vegetable oil
200 ml coconut cream
1 all-natural charcoal, about the size of a lemon
1 tsp oil
Directions
Combine all spices – coriander, cumin, turmeric, curry powder/garam masala, cayenne pepper and chili powder in small bowl and mix until well blended.
In medium bowl, toss eggplant with 2 tsps of spice mixture until well coated. Set aside for at least half an hour.
Meanwhile, process onion, garlic, and ginger until fully blended. Set aside. Next, process tomatoes and nuts until well blended and smooth. Set aside.
When ready to cook, heat 2 Tbsps oil in large pan or wok over medium high heat. Add in eggplant and mushroom and stir-fry until browned. Remove and set aside. In same pan, heat 2 more Tbsps oil and pour in onion, garlic, ginger mixture and cook until lightly browned (about 7 minutes).
Add in spice mixture and fry until fragrant, adding a little more oil if needed. Reduce heat to medium and pour in tomato puree and cook for about 5 minutes. Add in coconut cream and cook another 5 minutes. Add in cooked eggplant and mushroom. Add garbanzo beans. Simmer covered for about 10 minutes or until eggplant is cooked. Adjust seasoning to taste and prepare for dhungar smoking process.
Serve with fluffy white rice. CLICK HERE for a recipe on how to cook perfect fluffy rice with separated grains.
DID YOU KNOW?
That the name basmati means "the fragrant one" or "the soft rice" in Sanskrit? Grown in India, Bangladesh, and Pakistan, it's a variety of long grain rice known for its fragrance and delicate, nuanced flavor.
JB and Renée are the Traveleaters behind Will Fly for Food, a travel blog for the gastronomically inclined.  They enjoy experiencing food from different cultures so they've made it their mission to try every country's national dish.  Read more about them and their National Dish Quest here.