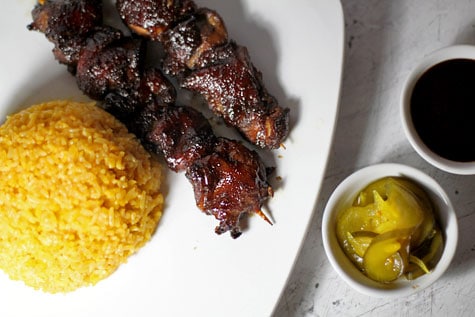 Aristocrat-Inspired Baked (and Smoked!) Chicken with Java Rice and Java Sauce
Dhungar Diaries, Entry No. 1
Welcome to the Dhungar Diaries, a series of Reneelicious Recipes inspired and made possible by the fine art of stovetop smoking.
Ren stumbled upon dhungar while searching for an easier method to impart smoky, char-grilled flavors to food without having to painstakingly grill over coals. If you've never heard of dhungar before, it's a quick smoke procedure popular in Indian Awadhi cuisine that's customarily used to flavor meat, dals, or raita. So excited was Ren about this recent finding that she likened it, and I'm not kidding, to the discovery of America.
The method is so simple that it befuddles her why it isn't more commonly practiced outside of Indian cooking. The process goes something like this:
In the wok or pot where the food is being cooked, a small ceramic or metal receptacle is placed in the center. Depending on the dish, Indians traditionally add onion skin, a betel leaf, or other herbs and spices to impart more flavor. A live lump of coal is then placed inside, over which a little oil is poured (or better yet ghee, if you have it) to produce smoke. The wok or pot is then covered for at least 15 minutes to allow the smoke to permeate the food. The longer you keep the lid on, the smokier the taste becomes.
Sounds too easy to be effective? Hardly. One bite is all you'll need to be convinced that this process really works. Soon as the first piece of meat lands on your tongue, all its delectable smokiness will hit you like a stack of charcoal bricks.
Brimming with excitement over the delicious possibilities that this new method will bring, it was at that moment I realized that yes, in as far as Ren's kitchen and this blog is concerned, this truly is like discovering a whole new world. And like the intrepid adventurers Lewis and Clark, it's one that we can't wait to explore. 😉
Voila! The Aristocrat-inspired, baked and dhungar-smoked chicken with Java rice, homemade Java sauce, and my mother-in-law's bread and butter pickles. Dee-licious!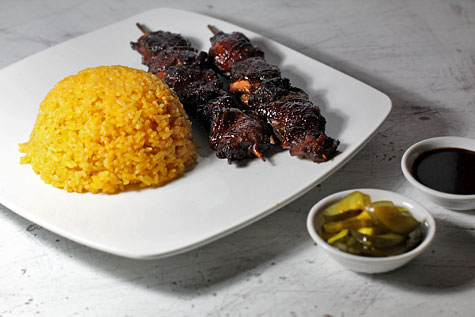 Ren's still perfecting her method so I haven't photographed the actual dhungar smoking process yet, but I will soon. I'll post pictures of it next week.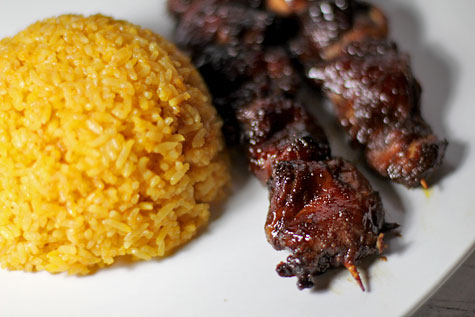 Excited as I was about the dhungar procedure, I nearly forgot about the Aristocrat-inspired flavors of this dish!
Any fan of Aristocrat's iconic barbecue will be sure to love this recipe, as it captures perfectly the sweet, nutty flavors of that classic favorite. And allow me to brag by saying that Ren did NOT use the now commercially available Aristocrat java sauce when making this dish. She recreated everything on her own, by taste and feel, from scratch. 😉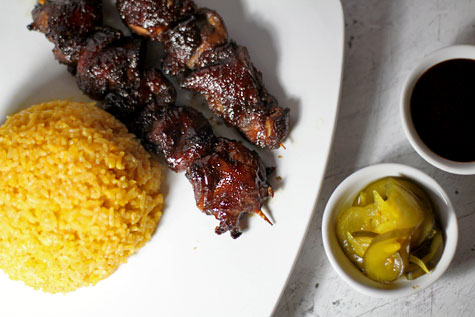 Ingredients (serves 2)
FOR CHICKEN MARINADE
5 boneless chicken thighs, cut into chunks
1/4 cup of sprite or 7-up
1/2 cup kecap manis or sweet soy sauce
4 cloves of crushed garlic
Sea salt, to taste
Lots of freshly cracked black pepper
A squeeze or two of calamansi juice
2 Tbsps vegetable oil
FOR JAVA SAUCE
1/4 cup kecap manis or sweet soy sauce
1/4 cup smooth peanut butter or finely ground peanuts
1 garlic clove
FOR JAVA RICE
4 cups cooked rice (cooked a day earlier and left in the refrigerator to cool)
1/4 cup star margarine
1 Tbsp annatto seeds
3 cloves crushed garlic
Sea salt and pepper, to taste
2 Tbsps soy sauce
2 Tbsps tomato ketchup
FOR SMOKING
1 piece all-natural charcoal, about the size of a lemon
1 tsp of oil
Half of a large onion, sliced horizontally
Directions
Combine chicken marinade in zip lock bag and leave to marinate in refrigerator for at least 12 hours. For best results, marinate for 48 hrs. Let chicken come to room temperature when about to cook.
Meanwhile, prepare java sauce by processing all ingredients in food processor until well-blended and they've reached desired consistency. Adjust by adding a little water if you want it thinner or more peanut butter and kecap manis if you want it thicker. Set aside.
When ready to cook chicken, thread pieces into skewers and place on rack on top of jelly roll pan lined with aluminum foil and filled with around 1/2 cup of water. Bake chicken in 200C/400F oven for about 20 minutes, basting once with some java sauce, either halfway through ooking or right before baking. Check for doneness and remove.
Prepare wok for smoking process. Arrange cooked skewers in wok, leaving space in center. Put onion-half on small, hard ceramic or metal bowl and place in center of wok. Heat charcoal over flame until smoldering and red, then put on top of onion. Pour a little oil over live coal and as soon as it starts to smoke, cover wok immediately, making sure smoke does not come out. Let it sit for at least 15 minutes. The longer you let it sit, the more smoke will be infused into meat. Prepare java rice.
Heat margarine in small saucepan and add annatto seeds. Heat gently over low heat until oil turns golden orange (about 5 minutes), swirling seeds several times. Strain oil then discard seeds.
Pour oil into large wok and heat. Add crushed garlic and saute until fragrant. Add rice and fry for a few minutes, until all grains are coated with oil and have taken up color. Add soy sauce, then ketchup, then fry for another two to three minutes.
Remove chicken from wok, discard coal and onion, and serve with java rice, java sauce and some pickled vegetables.
DID YOU KNOW?
That the very first Aristocrat restaurant operated on wheels? Founder Engracia Cruz-Reyes began selling adobo sandwiches at the Luneta Park in the 1930s out of a car loaned to her by a future son-in-law. By 1936, she was operating a mobile restaurant serving Filipino food out of a Studebaker van, which she named "The Aristocrat".
JB and Renée are the Traveleaters behind Will Fly for Food, a travel blog for the gastronomically inclined.  They enjoy experiencing food from different cultures so they've made it their mission to try every country's national dish.  Read more about them and their National Dish Quest here.