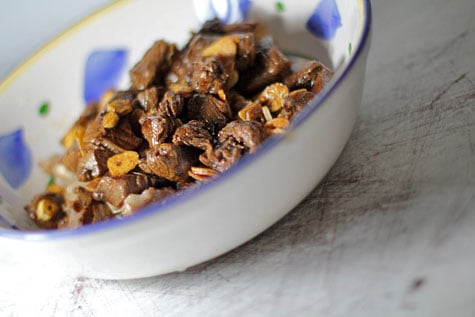 I enjoy the flavors of good restaurant salpicao, but I'm often turned off by the frequently dry and tough texture of overcooked beef. A shame since this heavy-handed overcooking often ruins a great, tasty marinade.
Not so here.
Ren's cubes of choice tenderloin are perfectly seared, so they remain succulent, tender, and incredibly juicy. I never look for beef salpicao, getting a taste only when someone else orders it or prepares it in their home, but biases aside, this is a beef salpicao that I would actively seek out. In fact, so delicious is this Reneelicious Recipe for salpicao that I was tempted to title this post:
The Best. Damn. Beef Salpicao. EVER.
But alas, there's this annoying thing called Truth in Advertising. Aimed to protect consumers, it enforces that all advertising be truthful and non-deceptive, and have evidence to back up its claims.
The second part is easy. Just follow her method below and you'll have your evidence. The first? Not so. Essentially a non-quantifiable subjective statement, I've decided to follow Ramon Bautista's lead and rephrase it in an attempt to make it sound more "truthful":
Just Follow This Recipe To A Tee To Get A Taste Of What I Am Supremely Confident You Will Find To Be The Best. Damn. Beef Salpicao. EVER.
Happy now ASC? 😉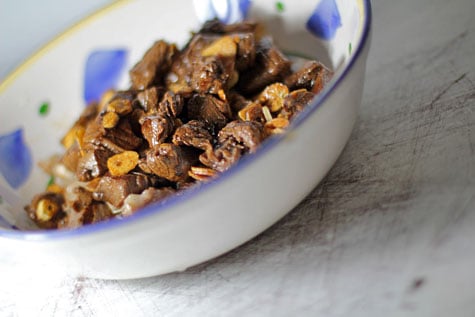 In all seriousness, you need to follow exactly Ren's method below, as perfectly cooked cubes of beef are essential to a great salpicao.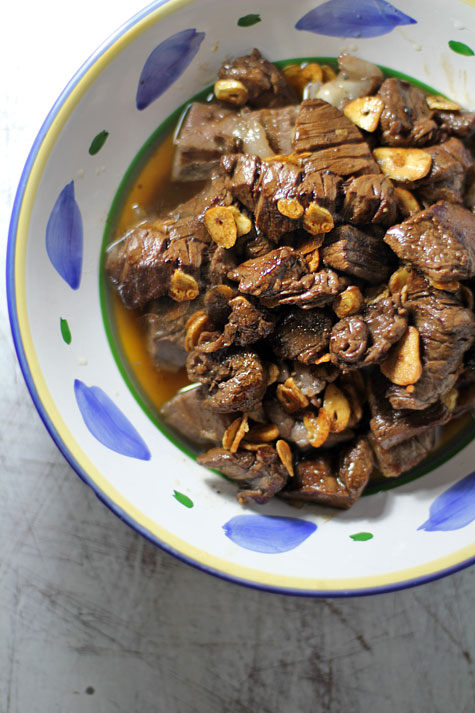 My plated portion over steak rice. Mmmmmmmm!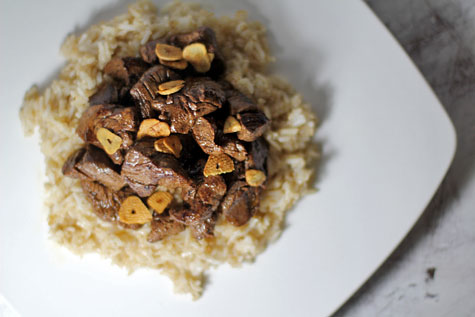 Ingredients
350 grams of beef tenderlion, cut into 1-1/2 inch cubes
1 Tbsp Chinese dark soy sauce
1 Tbsp Bragg liquid aminos seasoning (I prefer this to Knorr or Maggi seasoning because it's healthier and less salty)
1 Tbsp worcestershire sauce
1/2 Tbsp oyster sauce
2 tsps Sriracha, or to taste
1/2 tsp pimenton de la Vera (sweet paprika), or to taste
Freshly ground black pepper, to taste
Sea salt, to taste
3 Tbsps olive oil
1 head garlic, thinly sliced
1 Tbsp butter
Directions
Combine dark soy sauce, liquid aminos, oyster sauce, worcestershire sauce, sriracha, pimenton, 1 tbsp olive oil, and a good grinding of black pepper in bowl. Add in tenderloin and marinate for 20 minutes. Drain well, reserving marinade, then lightly pat dry tenderloin with paper towel. Very lightly season beef with sea salt and black pepper.
Meanwhile, heat remaining olive oil in heavy-bottomed skillet (or cast iron pan if available) and fry sliced garlic until lightly browned and crisp. Transfer garlic bits onto small plate, then pour out excess oil into small bowl, leaving a very thin layer of oil, or none at all, in pan.
Heat skillet over medium high heat until hot but not smoking, then add only a few pieces of tenderloin at a time, making sure they're in one layer. DO NOT touch, stir, or toss for first few seconds until pieces are halfway cooked or have changed color. This is crucial to achieving the perfect sear. DO NOT overcook.
Remove pan from heat, toss beef pieces for 3 seconds, then transfer to plate. Repeat for rest of the meat.
On same skillet, put reserved olive oil and marinade, and allow to come to a boil. Add more worcestershire sauce and liquid aminos if necessary. Stir in butter and adjust seasoning to taste. Remove from heat when sauce has reached desired consistency. Return garlic bits to pan, stir, and pour over beef. Serve with steamed or garlic rice.
JB and Renée are the Traveleaters behind Will Fly for Food, a travel blog for the gastronomically inclined.  They enjoy experiencing food from different cultures so they've made it their mission to try every country's national dish.  Read more about them and their National Dish Quest here.