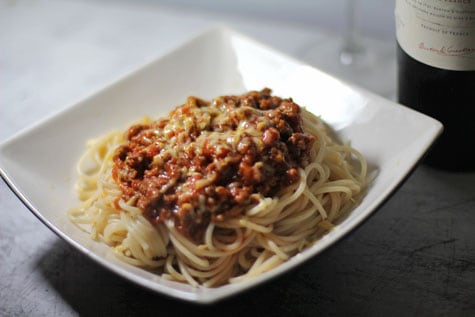 Like it were yesterday, I still remember the first time that I ever tried spaghetti bolognese. It was 1985, I was 10 years old, and we had just landed in Los Angeles on my first ever visit to the US.
After checking in to our hotel in Anaheim, we sat down at the hotel's restaurant for what would be my first meal in America. Oddly, I remember knowing what to order even before looking at the menu. I wanted spaghetti bolognese. Not the sweet version with sliced hot dog served at children's parties back home, but a classic, authentic Italian spaghetti bolognese.
I don't remember why. Maybe I had seen it on TV, or read about it in a book or magazine, but for whatever reason, spaghetti boognese was the very first meal that I wanted to experience in this land of milk and honey. An odd choice for a first taste of America I thought, since spaghetti bolognese was presumably an Italian dish.
WRONG.
Little did I know until today, almost 30 years later, that spaghetti bolognese is about as authentically Italian as a Gucci handbag made in China.
Though spaghetti and bolognese sauce on their own are unquestionably Italian, Italians NEVER serve bolognese with spaghetti, preferring larger egg pastas such as tagliatelle or lasagna. Legend has it that the dish was created by American and British WWII soldiers who fought in northern Italy. Their efforts to recreate "tagliatelle al ragù" resulted in what they dubbed "spaghetti bolognese", a dish completely unknown to Italians, just like other bastardized dishes such as Chicago pizza or Alfredo sauce.
Apparently American in origin, I guess it wasn't such an odd choice after all. 😆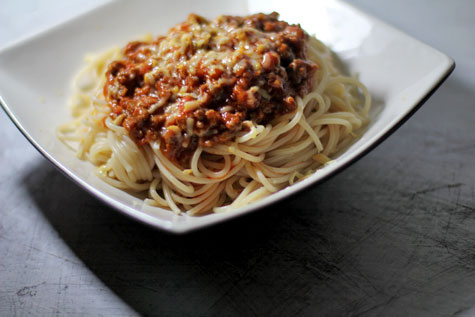 A great bolognese calls for an equally noteworthy red. Well, at least for Ren. I prefer mine with beer. 😉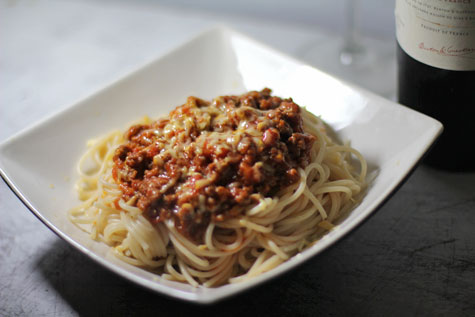 Ingredients
1/4 cup olive oil
2 onions, diced
1 carrot, diced
1 red bell pepper, diced
5 cloves garlic, minced
2 tsps ground oregano
2 bay leaves
1 tsp chili flakes
2 cups beef stock
750 grams or 3/4 kilo medium fat ground beef
250 grams or 1/4 kilo ground pork
1 1/2 cups milk
1 1/2 cups tomato paste
1 package good quality spaghetti (500g)
Sea salt, freshly ground black pepper
1/2 cup grated Pecorino cheese
Directions
Heat oil in large pan, then sauté onions, carrots and bell pepper until translucent (about 5 minutes). Add garlic, oregano, bay leaves and chili flakes, then sauté for 2 more minutes. Add 1/2 cup beef stock into vegetable mixture.
Slowly add ground beef and pork, stirring and adding more stock when necessary to keep meat moist. Season with salt and pepper. Cook for about 10 minutes.
Add milk and stir. Continue cooking for about 2 minutes or until half of liquid has evaporated. Add tomato paste, remaining stock, then continue cooking to desired thickness. Adjust seasoning.
Cook pasta in salted boiling water (about 8 minutes) then drain. Serve with sauce and cheese.
DID YOU KNOW?
That in its birthplace of Bologna, Italy, ragù alla bolognese is customarily paired and served with tagliatelle made with eggs and northern Italy's soft wheat flour? Acceptable alternatives are limited only to other broad flat pasta shapes like pappardelle or fettucine, or tube shapes like rigatoni and penne.
As mentioned up top, serving Bolognese sauce with spaghetti is actually a sign of mediocrity in the eyes of Italian purists. Those snooty bastards! Just kidding. 😆
JB and Renée are the Traveleaters behind Will Fly for Food, a travel blog for the gastronomically inclined.  They enjoy experiencing food from different cultures so they've made it their mission to try every country's national dish.  Read more about them and their National Dish Quest here.