NOTICE: Some of our articles contain affiliate links. The ones that do will have a disclosure statement at the bottom. You can refer to our privacy policy and terms of use for more information.
Ren can cook. So can Randy.
If this Lamb Osso Buco Milanese with Gremolata is Ren's signature dish, then the classic Valencian specialty that you see below is her brother's.
Barely two days home from the US to celebrate the 20th anniversary of his 30th birthday, Kuya Randy graciously made this paella for lunch yesterday at the behest of well, just about everyone. A sumptuous, spirited dish, it's so frequently requested by friends and family that he had to make it again for lunch the very next day! 😆
In return, it was only natural for Kuya Randy to request that Ren prepare her signature dish as well, the fantastic Osso Buco mentioned above. Inspired and fired up by one of the best paellas I've ever had, I'm getting the feeling that Ren will be returning the favor with just as vibrant a dish.
As Bobby Flay would say: "Are you ready for a throwdown?" 😉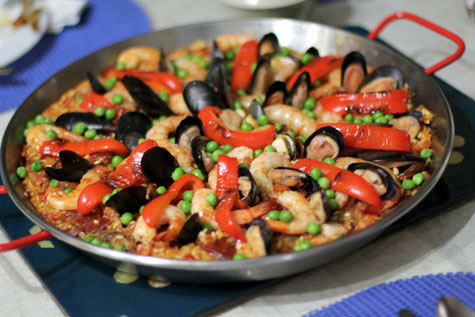 An explosion of color, flavor and texture. I loved the perfectly cooked, more substantial pieces of red bell pepper. They were in wider slivers and had a juicy but still firm texture, that, to me, was almost protein-like in consistency.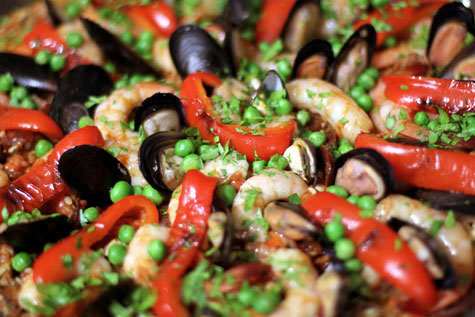 The beautiful, red-handled paellera Ren's brother brought back from the US, but won't be bringing back. 😉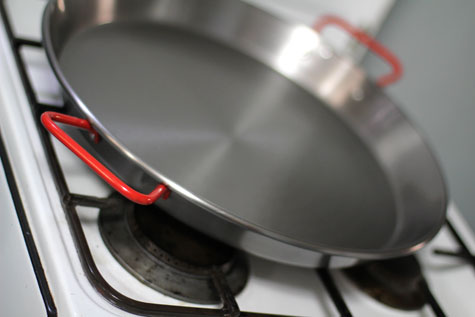 Some of the interesting ingredients Kuya Randy brought with him to make this fantastic paella.
Calasparra Rice. Grown in the mountains of the Spanish province of Murcia, Calasparra Rice is a unique, centuries-old short grain rice with kernels that are exceptionally dehydrated so they absorb more of the tasty sauces and flavors of paella broth. If you want a truly authentic paella, then you must start with Spanish Calasparra or Bomba rice.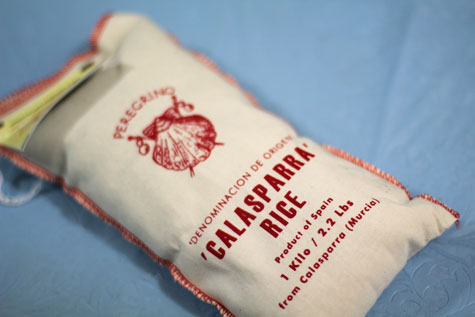 L: Palacios Chorizo Picante. Spicy, deeply smoky, all natural Spanish chorizo seasoned with picante smoked paprika from the La Vera valley in Western Spain. Kuya Randy used a combination of these and locally available Chorizo Bilbao.
R: Pimenton de la Vera. Grown in the fertile alluvial soils around the Tietar River in La Vera, Spain, this finest of paprika powders is made by smoke-drying the choicest peppers with oakwood, giving it that distinct pimenton de la vera taste.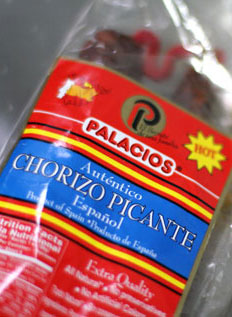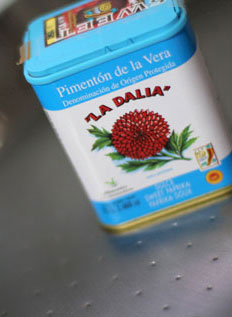 Saffron. Derived from the flower of the Saffron Crocus herb, this exquisite spice, whch gives paella its distinct color and earthy flavor, has long been renowned as the world's most expensive spice. Why? Because it takes about 200 crocus flowers to make 1 gram of saffron! 😯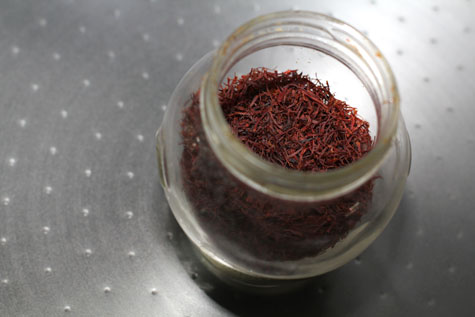 Chilean Blueshell Mussels. Beautiful dark-shelled mussels. You can get a 1 kg box of these pre-cooked-then-frozen beauties from Santis Delicatessen for only PHP 410. I say "only" because the amount you see in the bowl below was only about half of the box, maybe less. They give you a LOT!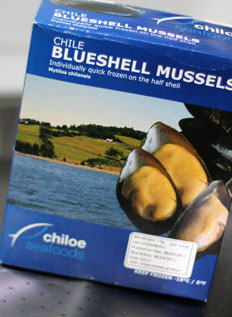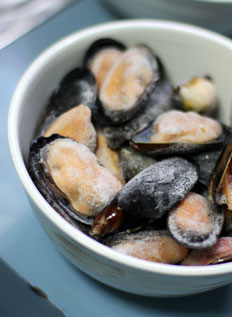 Adapted from recipe published in Cook's Illustrated.
Ingredients
1 pound extra-large shrimp, peeled and deveined
1 pound boneless, skinless chicken thighs, trimmed of excess fat and halved crosswise
8 ounces Spanish Chorizo, sliced 1/2 inch thick on the bias (Kuya Randy used a combination of Chorizo Picante and Chorizo Bilbao)
1 dozen mussels, scrubbed and debearded (Kuya Randy used pre-cooked, frozen and thawed mussels)
Olive oil
8-9 medium garlic cloves, minced or pressed (should yield 2 heaping Tbsps)
1 red bell pepper, seeded and cut pole to pole in 1/2 inch-wide strips
1 medium onion, ficley chopped (should yield about 1 cup)
1 (14-1/2 Oz.) can diced tomatoes, drained, minced, then drained again
2 cups Calasparra rice (may be substituted with Bomba, Valencia or Arborio rice)
3 cups low-sodium chicken broth
1/3 cup dry white wine
1/2 tsp saffron threads, crumbled then steeped in hot water
1 dried bay leaf
1/2 cup frozen peas, thawed
Pimenton, to season chicken
Salt and ground black pepper, to taste
2 Tbsps fresh parsley, chopped (for garnish)
1 lemon, cut into wedges, for serving
Directions
Heat oven to 350 degrees F.
In medium bowl, toss shrimp, 1/4 tsp salt, 1/4 tsp black pepper, 1 Tbsp oil, and 1 tsp garlic, then cover with plastic wrap and set aside in refrigerator. Season chicken thighs with salt, pepper, and pimenton, then set aside.
In paellera, heat 2 tsps oil over medium-high heat until shimmering but not smoking. Add red bell peppers and cook, while stirring occasionally, until skin begins to blister and turn a spotty black (about 3-4 mins). Transfer peppers to plate and set aside.

Add 1 tsp oil to paellera and heat until shimmering but not smoking. Add chicken pieces in single layer, then cook, without moving pieces, until browned (about 3 mins). Turn pieces and brown on other side, for another 3 minutes, then transfer to medium bowl.
Reduce heat to medium then add chorizo. Cook, while stirring frequently, until deeply browned and fat begins to render (about 4-5 mins). Transfer chorizo to bowl with chicken and set aside.
Add enough oil to fat in paellera to equal 2 Tbsps, then heat over medium heat until shimmering but not smoking. Add onion and cook, while strring frequently, until softened (about 3 mins). Stir in remaining garlic and cook until fragrant (about 1 min). Stir in tomatoes and cook until mixture begins to darken and thicken (about 3 mins).
Stir in rice and cook until grains are well-coated with mixture (about 1-2 mins). Stir in chicken broth, wine, saffron, bay leaf, and 1/2 tsp salt. Add cooked chicken and chorizo to paellera, increase heat to medium-high and bring to a boil, uncovered, while stirring occasionally.

Cover paellera with aluminum foil and transfer to oven. Cook until rice absorbs almost all liquid (about 15 mins).
Remove paellera from oven. Remove foil and scatter shrimp over rice and insert mussels hinged side down into rice so they stand upright. Arrange red bell pepper strips in pinwheel pattern and scatter peas over top. Cover again with foil and return to oven. Cook until shrimp are opaque and mussels have opened (about 10-12 mins).




Allow paella to stand, covered, for about 5 minutes. Discard any unopened mussles and bay leaf. Garnish with parsley and serve with lemon wedges separately.
Tip: If soccarat is desired (toasted, browned portion of rice at bottom of pan), then return paellera to oven for about 5 more minutes once the paella has finished baking.
DID YOU KNOW?
That paella is a Catalan word derived from the Old French word paelle, meaning "pan"?
A popular but inaccurate belief in Arabic-speaking countries is that the word paella originated from the Arabic word baqiyah, meaning "leftovers". This belief stemmed from the Arab sailors' custom of combining leftovers from previous meals, which resulted in a paella-like creation in Moorish Spain.
JB and Renée are the Traveleaters behind Will Fly for Food, a travel blog for the gastronomically inclined.  They enjoy experiencing food from different cultures so they've made it their mission to try every country's national dish.  Read more about them and their National Dish Quest here.