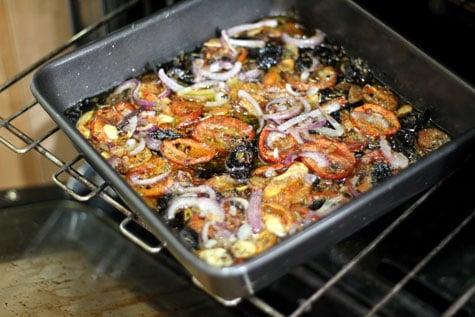 Roasted Tomato Pasta Sauce
NOTICE: Some of our articles contain affiliate links. The ones that do will have a disclosure statement at the bottom. You can refer to our privacy policy and terms of use for more information.
In comedic terms, a roast is an event in which an individual is subjected to a public presentation of mirthful insults, praise, outlandish anecdotes, and heartwarming tributes. Usually reserved for the well-loved, roasting is viewed as an honor, the implication being that the roastee is good-natured, able to take the jokes in good humor rather than as an insult or criticism.
With the humble tomato being arguably the most beloved component in all of Italian cooking, what better way of honoring this wonderful ingredient than to make it the subject of this good, old-fashioned roast?
Roastmaster 1: "Remember that day when our good friend, the tomato, blushed?"
Roastmaster 2: "Of course! It was when he saw the salad dressing."
Roastmaster 1: "Hee hee. What about the weekend getaway with that old prune?"
Roastmaster 2: "Yup, it was because he couldn't find a date."
Roastmaster 1: "Ha ha ha! And the time when he first turned red?"
Roastmaster 2: "I remember! It was when he saw Mr. Green pea!"
An hour of this and the tomato does indeed exhibit its good nature and endearing personality, releasing a sweet, concentrated, deliciously roasted but unbitter flavor that's just raring to be topped onto your favorite pasta. 😉
What a beautiful sight – oven-roasting the tomatoes, onions, garlic and olives.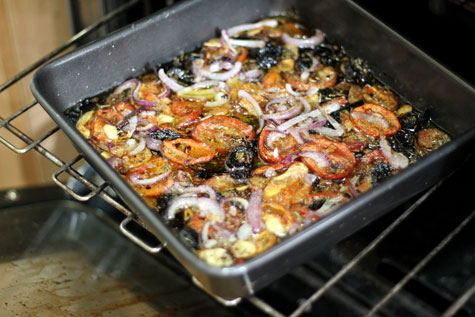 Add the sauce to your al dente pasta of choice, sprinkle with some fresh cilantro, and in true comedic roast fashion, you'll be laughing. 😆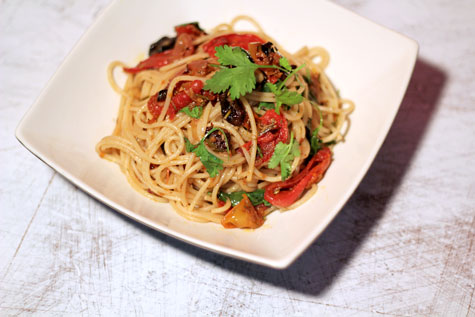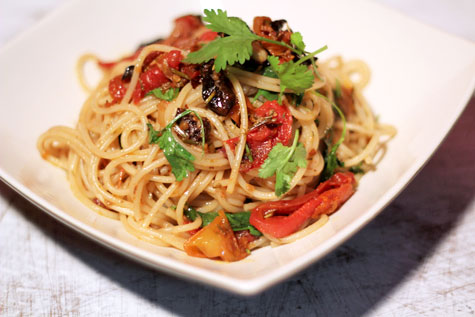 Ingredients
500 g tomatoes, halved (Ren used a combination of cherry and local)
1 large onion, peeled and sliced
1 head garlic, peeled and sliced
1/2 cup Kalamata black olives, pitted and halved
2 tsps dried thyme
Sprinkled sea salt and freshly ground black pepper, to taste
1/2 cup olive oil
1/2 cup chopped cilantro/coriander/wansoy
Directions
Preheat oven to 325 degrees F.
Put tomatoes in 9″ by 13" baking dish. Add onion, garlic, olives, thyme, salt and pepper, then cover with oil. Toss well and place in oven to slowly roast for 1 hour, or until tomatoes have browned and shriveled, and sauce has thickened.
Remove from oven. Toss with pasta of choice and sprinkle with chopped cilantro. Serve with crusty bread.
DID YOU KNOW?
That oven-roasting is a great way to turn damaged, overripe, or surplus tomatoes into a delicious sauce for storage? Roasting removes excess water and concentrates the flavor of the tomatoes, which you can then store in the freezer for future use.
JB and Renée are the Traveleaters behind Will Fly for Food, a travel blog for the gastronomically inclined.  They enjoy experiencing food from different cultures so they've made it their mission to try every country's national dish.  Read more about them and their National Dish Quest here.