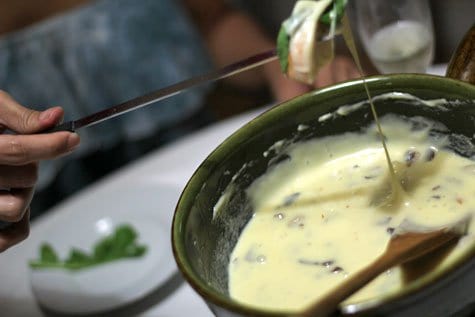 Valentine's Day Truffled Cheese and Mushroom Fondue
NOTICE: Some of our articles contain affiliate links. The ones that do will have a disclosure statement at the bottom. You can refer to our privacy policy and terms of use for more information.
If the way to a man's heart truly is through his stomach, then this recipe for truffled cheese and mushroom fondue must be the shortcut.
Managing to top her cheese fondue from last year, Ren went absolutely all out this time, painstakingly preparing this incomparable spread for this year's Valentine's Day dinner. I knew that she was making cheese fondue, but I didn't know that it was going to be a TRUFFLED cheese fondue, and with all those dippers to boot! I mean, just look at that spread! And a whole bottle of bubbly on ice too! I was floored when I saw all that waiting for me at the dinner table.
I can't thank my amazing wife enough for going through all the trouble to prepare this amazing banquet. Happy Valentine's Day sweetheart! I love you! ♥
Oh, and if you're wondering why this Valentine's Day dinner came an evening early, it's because I had already promised to prepare our actual Valentine meal, as an undying token of my affection. Seeing as how I'm entirely inept in the kitchen, tonight's menu will be much simpler, though none the less enjoyable – Red Bull. Lots of it. 😈

A stunningly beautiful platter of dippers, courtesy of my amazing and equally stunning wife Renee. 😉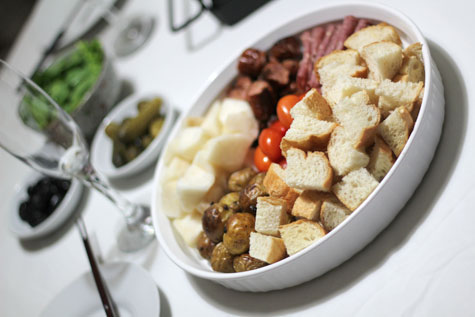 On this platter are crusty bread cubes, cherry tomatoes, roasted marble/new potatoes, pears, smoked cheese sausage, and beef salami.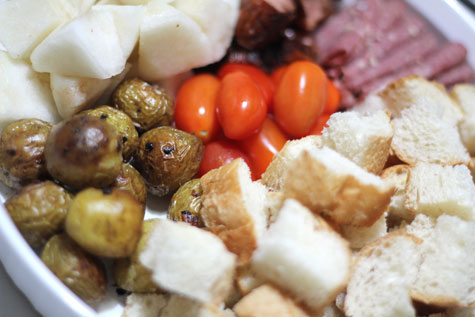 Side dishes of arugula, marinated black olives, and cornishons.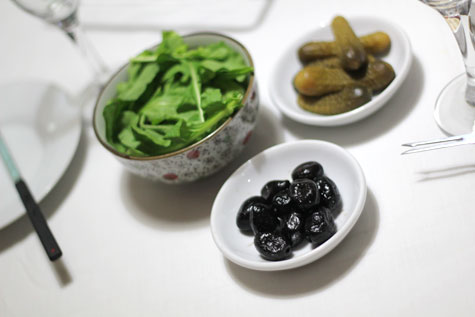 Aaaah the truffled cheese with mushroom fondue! All melted and raring to go…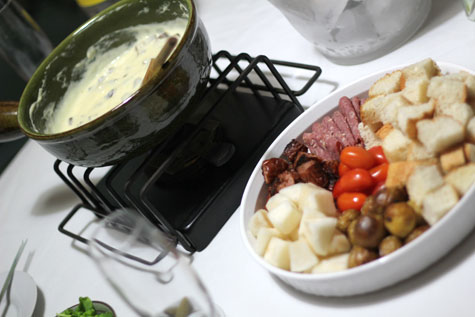 Now how good does that look!?



Ren showing off her fondue dipping technique.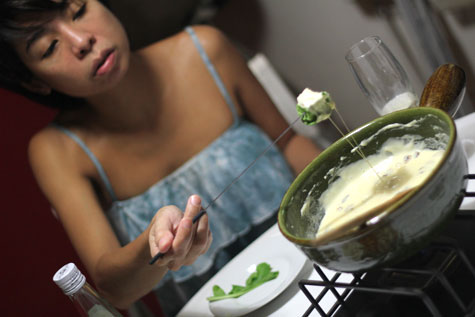 Always the innovator, she gets the brilliant idea of wrapping the bread cube in an arugula leaf, then dipping both into the cheese. Dee-licious!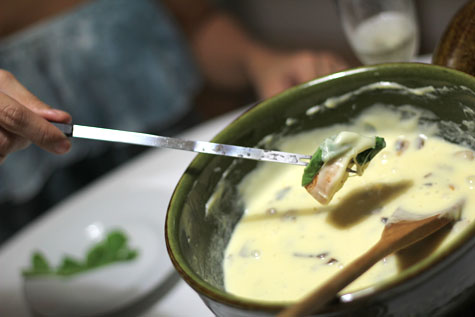 Stringy, cheesy goodness



As hungry as I was, the spread Ren so lovingly prepared was just so beautiful that I couldn't put my camera away. 😆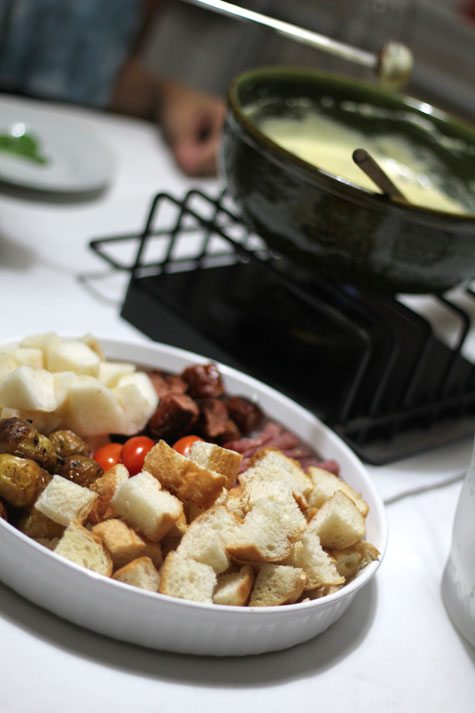 Of course, what Valentine's Day fondue dinner would be complete without a little bubbly? A bottle of Prosecco, courtesy of Ren's fabulous ninang (godmother).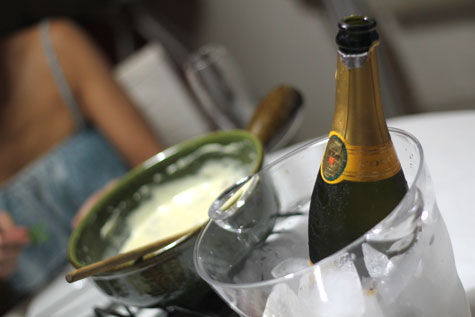 Happy Valentine's Day everyone! Cheers!! 😀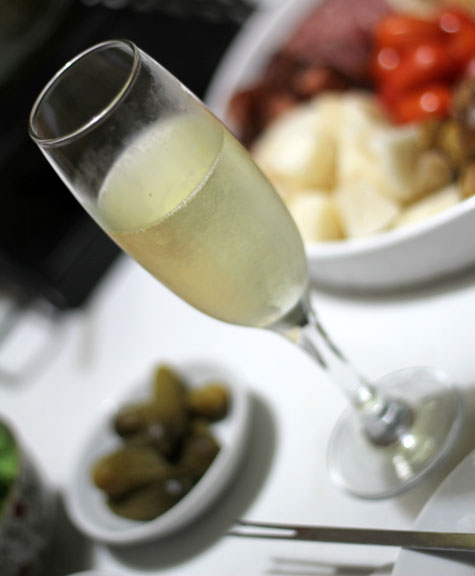 Ingredients
3 Tbsps unsalted butter
300 g fresh wild mushrooms, such as shiitake, porcini, morels, or chanterelles, or a combination of wild and cultivated mushrooms, finely chopped (see note at bottom)
2 tsps chopped fresh thyme, or 1/2 tsp dried thyme leaves
1/4 tsp salt
1/8 tsp freshly ground black pepper
500 g combination of Gruyere and Emmental cheeses, shredded
4 tsps cornstarch
1 cup dry white wine
1 Tbsp fresh lemon juice
1 tsp black or white truffle oil
Assorted dippers: Crusty bread cubes, cherry tomatoes, roasted marble/new potatoes, pears, smoked cheese sausage, beef salami
On the side: Arugula, marinated black olives, cornishons
Directions
In large skillet, melt butter over medium-high heat. Add mushrooms and cook, while stirring occasionally, until they release their liquid and start to brown (about 5-7 minutes). Season with salt, pepper, and thyme.
In large bowl, toss cheeses with cornstarch to coat.
In large saucepan, warm wine and lemon juice over medium heat until hot, but not boiling. Reduce heat to low then gradually stir in cheese mixture, allowing each addition to melt before adding more. Stir in mushrooms and cook for 1 minute. Season with salt and pepper to taste.
Transfer to ceramic or enameled cast iron fondue pot (previously rubbed with 1 clove garlic), then drizzle truffle oil on top. If possible, regulate heat under pot so cheese fondue remains warm, but not hot.
Note: If wild mushrooms are unavailable or too expensive, then substitute with 150 g chopped fresh cremini or white mushrooms, along with 50 g of assorted dried wild mushrooms, that have been rehydrated in warm water for about 20 minutes, drained well, and chopped.
DID YOU KNOW?
That traditional fondue etiquette states that if a man loses his bread in the pot, then he is obligated to buy a round of drinks, and if a woman loses hers, then she must kiss her neighbors?
Either way, it's a whole lot of fun. 😉
JB and Renée are the Traveleaters behind Will Fly for Food, a travel blog for the gastronomically inclined.  They enjoy experiencing food from different cultures so they've made it their mission to try every country's national dish.  Read more about them and their National Dish Quest here.