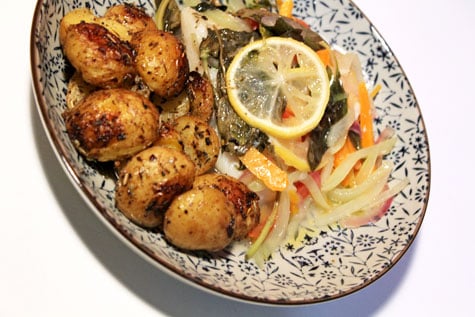 Fish En Papillote with Roasted Lemon Potatoes
NOTICE: Some of our articles contain affiliate links. The ones that do will have a disclosure statement at the bottom. You can refer to our privacy policy and terms of use for more information.
I didn't know that Ren was preparing fish en papillote for dinner the other night, so coming to the table and finding this sealed foil pouch on my plate was akin to discovering a shiny wrapped present underneath the tree on Christmas morning. Excited, I held the plate with the hot parcel up to my ear and gave it a quick shake, listening for any clues that would give away its contents.
A faint sloshing sound. With Ren's taste for culinary adventure and my often overactive imagination, episodes of Bizarre Foods with Andrew Zimmern flashed through my brain.
Could it be a Reneelicious version of Palau fruit bat soup? Perhaps a hot, virile broth of tiger penis? Or maybe it's a pouch of the notorious, ambiguously named Soup Number 5?
Luckily for me, with this being fish week and the En Papillote method most often used to cook decidedly less bizarre proteins like fish or poultry, I didn't need to dip too far into the recesses of my imagination to figure out what delectable goodies lay within this shimmering little package. 😉

The foil pouch before it's popped. Baked in an oven, the sealed pouch holds in the moisture and steams the food.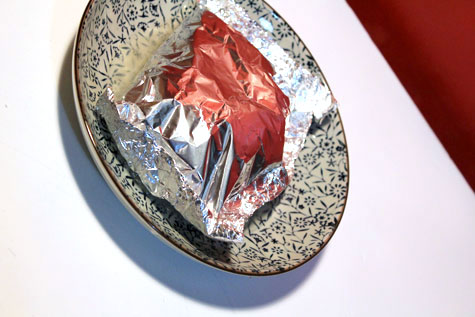 Tear open the pouch, and voila!
You can barely see it, but the cream dory fillet is underneath all that vegetable and herb goodness. The julienned veggies and basil were fantastic. Delicately flavored, refreshingly clean.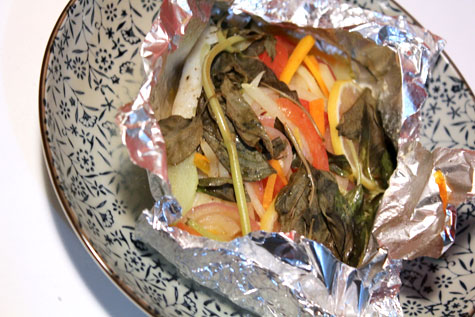 Add a few skin-crisp, oven-roasted potatoes and you're laughing. 😆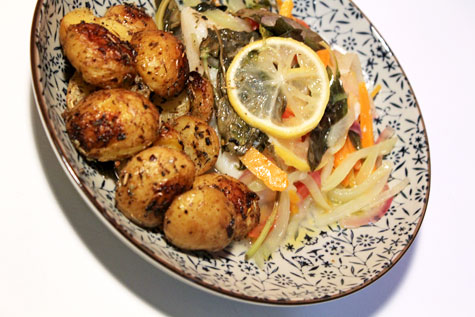 Ingredients
FOR FISH
1/2 red onion, julienned
1 chayote
1 large carrot, julienned
1 clove garlic, minced
1 Tbsp extra-virgin olive oil
Sea salt and freshly ground black pepper
4 (4-ounce) cream dory fillets, or other white fish
1 lemon, thinly sliced, seeds removed
Handful of basil
4 pats butter
1/4 cup white wine
4 large squares aluminum foil
FOR POTATOES
20-25 small/medium potatoes, cut into chunks
3 Tbsp. olive oil
Salt and pepper, to taste
Juice of one lemon
2 tsp. herbes de provence
Directions
FOR FISH
Put onion, chayote, carrot and garlic together in mixing bowl. Add oil, then toss to combine. Season with salt and pepper to taste.
Put each fish fillet on large square of aluminum foil and season with salt and pepper to taste. Evenly arrange vegetables on top. On top of vegetables, add 2 slices of lemon, a few leaves of basil, a pat of butter, and 1 Tbsp white wine, layering in this order.
Fold aluminum foil tightly around edges to create a half moon shape. Make sure you press hard as you fold to seal packets well and prevent steam from escaping.
Preheat oven to 375 degrees F. Arrange packets on baking sheet. Bake until fish is cooked through, for about 12 minutes, depending on thickness of fish.
To serve, cut open packets and serve directly in foil, or transfer fish with juices onto a plate.
FOR POTATOES
Preheat oven to 450 degrees F.
Throw all ingredients together and roast, tossing once or twice, for about 30 minutes, or until potatoes are crisp on the outside.
DID YOU KNOW?
That En Papillote, in French, means "in parchment"? Although the parcel is typically made from folded parchment paper, a paper bag or aluminum foil may also be used, as was the case in this recipe.
JB and Renée are the Traveleaters behind Will Fly for Food, a travel blog for the gastronomically inclined.  They enjoy experiencing food from different cultures so they've made it their mission to try every country's national dish.  Read more about them and their National Dish Quest here.