Saewoo Pajeon (Shrimp Green Onion Pancake)
And the beat goes on…
CLICK HERE to view the other looks from this week's Mercedes Benz Pajeon Show.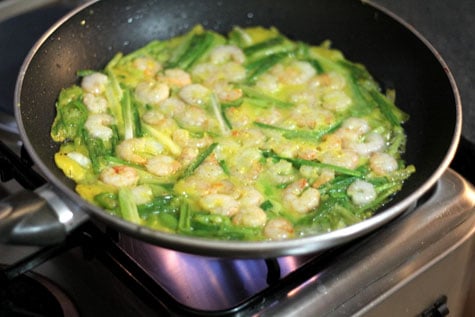 Pancake
Ingredients
150 g peeled shrimp
Approximately 10 stalks green onions, chopped
1/2 cup flour
1/2 cup water
1 tsp soybean paste
1/2 tsp sugar
3 Tbsps Vegetable oil
Directions
Mix flour, water, soybean paste and sugar in bowl to make batter. Mix well until batter is smooth.
Heat non-stick pan on stove. Add vegetable oil to heated pan.
Put chopped green onions in pan. Put shrimp on top of green onions. Pour batter over shrimp and green onions evenly.
While pancake is cooking, keep patting and pressing it slightly with spatula.
After a few minutes, check bottom of pancake and turn over when crisp and golden brown.
Cook for a few more minutes until other side of pancake turns crisp and golden brown, then flip over again.
Cook for another minute then transfer it to serving plate. Serve hot with sauce. (recipe below)
Sauce
Ingredients
2 Tbsps soy sauce
1 Tbsp vinegar
1 tsp sugar or honey
Chopped onion
Chopped green onion
Chopped green or red chili peppers
1 tsp toasted sesame seeds
Directions
Combine all ingredients in small bowl.
DID YOU KNOW?
That the term "shrimp" originated around the 14th century from the Middle English word shrimpe, which means to contract or wrinkle?
JB is one half of Will Fly for Food and its chief itinerary maker.  He's the one to blame for all the crappy photos and verbal diarrhea on this blog.  Don't listen to him.
Latest posts by JB Macatulad (see all)