Reduce reuse Ren is recycling again.
With still plenty of leftover cochinillo asado, Ren recycled the pork to create another original. Having eaten Korean kimchi as a side with our mushunillos last night, she was struck by how well the cochinillo-kimchi pairing went so decided to formally combine the two, putting together these scintillatingly spicy, Vietnamese Bánh mì inspired roast pork with kimchi submarine sandwiches.
Creating another original using recycled cochinillo, this time in sandwich form, I'd have to say that reduce reuse Ren is on a roll.
Ba-da-bum tsssch!!
I need to refrain from writing these cheesy puns too often, otherwise the editor-in-chief (aka wife) may Bánh mì from doing so forever.
Ba-da-bum tsssch!!
Now I'm on a roll. 😉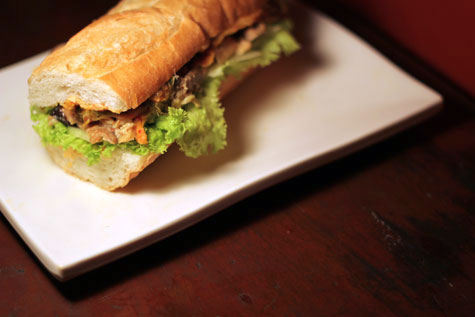 The unctuousness of the cochinillo is tempered beautifully by the acidity and spiciness of the kimchi. If you can't handle too much heat in your food, don't fret. The bread, cucumbers and lettuce do a good job in neutralizing that zing.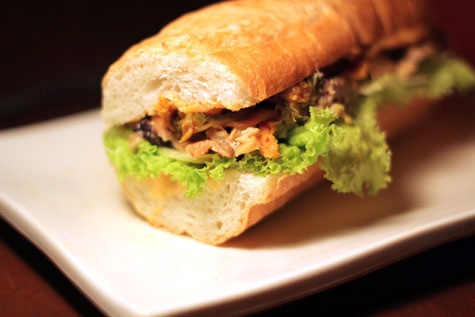 Ingredients
Leftover roast pork
French roll (cut into 6″ segments) or ciabatta
Kimchi, chopped
Sriracha mayo (mixture of mayonnaise and Sriracha, to taste)
Thin slices of cucumber
Green oak leaf lettuce
Directions
Assemble with loooove. 😉
DID YOU KNOW?
That although "bánh mì" is commonly used to characterize any type of meat-filled sandwich, the term by itself only refers to bread? In the Vietnamese language, additional words are added to "bánh mì" to describe the kind of fillings in the sandwich, so one made with pâté and meat would hence be called "bánh mì pâté thịt."