If you're wondering why you've never heard of mushunillo, it's because you haven't. We just made it up.
We still had leftover cochinillo asado from our Christmas Eve lunch, so reduce reuse Ren had the brilliant idea of recycling it to make this fun Americanized dish of Mandarin Chinese origin that I personally haven't enjoyed in almost 15 years – Mu Shu Pork!
Instead of the traditionally marinated thin strips of pork tenderloin, she shredded the leftover cochinillo and used it as the pork component of the dish, hence the bastardized portmanteau word "Mushunillo", which is short for, quite obviously, Mu Shu Cochinillo. I know, right? 😉

Step 1: Place wrapper on plate and brush with hoisin sauce. I like to use two wrappers so it doesn't tear so easily. Plus it gives it a nice, slightly chewy texture.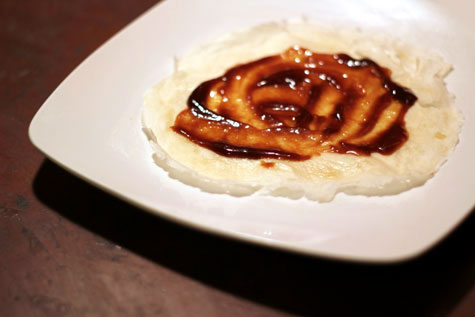 Step 2: Add mixture.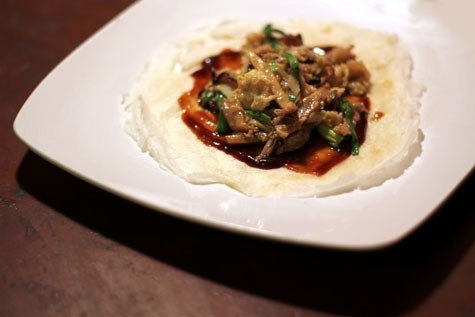 Step 2: Roll up and enjoy! Unlike traditional American mu shu pork which uses leaner strips of pork, the fatty cochinillo meat is juicier and more tender. Dee-licious!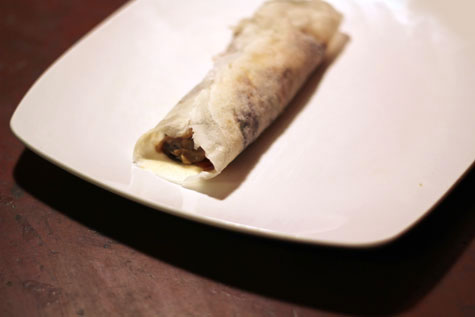 Ingredients
400 g or 1 pound of leftover roast pork, in this case, roast suckling pig, diced or shredded
6 Tbsps peanut oil for stir-frying, or as needed
3 eggs
1/2 tsp salt
3 garlic cloves, minced
2 slices ginger, peeled and cut into thin strips
1 cup shiitake mushrooms, reconstituted, liquid reserved, and cut into thin strips
1/3 cup wood ear mushrooms (taingang daga), reconstituted and cut into thin strips
3 Tbsps water
3 Tbsps reserved shiitake liquid
1 Tbsp soy sauce
2 tsps Shao-Hsing wine or dry sherry
1/2 tsp salt
1/2 tsp sesame oil
1 tsp cornstarch
1/2 cup canned bamboo shoots, drained, rinsed well and cut into strips
1 cup of chinese cabbage, cut into thin strips
2 stalks green onions, cut into 2″ strips
1 tsp sesame oil
Lumpia (spring roll) wrappers, steamed for 10 minutes
Hoisin (plum) sauce, to serve
Directions
In mixing bowl, add salt to eggs then beat lightly.
Heat wok over medium-high to high heat. Add 2 Tbsps oil, swirling along sides. When oil is hot, add beaten eggs and scramble until quite firm. Remove eggs from wok. Clean out wok.
Add 2 Tbsps oil to wok. When oil is hot but not smoking, add garlic and ginger then stir-fry until fragrant. Add pork and stir-fry for a few minutes. Remove and set aside.
In small bowl, prepare sauce by combining water, mushroom liquid, soy sauce, rice wine, salt and sesame oil. Add cornstarch and mix well.
Add 2 Tbsps oil to wok. When oil is hot, add both shiitake and wood ear mushrooms. Stir-fry for about 1 minute. Push up to sides. Quickly re-stir sauce then pour into middle of wok, stirring quickly to thicken.
Add pork and scrambled eggs back into pan. Stir in bamboo shoots and chinese cabbage. Adjust seasoning to taste. Add green onions, quickly stir then remove from heat. Stir in sesame oil.
DID YOU KNOW?
That there a few stories explaining the etymology of this dish's name?
The first of two primary stories writes the name of the dish as 木犀肉 in Mandarin (pinyin: mù xī ròu). The last character 肉 (ròu) means "meat" and refers to the pork in the dish, while the first part 木犀 (mù xī) is the name for the Sweet Osmanthus – a small ornamental tree that produces bunches of small and fragrant blossoms that may be yellow or white.
Scrambled eggs have an appearance that remind people of the mixed yellow and white flowers, so 木犀 (mù xī) is a poetic way of referring to the eggs used in preparing the dish.