Dulong in Garlic and Olive Oil
I'll never forget the guy who sold me these anchovy fry.
Good-looking chap, around 5′ 8″, probably in his mid-thirties with fair complexion and chiseled, manly features. He had dark, bushy but well-shaped eyebrows and a sharp, regal-looking nose that made mine look like a pug's in comparison. His features too refined to be 100% Filipino, he was unmistakably part-Caucasian, my guess a G.I. baby. A safe assumption since this was the Olongapo public market.
"Ser, masarap po itong dulong. Tuturuan ko po kayo kung paano lutuin ito." he said in a thick Kapampangan accent that didn't match his polished features.
The disconnect between how he looked and how he spoke, however, wasn't the oddest thing about him. It was the way he was dressed.
He was wearing a snug, long-sleeved polyester shirt that matched the cobalt blue of his skin-tight jeans. His shirt neatly tucked in with a studded, black belt wrapped around his waist, he looked like some jumpsuit-wearing superhero who, in his haste to sell fish as his alter-ego, forgot to change out of his costume between rescues.
To top it all off, he was wearing a large straw bucket hat and a cherry red handkerchief tied around his neck. It wasn't tied in the typical cowboy bandana fashion either. Instead, it was tied tightly, like a woman's choker, with the knot fashionably skewed to the right. With it, he would lightly dab the sweat off his brow between handlings of the fish.
After giving him my payment for the bag of fresh anchovy fry, he thanked me, handed me a piece of paper, then nimbly hopped onto his rainbow-colored kalesa and started driving away. As he rode off into the sunset, I spotted what I assumed to be his name emblazoned in handpainted cursive at the back of his carriage.
He went by the name "Dulong Ranger", and this was his recipe.*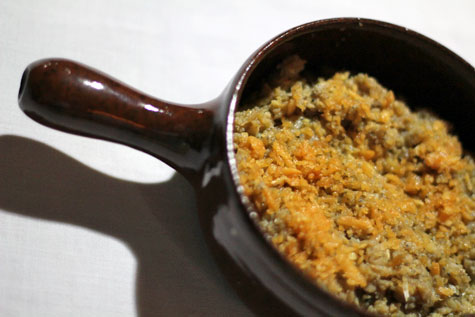 * Just kidding. Aside from my pug-looking nose, none of the above is true. This is my mother-in-law's beloved recipe for dulong in garlic and olive oil. 😉
Ingredients
1/2 kilo fresh dulong (anchovy fry)
1/2 cup extra virgin olive oil
1 large head garlic, minced
2 red chilies, chopped
Sprinkling of Knorr liquid seasoning with calamansi
Dash of Tabasco sauce
Salt, to taste
Toasted garlic bits (for garnish)
Directions
Heat olive oil. Add garlic and saute until fragrant. Do not brown. Add in red chilies and stir-fry for a few minutes.
Add fish and cook, while stirring, until water evaporates. Season with Knorr, Tabasco sauce and salt to taste.
Garnish with toasted garlic bits and serve with crackers.
DID YOU KNOW?
That although the title of word's smallest fish was once held by Pandaka pygmaea, that title now belongs to Paedocypris progenetica, a member of the carp family that lives in an acidic peat swamp in Indonesia? Declared by zoologist Ralf Britz from the Natural History Museum in London to be one of the strangest fish he's ever seen, these tiny fish that live in acid and have bizarre grasping fins (presumably for mating), grow to an adult length of only 7.9 millimeters.