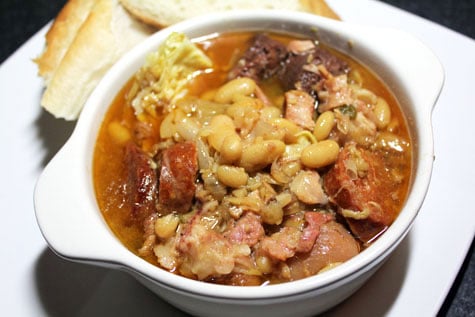 NOTICE: Some of our articles contain affiliate links. The ones that do will have a disclosure statement at the bottom. You can refer to our privacy policy and terms of use for more information.
What do consecutive rainy days, the chance discovery of white beans in the pantry, and driving by a Spanish food take-out kiosk all have in common? Absolutely nothing on their own, but they each represent an event in a serendipitous sequence that led to the creation of this fantastic Fabada Asturiana dish.
With the onset of December rain, Ren began looking for dishes that would suit the cooler climate. Kalbi Jim? Been there. Lamb Osso Buco Milanese? Done that. It was only with her unearthing of a forgotten bag of white navy beans and my inquiry into a Spanish gourmet take-out stand did the proverbial lightbulb over her pretty little head go *ding!* Spanish bean stew!
This prompted a whirlwind shopping spree at her favorite gourmet food stores – Santi's for Spanish chorizo, Alba's for morcillas, and Rustan's for smoked ham hocks – all of which, thanks to a healthy dose of happenstance, culminated in this hearty and muy handsome bowl of Fabada Asturiana.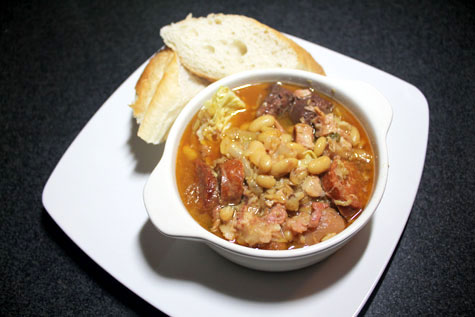 Now THAT'S a hearty dish. Makes you kinda wish for rain, doesn't it?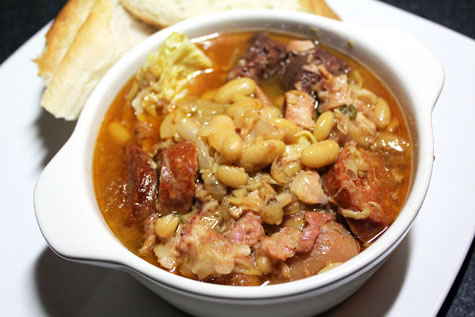 Check out those scrumptious-looking morcillas, or Spanish blood sausages. Nom-nom-nom-nom-nom-nom-nom-nom-nom! 😛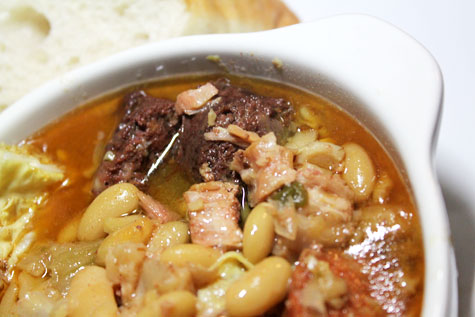 Ingredients
1 lb. large white beans
1 pc morcilla or blood sausage
1 pc Spanish chorizo
1 pc pork belly or country-style spare rib, cut in chunks
1 pc smoked ham hock
1/2 cup olive oil
1 large yellow onion, quartered
1 green bell pepper, quartered
1 head garlic, peeled
1 Tbsp pimenton or sweet smoked paprika
Large pinch, saffron
1 bay leaf
Sea salt, to taste
Crusty bread, to serve
Directions
Soak the white beans in water overnight.
Put sausages, morcilla and other meat products in large pot. Top with white beans.
Add enough water to cover all beans/meat. Bring to boil slowly over medium heat. Turn down heat and simmer for one hour. Make sure beans are always covered with water. Add more cold water if necessary.
In separate pan, fry onion, garlic, bell pepper, paprika, bay leaf and saffron in a little oil for a few minutes. Add to beans.
Add 1/2 cup olive oil and mix carefully. Allow to cook for another hour, or until meat and beans are tender.
If broth is too thin, you can take several beans, mash them up, then return to pot and cook uncovered for several minutes. Adjust seasoning to taste.
Transfer to individual bowls and serve with crusty bread.
DID YOU KNOW?
That Fabada Asturiana is named after its place of origin, the autonomous northern community of Asturias, Spain? Though especially known for their seafood, being bordered by the Bay of Biscay to the north, their most famous dish (and second most famous in all of Spain, behind only the paella) is Fabada Asturiana which is widely available throughout Spain and in Spanish restaurants worldwide.
JB and Renée are the Traveleaters behind Will Fly for Food, a travel blog for the gastronomically inclined.  They enjoy experiencing food from different cultures so they've made it their mission to try every country's national dish.  Read more about them and their National Dish Quest here.