Ren's done it. She's replicated one of our most beloved Filipino favorites. It was like discovering the culinary equivalent to the Holy Grail.
Jollibee. Max's. Aristocrat. Kamayan. Goldilocks. Via Mare. Barrio Fiesta. These are just a few of the most iconic, 100% Pinoy food brands that many of us have grown up with and love.
If you were to narrow it down to the most iconic dishes, a lone, specific dish that singlehandedly made that brand into what it is today, then one in particular stands head and shoulders above the rest – Max's Fried Chicken. Everything else is debatable, with Aristocrat barbecue and Via Mare oysters coming in a distant second and third for me.
Seriously, who doesn't LOVE Max's Fried Chicken? Unless you're a vegetarian, you were probably right there with the rest of us gobbling up quarter piece after quarter piece during their PHP 199 chicken-all-you-can promos. If you didn't make it, you at least thought about it.
How could you not? With its unique aroma, its incredibly crisp, delicate skin, and the juiciest, most tender meat, Max's Fried Spring Chicken for me is hands down the best. And I know I'm not alone in feeling that way either. My brother-in-law, when asked to describe what his last meal would be, will say without hesitation: "Max's Fried Chicken. One whole bird." Amen to that brother.
100% Pinoy. 100% awesome. 100% guaranteed to make you say: "Sarap to the boooooones!!" 🙂

Crispilicious golden brown with a side of fried mantou. Sarap to the bones indeed.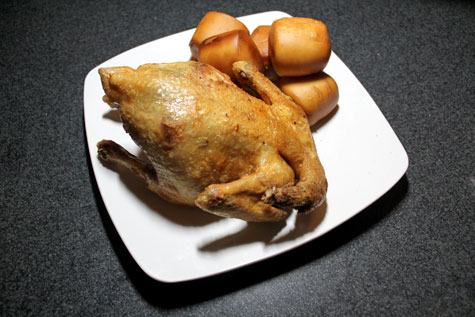 Who's your daddy?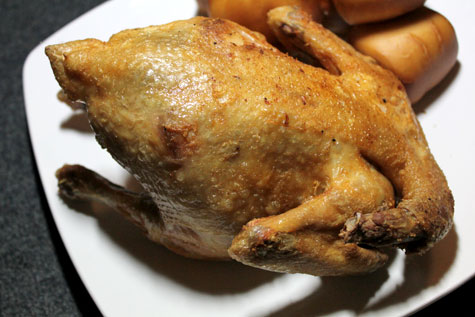 Ren's favorite part of the chicken. No competition from me here, being more of a breast man myself. 😉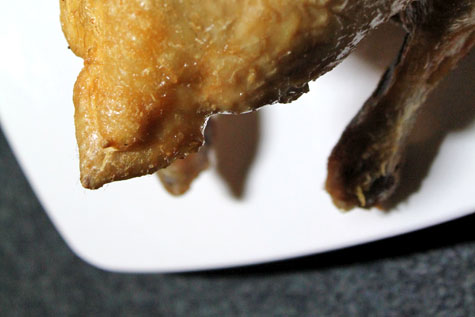 Ren discovered this recipe online but forgot where she found it. If you're the original author of this recipe, please send us an email and we'd be happy to give you full credit.
Ingredients
2 whole spring chickens
Salt
Patis (fish sauce)
Black pepper powder
Directions
Wash chicken thoroughly then drain. Rub chicken generously with salt (including cavities) and let stand for 15 minutes.
Add 3 cups water, 1/2 cup patis (fish sauce), and 1/2 tsp black pepper powder to steamer and bring to a boil. Arrange chicken side by side in steamer and steam for about 15-20 minutes, adding more water if required.
Remove chicken from steamer and allow to cool down. Using your finger, lightly rub steamed chicken with patis, then chill in refrigerator until ready for frying.
Deep fry chicken for about 5-8 minutes on each side until color changes to golden brown. For maximum crispness, re-chill after first frying, then refry for 2-3 minutes on each side when ready to serve. Serve with banana ketchup.
DID YOU KNOW?
That Max's Restaurant was named after its founder, Maximo Gimenez, who was a teacher and a graduate of Stanford University?
In 1945, after World War II, American troops stationed in Quezon City became friends with him and would come to his house for drinks. They insisted on paying, so Max eventually opened a cafe.
Among the people helping him run the cafe was his niece Ruby who managed the kitchen. Ruby's fried chicken proved very popular with the Americans as well as the locals, who began patronising the establishment on a regular basis.
Encouraged by her mother to expand the menu and serve more Filipino food, Ruby set up the first restaurant in Baclaran along Roxas Boulevard and named it "Max's" after her uncle Maximo.
With currently over 120 branches in the Philippines, the US and Canada, and more soon to open in Australia and the UAE, the rest, as they say, is history.