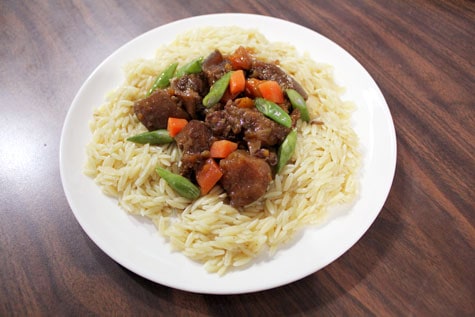 Ox Cheek Stew with Risoni
NOTICE: Some of our articles contain affiliate links. The ones that do will have a disclosure statement at the bottom. You can refer to our privacy policy and terms of use for more information.
I've frequently heralded my mother-in-law as the source of Ren's culinary prowess, so I'm happy to include, for the first time, one of her Rosielicious Recipes here at Sushi Bytes.
Inspired by the entree she enjoyed at her recent birthday luncheon at Katré Mediterranean Restaurant, she whipped up this fantastic ox cheek stew served on a bed of risoni pasta. One bite from these amazingly tender and glutinous slow braised ox cheeks and you'll know instantly from where Ren gets her talent.
Hopefully this inaugural post will be the first of many Rosielicious guest appearances. 😉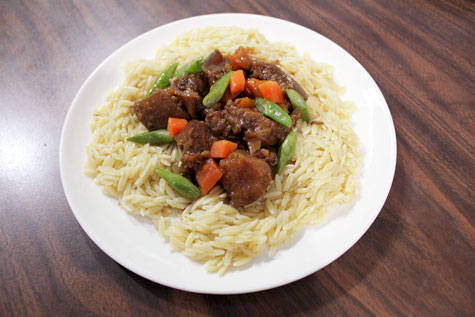 Ingredients (serves 4)
450-500 g ox cheeks
2-3 Tbsps cooking oil
garlic cloves, minced
2 medium onions, peeled and roughly chopped
2 medium carrots, peeled and sliced
1/2 tsp ground allspice or mixed spice
1/2 tsp mace
1 1/2 Tbsps plain flour
Whole peppercorns
Cayenne pepper
2 bay leaves
300 ml beef stock
1 bottle Cerveza Negra or any dark ale
1 Tbsp dark brown sugar
Large glug of worcetershire sauce
1-2 Tbsps malt vinegar
Salt
Directions
Preheat oven to 275 degrees F.
Cut beef into small cubes. Heat oil in frying pan, then fry cubes quickly until lightly browned. Transfer to casserole.
In same oil, cook onion until starting to soften, then add carrots and cook for a few more minutes. Stir in allspice and flour, then add stock and beer and gradually bring to a boil. Stir in brown sugar and 1 Tbsp vinegar, add bay leaf, then put lid on casserole and cook on low heat for about 2 1/2 – 3 hours until meat is tender.
Check and stir stew from time to time, turning heat down if it appears to be cooking too fast. Open lid halfway if sauce needs reducing. When meat is cooked, taste and add more vinegar and extra splash of beer if needed.
DID YOU KNOW?
That risoni in Latin means "big rice?" Also known as Orzo which is Italian for "barley," it's a form of pasta shaped like a large grain of rice, slightly smaller than a pine nut. Because of its shape, it's also referred to at times as "Italian rice."
JB and Renée are the Traveleaters behind Will Fly for Food, a travel blog for the gastronomically inclined.  They enjoy experiencing food from different cultures so they've made it their mission to try every country's national dish.  Read more about them and their National Dish Quest here.