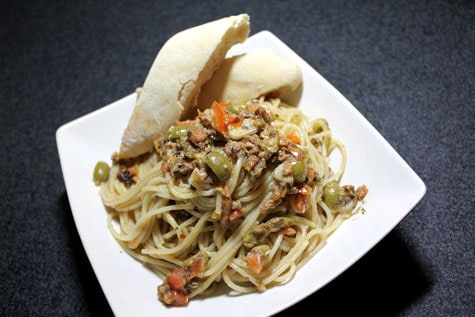 NOTICE: Some of our articles contain affiliate links. The ones that do will have a disclosure statement at the bottom. You can refer to our privacy policy and terms of use for more information.
Spontaneity. Ad-libbing. Improvisation.
Sometimes inspiration comes from the oddest of circumstances and when you least expect it too. Ren wasn't planning on making one of her Reneelicious Recipes this evening, but when events changed and she had to come up with dinner on the fly, she conjured up this magical spicy sardines pasta dish inspired by Chef Bruce Lim's Calamansi Tuyo Pasta.
Simultaneously smoky, spicy and salty with sweet and sour notes of acidity, spontaneous, delicious dishes like this one only encourage me to put Ren on the spot more often. 😉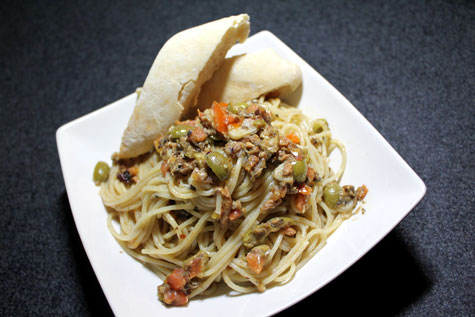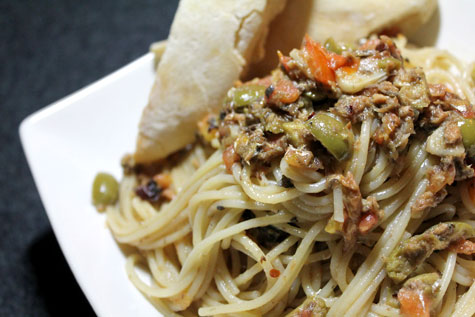 Ingredients
250 g spaghetti
1/3 cup extra virgin olive oil
6-8 cloves of garlic, thinly sliced
1/2 tsp crushed red pepper, or to taste
8-10 fillets spicy Spanish-style sardines in olive/corn oil
2 large tomatoes, finely chopped
1/3 cup green olives, sliced
Large pinch of brown sugar
1 tsp Dijon mustard whisked into 1 1/2 Tbsps fresh calamansi juice
Sea salt, to taste
Directions
Cook spaghetti according to packet directions until al dente. Reserve 1/4 cup pasta water once pasta is cooked. Drain.
Heat oil in large skillet over medium high heat. Saute garlic until fragrant and sprinkle crushed red pepper.
Add sardines, breaking it up with spoon, and fry for a couple of minutes before adding chopped tomatoes. Sprinkle a little sea salt and brown sugar over tomatoes and cook for a few more minutes until tomatoes are just starting to soften.
Add green olives and calamansi mixture. Adjust seasoning to taste. Let it boil for another minute.
Add cooked spaghetti with reserved pasta water and toss until sauce sticks to pasta. Transfer to individual pasta bowls and serve.
DID YOU KNOW?
That the practice of packing sardines tightly in a tin can has been the inspiration for many children's games of the same name? There are many variations to the game, but the basic premise is the same – one child hides and each successive child who finds the hidden one packs into the space until there is only one left out.
JB and Renée are the Traveleaters behind Will Fly for Food, a travel blog for the gastronomically inclined.  They enjoy experiencing food from different cultures so they've made it their mission to try every country's national dish.  Read more about them and their National Dish Quest here.