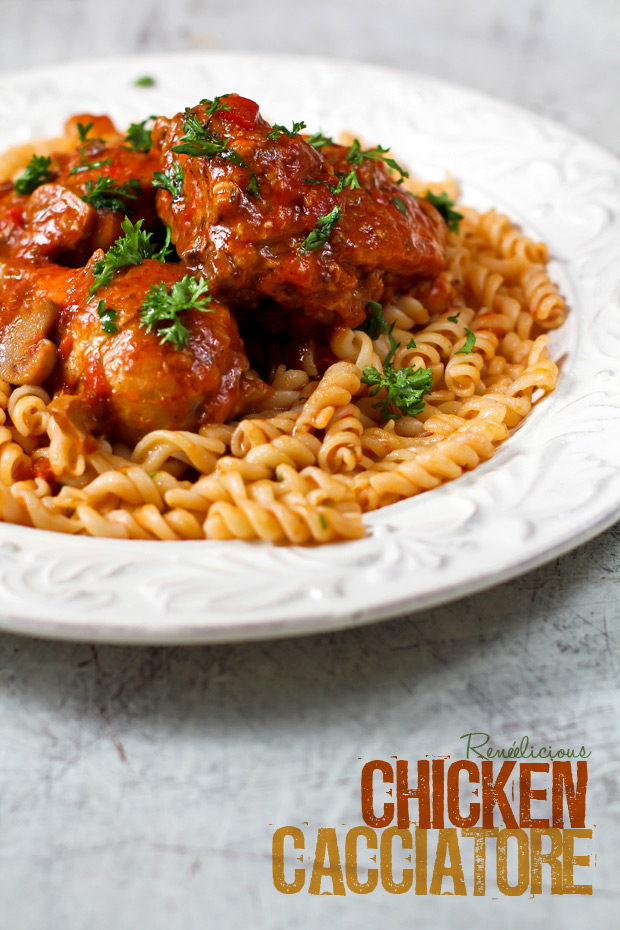 Chicken Cacciatore, by the Hunter's Wife
NOTICE: Some of our articles contain affiliate links. The ones that do will have a disclosure statement at the bottom. You can refer to our privacy policy and terms of use for more information.
This is one of my mother-in-law's staple recipes. Ren's been eating it since childhood so it's naturally become one of her favorite comfort foods.
Though the dish is more popularly known as cacciatore, meaning cooked "hunter style" with tomatoes, onions, mushrooms, herbs, and bell peppers, the traditional name is actually alla cacciatora. The dish was so named in honor of the hunter's wife, who would cook the dish on the eve of the hunt as fuel for the chase.
Happy hunting!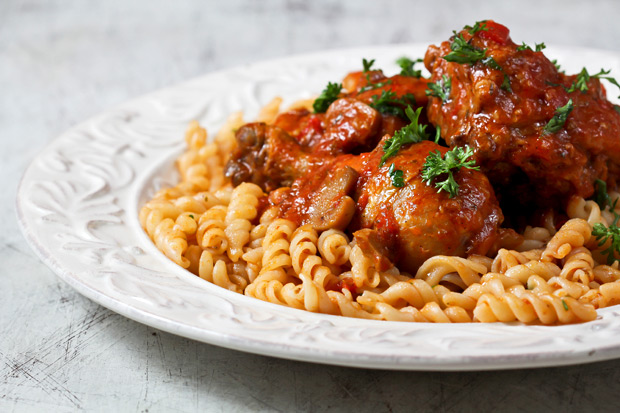 My mother-in-law has been bedridden since late last year so she asked Ren to make them a batch of her chicken cacciatore. In an effort to make it last longer, she told Ren: Huwag mong sarapan masyado, meaning "Don't make it taste too good." Hahaha! Naturally, Ren didn't listen.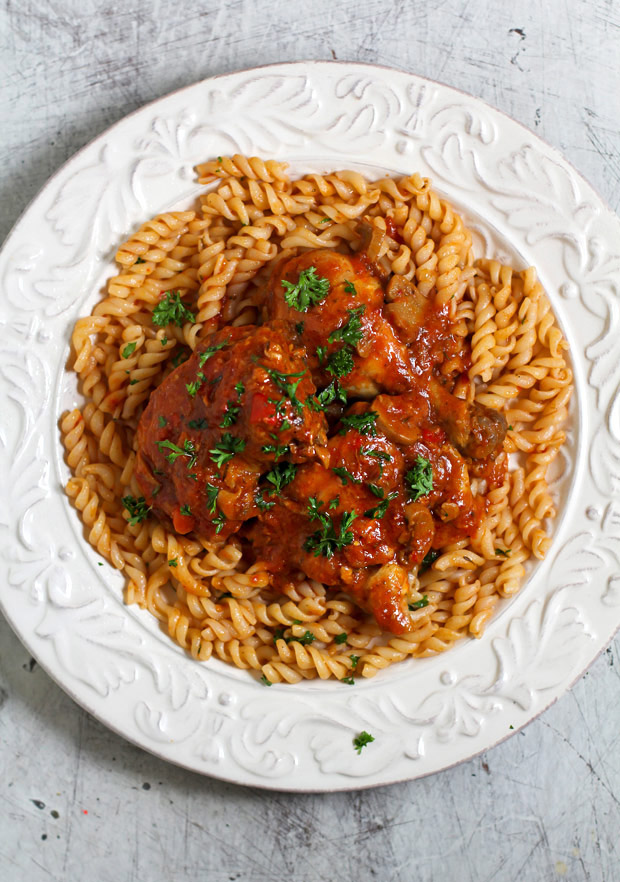 Ingredients
Flour, to coat chicken
1 kilo whole chicken, cut into pieces
1 cup diced bacon
Olive oil
6 cloves garlic, peeled and halved
1 large can sliced mushrooms
1 large onion, peeled and sliced
2 red bell peppers, cored, seeded, and sliced into 1/2 inch strips
1 cup dry white wine
2 cups chicken stock
1 (800 g) can whole tomatoes, crushed, with their juice
1 tsp crushed red pepper
2 bay leaves
2 tsps dried oregano
3 Tbsps tomato paste
Fresh basil leaves, torn
Grated parmesan cheese, to serve
Directions
Fry bacon while stirring frequently in large pot and cook until browned. Using slotted spoon, transfer to paper-lined plate to drain and set aside.
Place flour in shallow dish and coat chicken pieces, shaking off any excess.
Add some olive oil to bacon fat if needed. Over medium-high heat, fry chicken in batches until golden brown on all sides. When all chicken has been cooked, set aside.
Add garlic to pan and cook until golden brown. Add mushrooms and saute for 5-7 minutes. Add onion and bell peppers and saute until vegetables are soft (about 6 minutes).
Add wine and let reduce for about a minute. Add chicken stock, tomatoes, bacon, crushed red pepper, salt, bay leaf, oregano and tomato paste.
If serving chicken over spaghetti, slice chicken thighs into bite sizes. If not, leave as is. Return chicken to pot and bring liquid to a boil, stirring constantly. Turn down heat and simmer for an hour. Stir in fresh basil just before serving. Sprinkle with parmesan cheese.
JB and Renée are the Traveleaters behind Will Fly for Food, a travel blog for the gastronomically inclined.  They enjoy experiencing food from different cultures so they've made it their mission to try every country's national dish.  Read more about them and their National Dish Quest here.