Squid Head and Mushroom Curry Noodle Soup
This was supposed to be just a mushroom curry noodle soup.
But when we were at the supermarket buying all the ingredients for it, Ren, unsurprisingly, spotted a packet of squid heads in cold storage so decided to add it to the mix. The head is my favorite part of the squid so I was all in favor of this impromptu addition.
What started off as an interesting curry noodle soup now became even more so with the addition of the squid heads. They added a chewy, tentacle-y texture to an already exciting medley of spongy mushrooms, crisp bokchoy, al dente noodles, and rich, creamy coconut curry.
In fact, the squid went so swimmingly well that I'll suggest she add more seafood next time she makes this. And by "suggest," I mean quietly stand by cold storage again with the shopping cart and wait for her to notice them herself. 😉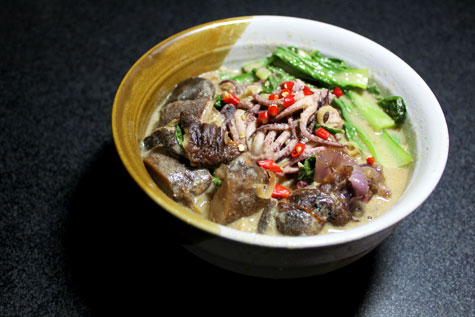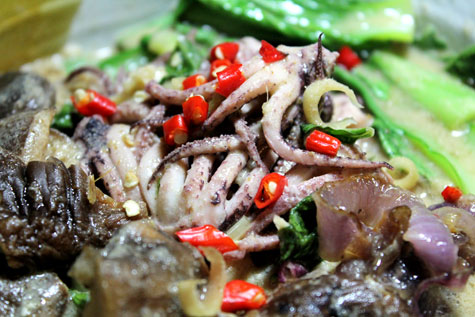 Ingredients
250 g squid heads, cleaned and patted dry
100 g reconstituted dried mushrooms, liquid strained and reserved
3 Tbsps peanut oil
1 stalk lemongrass, finely chopped
1 inch piece ginger, finely minced
2 cloves garlic, finely minced
2 Tbsps Thai green curry paste
1 1/2 cups mixture of mushroom liquid and chicken or vegetable stock
2-3 Tbsps fish sauce, or to taste
1 (400 g) can coconut milk
1 Tbsp brown sugar
1 Tbsp fresh calamansi juice
1 Tbsp fresh lime juice
1 small bunch of Taiwan pechay, washed, ends cut and leaves separated
250 g cooked asian noodles of choice (Ren used a combination of Ho Fan and egg noodles)
2 red onions, sliced and cooked in a bit of peanut oil until caramelized, to serve
Basil leaves or cilantro, to serve
Directions
In heavy sauce pan, heat one Tbsp peanut oil until hot, but not smoking. Fry squid heads and remove soon as they turn opaque and curl up. Transfer to plate.
In same sauce pan, heat remaining peanut oil and add lemongrass, ginger, garlic and fry until fragrant. Add curry paste and fry for a few seconds.
Pour stock and coconut milk. Add mushrooms, fish sauce, brown sugar, calamansi and lime juice. Bring to a boil and simmer for a few minutes until slightly thickened. Adjust seasoning to taste. Turn off heat and add in greens and herbs, then cover.
To serve, divide noodles among individual bowls. Top with squid heads and caramelized onions. Ladle soup and contents into bowls.
DID YOU KNOW?
That there are around 300 known species of squid? Of those 300, one of the most unusual has to be the Vampire Squid.
A relatively small deep-sea squid, the Vampire Squid is so named for its somewhat nightmarish appearance with its blue eyes, reddish-brown skin and webbing between its arms. It's scientific name, Vampyroteuthis infernalis, literally translates to "Vampire Squid from Hell."
Hmmm, does that mean then that it's usually served with hot sauce? Kidding. 🙂