I have Typhoon Pedring (international name Nesat) to thank for this.
Ren had been planning on making her usual Zucchini loaf for breakfast until she saw the elevated prices of zucchini at the supermarket. I don't check prices of produce that closely so wasn't aware of the price spike that usually comes after the passing of a storm. What would normally cost PHP 25 per zucchini was now a whopping PHP 80 thanks to Pedring. As Cee-Lo would say, "forget yoooouuu-ou-ou."
To improvise, Ren picked up a can of crushed pineapples and fresh carrots instead to make this wonderful, somewhat tropical carrot pineapple loaf. Though I'm a fan of her zucchini bread, I'm always open to new experiences so gladly welcomed this unexpected but delectable deviation which I'll be enjoying for our next few breakfasts.
Always one to look for rainbows after the rain, at least something good came out of Pedring, right?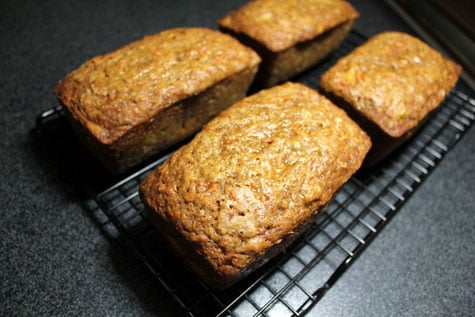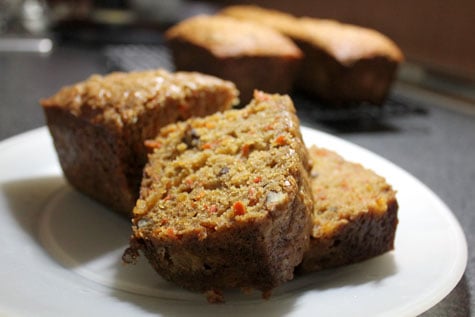 Check out those beautiful bits of carrot.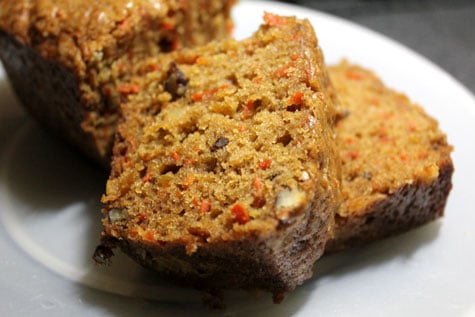 Ingredients
3 cups all-purpose flour
1 tsp baking soda
1 tsp salt
1 tsp ground ginger
1/2 tsp baking powder
3 large eggs
1 cup vegetable oil
1 1/2 cups sugar
2 cups shredded carrots
1 can (8 oz.) crushed pineapple, drained
1 cup chopped pecans
Directions
Preheat over to 350 degrees F.
In large bowl, stir flour, baking soda, ginger, baking powder and salt.
With electric mixer, beat eggs and oil in large mixer bowl on medium speed until well blended. Add sugar and continue beating until mixture is thick (about 2 minutes).
Beat in carrots and pineapple on low speed. Add flour mixture and stir until flour is moistened. Stir in nuts. Spoon batter into large non-stick bread loaf pan and spread evenly.
Bake for 50 minutes or until wooden pick inserted in center comes out clean. Cool completely in pan on wire rack (about 10 minutes).
DID YOU KNOW?
That despite carrot cake becoming popular in the US beginning only in the early 1960s, carrots have actually been used in sweet cakes since the medieval period?
Sweeteners at that time were scarce and expensive, so carrots were used instead to make sweet desserts. They were a suitable replacement since they contained more sugar than any other vegetable besides the sugar beet and were much easier to come by.